Following our Cross Sound Ferry ride and visit to Ocean Beach Park, the Family Fun Mystic adventure continued to the Groton Inn & Suites. The car ride to the hotel was short and sweet. After tons of excitement, and an early morning, the kids passed out two seconds into the car ride. Always a sign of a good day! Groton Inn & Suites is positioned in the middle of everything you would ever want to see in the Mystic and Groton areas.
Groton Inn Suites in the middle of Mystic area attractions
We arrived with two sleeping children. I wasn't clear on the layout of the whole place. Unfortunately, we unloaded the kids and carried them into the main entrance. I could have checked in, and left them in the car, though. Downside of the hotel? It's not all in one building. Once inside, Zara and Colleen met us at the check-in desk. Two of the friendliest people I've ever met in my life. Seriously. Smiling, laughing and couldn't be more willing to help us with everything you could imagine BEFORE I even gave them my name. They had no idea I was doing a review. Instead, the staff thought I won a contest. I don't think it mattered, honestly. The two of them treated every guest exactly the same.
Helpful hotel staff
Our room wasn't in the main building. Zara said she would walk us to it, saving us from loading the kids back into the car, and buckling them into car seats. All of us walked to our two bedroom apartment with Zara leading the way. She offered helpful information local places to see. One of her first recommendations was The Dinosaur Place. I let her know we were heading there, and she assured us the kids would love it. Along our short walk she showed genuine curiosity and asked about our family, and where we were from. Once we reached our room, she opened up the door for us; asked if we wanted to have our luggage brought to the room; and, asked if she could be of any help in any way. Zara was awesome.
Our two-bedroom apartment suite
I settled the kids in, and Mr. Sunflower moved the car closer to the apartment. As exhausted as the kids were, they ended up exploring the two bedroom suite. Since the kids are used to reviewing hotels, they let me walk around taking photos.
We're not high-end travelers, so the room was perfect for our family of four. Our normal routine: staying at clean, budget-friendly places. If you're looking for high-end, Groton Inn & Suites aren't the place for you. However, if you want clean, well-kept, but in need of updating, it's perfect.
Our little suite included:
a table to eat at
big living room
open floor plan
full kitchen
two bedrooms
one en-suite bathroom with two entrances
large closet in large bedroom
Two bathrooms would be better, but we made it work. My MAIN issue: one bedroom had no air conditioner in it. It was the smaller bedroom where I planned on putting the kids. Without an AC, all four of us piled into the larger room. In helped to have a sink in the larger room. If someone needed to brush their teeth, or wash up, the bathroom wasn't occupied for an extended period of time.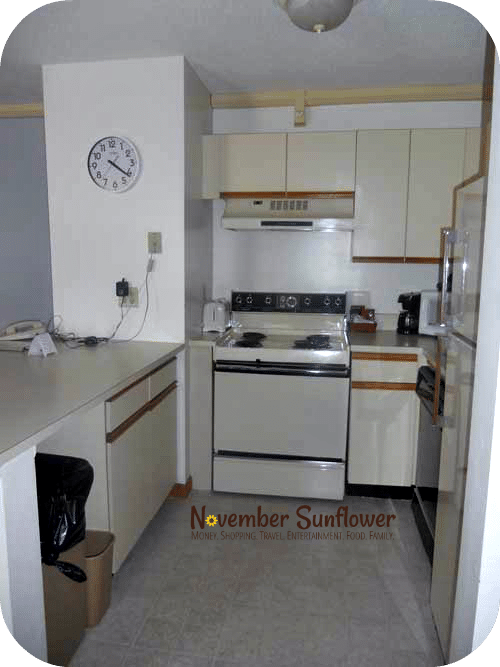 Everything was clean. I'm a little nuts about clean hotel rooms. Colleen, the Front Desk Manager left us a lovely welcome note, along with wine and popcorn. In the large living room we had a television. It wasn't a flat screen, but I don't have a flat screen at home, so it worked for us. Couch, chair and ottoman were comfy, and the coffee table worked for the kids to color on. Everything you could want for a "home" feeling stay at a hotel.
Other amenities of the hotel
Wi-Fi is available in all the guest rooms, as well as the restaurant, and lobby. They even have event space. Bummer for the kids: no pool. We left for dinner at a local diner. We had a coupon from Restaurant.com. If I'd known about the Five Guys Burgers within walking distance of the hotel, I would have skipped the gift certificates from Restaurant.com! But we had the certificate and went to the local diner. It was nice, food was decent.
On-site restaurant at Groton
A FREE breakfast at the on-site restaurant was part of my package. The dining room is tiny, but even smaller for the morning because they only use one half of it for breakfast time. It was silent, but full of people. I've never been anyplace where everyone was just watching the one TV, and totally silent. Of course, with two kids in tow, it wasn't silent for long! Granted, everyone was watching Wimbledon on TV, but folks, you can make noise. The can't hear you through the television. Once inside the restaurant, you seat yourself. A waitress comes by with printed out pages also known as their. Selection was okay, nothing spectacular.
The waitstaff was great. All of them were friendly, and made sure to interact with the kids. Making the kids smile and laugh. However, the food wasn't great. My daughter and I got eggs and bacon, with it came home fries. The food was FREE, so we ate it. Mr. Sunflower got a huge waffle, he seemed to like it. My son got silver dollar pancakes, and he loved them. But my son , when hungry, will eat paper, so he's not a good barometer for "good food."
Again, it served its purpose and we were on our way to pack up and go to The Dinosaur Place! I loaded up the car, checked us out, and scored a free set of passes to the Mystic Aquarium from the front desk staff. Sweet.
Overall thoughts about Groton Inn & Suites
All-in-all, the Groton Inn & Suites was a great place to stay. I love how close it is to everything, plus within walking distance to Five Guys Burgers! Huge selling point. The apartment was great, but not high-end. Definitely needs a bit of updating. However, my family had a great stay and I'd visit with them again!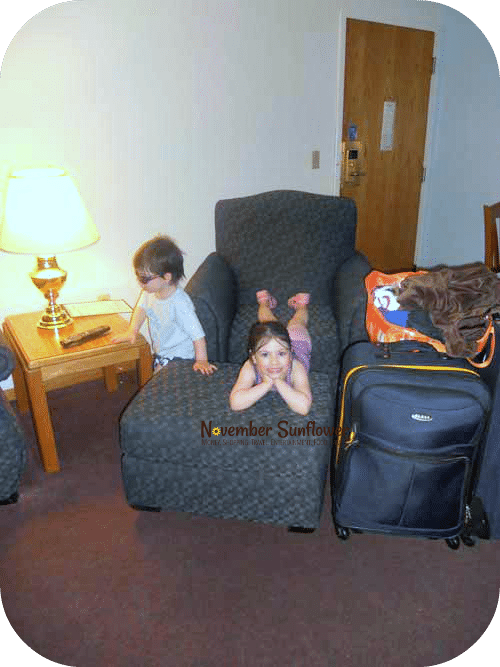 Disclosure: The Family Fun Mystic trip was provided to November Sunflower and her family in order for them to facilitate this review. No monetary compensation was provided. All opinions are 100% my own and those of my family.