Aesthetic laser treatment is my weapon against aging. Yes, aging. Listen, I don't handle it well. It's not so much about the number, but more about the age spots, and wrinkles. I'm not ready for age spots, along with wrinkles, to set up shop across my face and neck. Instead, I'm fighting all of it with laser treatments. I started with IPL treatments, and now, a new versatile and efficient aesthetic laser has arrived! I'm all over it, like white on rice.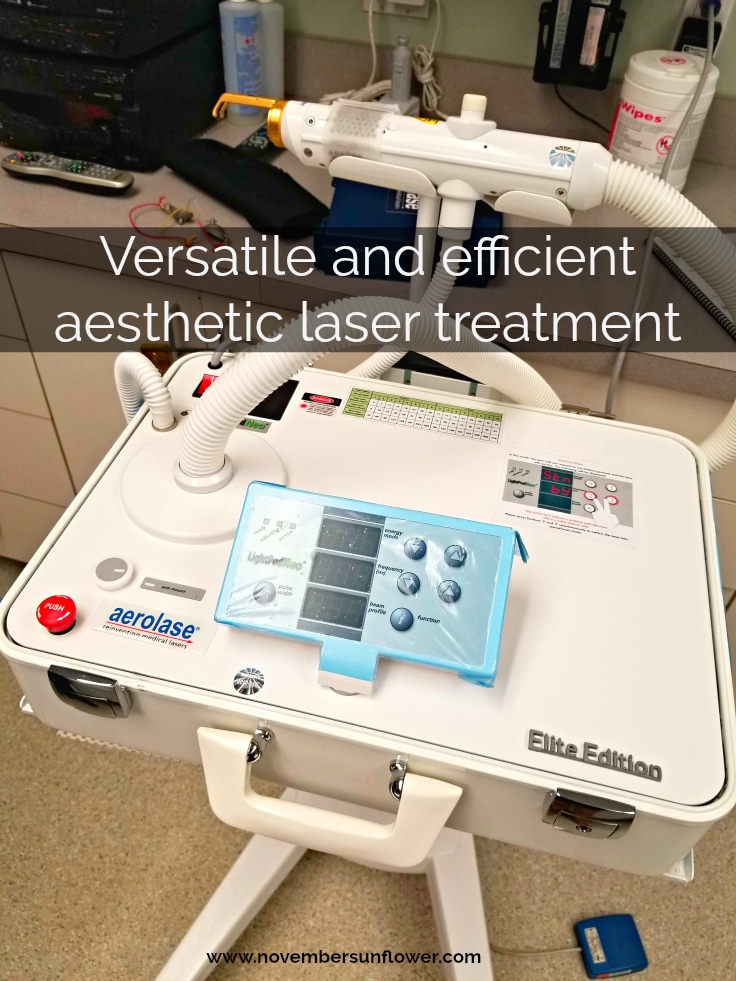 Why try a new aesthetic laser treatment
Prior to trying a new aesthetic laser treatment on my face, Intense Pulse Laser treatments improved pigment issues. I'm still a fan. However, my skin reacts in such a huge way to the lasers, I'm basically red, swollen and a little sore for a few days after. Which, for me, is not a huge deal. However, the pigment isn't the only thing I'm fighting against. I'm also battling with acne (yes, even in my later stages of life). Guess what? There's also some wrinkles starting to show up. Fine wrinkles, but they are there.
Not sure if you've noticed, but I'm Sicilian with olive tone skin and DARK HAIR. Guess what? I have hair on my face. Normally I'm plucking, bleaching, or waxing.
Normally, to combat all of these problems with laser treatments, it's different lasers at different times and for huge fees per treatment. Before this new laser, I don't think a laser treated acne.
aerolase® Neo®
One laser handles treatment on:
acne
skin rejuvenations and tightening
melasma (brown patches on face) and hyperpigmentation (patches of darker skin)
rosacea and redness
spider veins
permanent hair reduction
ingrown hairs (PFB)
sun and age spots
skin and scar tone and texture
One laser, people. It handles all of the above issues all at the same time. Personally, IPL treatments handled my sun spots. However, a few were still lingering around my eyes. My main issues this new laser helped: acne and acne scars, along with permanent hair reduction. The laser helps stimulate the collagen in your skin, helping to tighten it and reduce the size of pores. My skin glows.
How does the laser work?
Aerolase Neo has a 650-microsecond laser light. A combination of melanin, hemoglobin and water in the skin tissue attracts the laser's light. All the energy passes right through the epidermis, the zones in on tissue it needs to treat. Treatments are less painful than IPL, no doubt. However, there's still pain.
Do not get me wrong, it's a heck of lot more gentle than IPL treatments. However, it isn't "pain-free." At least, not when it is on the highest setting and you have dark hair on light skin. No problem for me, because I like when my dermatologist office on Long Island is aggressive with the lasers on my face. It means better results in less time.
Highlights of the Aerolase Neo laser treatments
My favorite part of the laser: no need to use numbing creams on my face AND the handpiece never touches my skin directly. Much more sanitary. Plus, my face does NOT stay red for long, nor do I swell up. The treated sun spots/age spots don't get darker and flake off, as with IPL. Instead, they just fade away over a couple of days to a couple of weeks. For the best results, set up weekly treatments.