Birmingham, United Kingdom, is a vibrant city. What resides at the core of Birmingham culture? All of its current cultural happenings, that's what. Birmingham thrives on these experiences, from music to cuisine, to the arts to celebrations.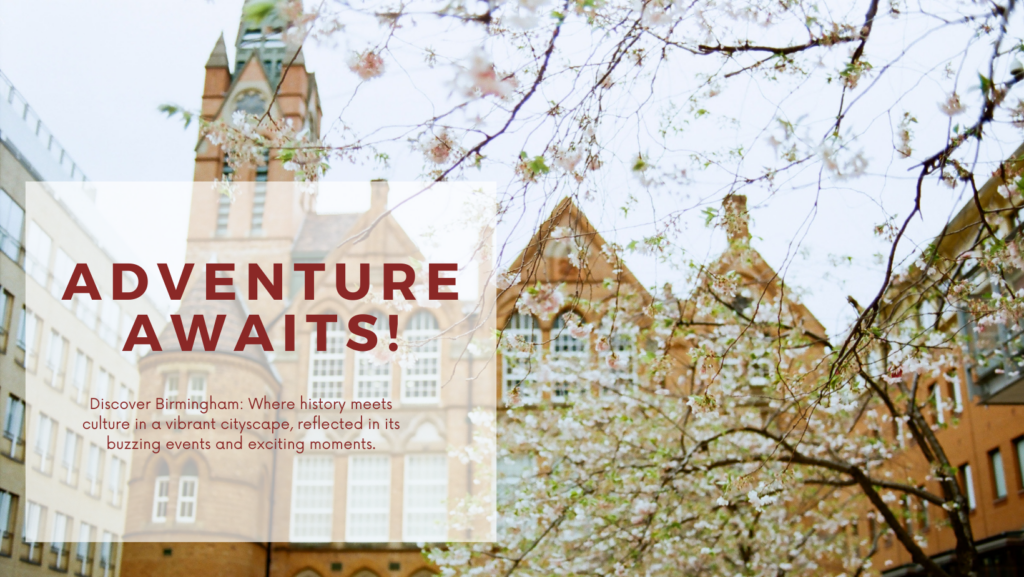 Birmingham Culture Awaits You
Join us as we explore this energetic metropolis, capturing its soul in scenes that ring with enthusiasm and diversity.
Key Takeaways
Birmingham, a city rich in history and culture, exudes a vibrant and dynamic atmosphere mirrored in its trending events and happenings.
From exhilarating music festivals to tantalizing culinary escapades, Birmingham presents a spectrum of activities for both locals and tourists.
Birmingham Music Festivals That Rock: Move to the Rhythm!
The music culture in Birmingham is nothing short of legendary. The city holds several music events all year long that appeal to a wide spectrum of preferences. Everyone may find something they enjoy, whether they prefer hip-hop, rock, pop, electronic sounds, or other genres. Several notable music festivals are as follows:
A celebration of electronic music, SoundWave Festival turns Birmingham into a paradise for fans of EDM. Enjoy a night of dancing while being submerged in a world of vivid lights and upbeat rhythms to the sounds of well-known DJs.
If you prefer folk music and acoustic music, you must check out the Moseley Folk & Arts Festival. It offers a laid-back ambiance where you can take in soul-soothing songs within nature's embrace. It is located in the picturesque Moseley Park.
Birmingham's Culinary Delights: TasteBuds Unite
The diverse population of the city is reflected in the culinary culture of Birmingham, which is a mash-up of flavors. From traditional British fare to far-flung delights, your taste buds are in for a treat. A few food-related events to consider attending are listed below:
Digbeth Dining Club: This gathering of street food vendors serving international cuisine is a sanctuary for foodies. Discover culinary gems you never knew existed as you explore a world of sensations in one location.
Birmingham Balti Festival: Honor the city's rich culinary history by participating in this event honoring the renowned Birmingham Balti. Enjoy this regional favorite while swimming in a sea of flavorful spices.
Culture and the Arts Featuring Birmingham's Creativity in plenty
The cultural landscape of Birmingham is vibrant, with numerous art exhibits, theatrical productions, and cultural events. Immerse yourself in the artistic aspect of the city:
Experience the beauty of movement at the Birmingham International Dance Festival, where gifted dancers from all over the world come together to display their skill. Experience spellbinding performances that cut across language borders.
Festival of Flatpack Films: Film enthusiasts, rejoice! This eccentric and creative festival offers a selection of original and provocative movies, celebrating unusual cinema.
Birmingham Christmas Party: Boosting the City's Spirit with Festive Sparkle When winter comes, Birmingham becomes a winter paradise filled with holiday happiness. This holiday joy is best exemplified by The Birmingham Christmas Party. The city comes alive with festive energy thanks to sparkling lights, crowded Christmas markets, and cheerful events. The Birmingham Christmas Party captures the coziness and joy of the season, from ice skating in Centenary Square to drinking mulled wine by the fire.
Sports Spectacles: Using Athletics to Bring the Community Together
Birmingham's identity depends heavily on sports since they unite people and promote comraderie. Participate in the thrill of these athletic events:
Lace up your running shoes and take part in the thrilling Birmingham International Marathon, which passes by the city's well-known monuments. As you compete among sportsmen and fans from many spheres of life, experience the surge of excitement.
Matches at the Edgbaston Cricket Ground: Fans of cricket may experience the pleasure of seeing top-notch cricket matches at the storied Edgbaston Cricket Ground. The energy is high as supporters roar for their preferred teams.
Comedy Nights: A Laughing Sound Fills the Streets
Birmingham unquestionably has a knack for making both locals and visitors happy. It's been said that the best medicine is laughter. A wonderful evening may be had by going to one of the city's many comedy clubs:
The legendary comedy club Glee Club has hosted some of the biggest names in the business. You may unwind, laugh, and have fun as you take in a night of top-notch stand-up comedy.
Final Thoughts
Explore the vibrant tapestry of Birmingham's events and activities to fully grasp this vibrant city's character. There is something to relish for everyone, whether you're pulled to thrilling musical performances or lured by the variety of gastronomic experiences. Whether you live here or are simply visiting, experiencing this city's vibrant culture through its well-attended events will leave you with priceless memories and a strong connection to this magnificent metropolitan hub. So go ahead, explore your surroundings, and let Birmingham's unending life astonish you!
About the Writer: Diane Galvis is the number one fan of pleasure traveling and living an adventurous life. Last year she traveled around Europe for nine months. She visited England, Spain, Germany, Poland, Italy, and Portugal. As you can see, England is on top of her list, because she loved every part of that experience.
---
Do you want travel topics delivered right to your email inbox? Sign up today and you'll get a freebie, too!