It's me. I'm a boring girl who still enjoys a lot of beauty products. Seriously, I do. Make-up might not be my thing, but I look for a lot of products that will help keep my skin looking fabulous. Since I don't wear make-up every day, I need to make sure my face looks good without it. By face, I mean my skin. It's another installment of boring girl beauty. Today, I'm sharing how I care for my face! (I gave my tips on lips, which you can check out right now.)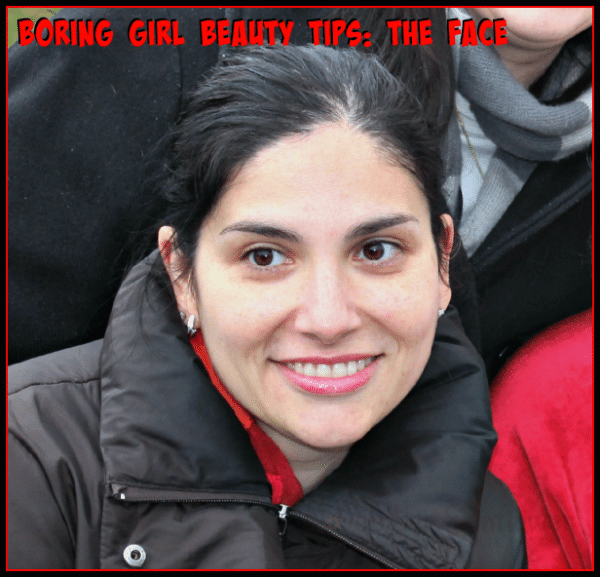 Boring Girl Beauty: The Face
Not to brag, or pat my own back, but there are many people who comment on my skin. It's got nothing to do with what I look like, it's about how my skin looks. It's never dried out, it kind of glows, and it's something I spend a lot of time working on. When you're not wearing make-up, you're trying to find all kinds of skin care products that will make your face look great in its natural state! I've done a lot of legwork on this topic, and I've found a few items I'm never giving up! Since I'm such a generous soul, I'm willing to share these beauty tips for The Face, so other boring girl beauty types can enjoy healthy, beautiful skin.
Mornings are a bit rough for me. Two kids have to get out the door for school, and it's a bit early. We're all late sleepers, so mornings are torture. Most mornings when I get up, I'll just rinse my face with cold water after I brush my teeth. After I bring the kids to school, I'll head back to my bathroom sink to take care of my face.
First, I use these cute little Studio 35 Exfoliating Cotton Rounds
. I'm considering switching to a facial brush, sort of like the Silk'n DermBeaute. It'll save me money in the long run, because I won't be replenishing the exfoliating rounds all the time. However, I'm sticking with what I have for the time being. It's working well. Washing with just your hands isn't getting all the dirt off your skin, you've got to use something to help the process along! If you're not doing some kind of exfoliating round, or facial brush, START. It has made a huge difference.
Now, after I pull out my exfoliating rounds, I put a little of my Bare Face Cleansing Oil from Julep onto the round. I massage the oil onto my face with the round, and then rinse off my face with warm water. NOT HOT, NOT COLD, just warm water. I pat it dry. I never WIPE it dry, because that's no good for your face. I've even taught Little Miss to always pat her skin dry, even her body. She'll thank me when she gets older! Tugging on your skin just helps the wrinkles show up faster. PAT DRY my friends, pat dry.
Second, after cleansing my face, it's time to put my newest amazing find onto my skin. It's Shiseido Ultimune. Shiseido Ultimune Power Infusing Concentrate Serum
helps my skin look healthier, and feel amazing. It's such an amazing feeling when I bathe my face in this serum, and the moisture it seems to have added to my skin has my face glowing. I'm addicted. It's a pricier item, but it's mandatory for my skin care regime!
Finally, I apply my moisturizer. I've been using Aveeno Active Naturals Positively Radiant Daily Moisturizer SPF-30, UVA/UVB Sunscreen
. It's helped even out my skin tone, however I'm still trying to find something for the age spots. I'm not old enough to have so many age spots. So frustrating. Once I find something that works, I'll be sure to shout it from the rooftops!
Evenings I change up a couple of things, because hey, it's what us ladies have to do, boring or not boring. Again, our evenings are just as hectic, but once the kids head off to bed, mommy takes a nice shower and tackles her evening skincare routine.
First, my little exfoliating cotton rounds come out of the closet. Only this time, I use Aveeno Active Naturals Positively Radiant Cleanser
to cleanse my face. I stepped away from cleansers for a long time, and just used oil to clean my face for about two years. However, to help with my skin tone, I wanted to try something new. The cleanser helped dramatically with evening out the color on my face, and I continue to use it until I can find an oil cleanser that can master this very difficult task of skin tone.
Next, it's Shiseido again. Once that's applied, and relatively dried, I slap on the most amazing night time moisturizer I've had the pleasure of using in my life. It's lightweight, it smells lovely and it works. Julep came out with this Skincare product recently, and I'm a huge fan of the Night Shift Sleeping Mask.
My entire skincare routine takes just a few minutes every morning, and evening. I'm not up for the millions of steps many other systems have. Nerium use to be my go-to moisturizer, however the quality of their product has seemed to have declined, so the one step moisturizing wasn't an option. Now, it's just three quick steps!
Boring Girl Beauty: Extra Cleansing Tips for The Face
Here's a couple of tips I've learned from some of the best skin specialists on the planet, to help keep you a boring girl beauty type:
pat all your skin dry, even your body
never skip a day when it comes to SUNSCREEN on your face, because the sun is ALWAYS out, even in the rain or a cloudy day
moisture is a face's best friend
washing with just your hands, and cleanser isn't enough; use some kind of exfoliating scrubber that's gentle, but deeply cleans
What's your favorite skin care products? Have you tried any of the ones I'm currently using? If not, it's time to use my affiliate links within the article to order up some of my favorite goodies! Don't be shy, it's okay to want truly beautiful, glowing skin!