There's nothing worse than shaking someone's hand, and their hands feel like sandpaper. It doesn't matter if you're all about boring girl beauty, or if you're a die hard beauty pro, you've got to take care of your hands! Soft, but strong hands are necessary for all women. So what are the boring girl beauty tips for the hands? My friends, there's not just one tip, but a couple of them!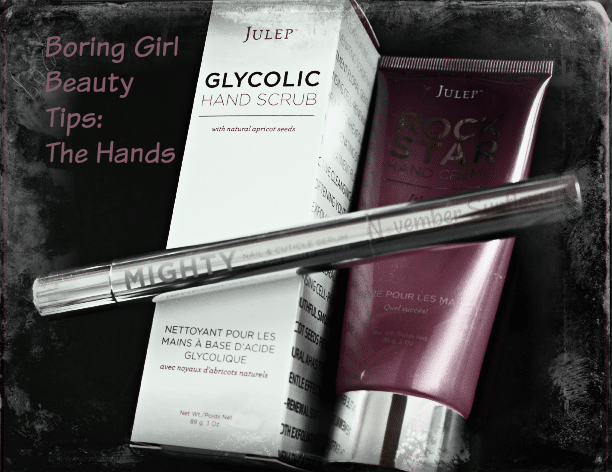 Boring Girl Beauty Tips: The Hands
The one place I spend a lot of time on, or the two places I spend a lot of time on, are my hands and feet. There's just something about having soft hands, and soft feet. Right now, it's about the hands. The feet will be handled in a dedicated post, I promise. The hands… they need to be soft, and look hydrated. The cuticles have to be clean, and the nails looking healthy.
Manicures are a big thing with me. Once upon a time, I would spend an hour at the nail place getting them done (along with pedicures.) Now? Manicures are part of my tool belt at home! I love the whole process of trimming my nails, filing them, shaping them, cutting back cuticles, doing a great hand scrub, and soak.
Base coat. Polish. Top coat. Finishing with a great lotion. It's divine.
Once mine are done, I move onto Little Miss.
It's my one "indulgent" none boring girl beauty obsession! However, keeping my hands soft, and looking healthy, doesn't take a lot of effort. The Hands routine totally fits into my boring girl beauty daily regime. Julep has a lot to do with how easy it is, and how affordable it is!
The Hands daily beauty routine
Every morning, I just wash my hands with regular soap. Nothing crazy. However, I do follow it up with Rock Star Hand Creme, which I found on Julep. Rock Star doesn't feel greasy, and it absorbs super fast, so I can just continue on with my morning without everything slipping out of my hands. The struggle is real, my friends. Too many hand creams are super slick, and never absorb into the skin. Who can live like that? No one can! I'm also not into mineral oil in my products, and Rock Star doesn't have mineral oil in it. SCORE!
The evenings are when I spend more time on my hands. After I'm done dealing with "the face" skin care routine, it's time to spend a little time on Hand Treatments. It starts with a Glycolic Hand Scrub, also from Julep. It just gets rid of the dirt, and the dry skin. It smells good, too. I use it all the way up to my elbows, and it makes a huge difference in the softness of my hands, arms, and elbows. Recently, SHHHH, I started using it on the stubborn heals of my feet when in the shower.
Once the hands are clean, and my Rock Star Hand Creme has been applied, I focus on my nail beds. If I spend time doing my nails, I want them to look good, and that means cuticles need to look good. No dried out messes, because when that happens, I end up picking at them and it becomes a mess! Bloody cuticles is not a good look, I promise you. Strong, healthy nails are important, and healthy cuticles are equally as important. Mighty Nail & Cuticle Serum has become an addiction for me.
When I first got the serum, it said to use it twice a day for two weeks, and then just once per week to keep the healthy nails, and cuticles up to snuff. Honestly, every night, I use it. It's been months since I started using the serum, and I'm just afraid to stop using it once a day. It just makes my nails feel so good, and my cuticles, I can't give it up. Once a week? It's not in me. I stopped doing it twice a day, but before bed, I take my serum out and hit up my nails, and shhhhh, my toe nails, too. I know, this is suppose to be just about the hands, but I've got to add in the feet stuff, too. Give a little preview of what's to come in the foot care post that will be written soon, I promise.
Do you have a product you're addicted to, that helps make your hands feel like silk? Share it in the comments below, and definitely check out all the goodies I'm using. They can all be found at Julep!