Who would have ever thought I would actually look forward to camping? Certainly not me. The words Fall is for camping would never have fallen out of my face before having kids, but it's kind of the best time of the year to get your "camp on," I promise! We might make a family tradition of traveling with the kids to a local Kampgrounds of America location, as long as we're staying in a deluxe cabin with indoor plumbing, of course. #KOAMystic was "a slice of heaven," just like the Mystic Pizza we ate while visiting Mystic, Connecticut.
Fall is for camping at #KOAMystic
We've done Mystic before, and last time we stayed at a hotel. It was a great time, and a beautiful place to stay. However, we couldn't build a fire in a fire pit, or enjoy the crisp fall evenings under the stars while sitting on Adirondack chairs on our personal patio. Hotels offer lots of benefits, that's for sure. However, Kampgrounds of America offers a whole different set of benefits, which I've grown to fall in love with.
I've grown to love having our own "home" while away from home. When you stay at a hotel, it doesn't feel like "home." Granted, when you're on a vacation, you want to feel like you're on a vacation. However, for a long weekend away, I kind of enjoy the feeling of having a little place of our very own. It's our time to not worry about the kids' activities. Our family gets to sit down and eat dinner together, because half of us aren't at one activity while the other half is at another activity. We're just, together, with the hubby outside BBQ-ing (this time in the pouring rain, but whatever,) and me setting the table for the kids to eat. Plus, they love to help cook in the kitchen, even while on "mini" vacations.
There are very few weekends our family can just hang out. We got lucky that no games were scheduled over the Columbus Day holiday weekend, so we could take advantage of the gorgeous Columbus Day Weekend at KOA Mystic. It was warm during the day, so we could get away with lots of fun activities outside, in and around the Mystic area. Yet, chilly enough in the evenings to utilize the fire pit outside our cabin, and roast marshmallows (no S'Mores needed, we're good with just the sugary goodness of the mallow.)
Having everything right there for us was amazing. No need to lug out our chairs from the car, since we had a beautiful patio, that had a table and Adirondack chairs, right outside our cabin doors. We also had a great gliding bench, which is very soothing to sit with the kids on, and just enjoy the crisp, fall air, and completely burn marshmallows. I'm always on full speed, and sometimes I just need to dial it back, and enjoy a slower pace. Granted, I can only handle a slower pace for about three days, four max. Luckily, this was just a three day weekend excursion!
Arriving at the KOA Mystic Kampground
If you want friendly, you'll get it. Hannah, who checked us in, was all smiles and welcomed me into the office with open arms. It's not like checking in at a hotel, where people are friendly, but not really going to share a great conversation with you about your drive up from Long Island! Camping people are a different kind of people. Not better, not worse, than hotel people, but different.
Once you're checked in, get your map of the grounds, your keys to your cabin and your card to get back into KOA, you head off to "move in." Hannah was lovely enough to direct me to exactly the right hill to drive up to get to our Deluxe Cabin, and let me say, this baby was BEAUTIFUL from the outside!
Little Miss was ECSTATIC when she saw one orange Adirondack chair on our patio, and asked if I'd arranged it. Honestly, I wish I had thought of it, but I didn't know anything about the place before we got there. Perhaps the staff just "sensed" an orange loving kid was heading to KOA Mystic? Or someone was there with us who just knows her so well. However it happened, she was thrilled.
The Boy? He loved the gliding bench. I kind of fell in love with it, too. I'm currently hunting around to find one for outside our front window. So soothing, and calming to glide on that with a little blanket, and some hot chocolate. It gets darker earlier, so we've got more of a shot to enjoy it during the cooler seasons!
As much as I love exploring the cabin from the outside, we quickly ran up the deck stairs to get inside! Once we got in, we all kind of just nodded and smiled at each other. We were all thinking "Yeah, baby, this is going to be a great weekend!" Seriously, the kitchen was so clean. I would dare say that bathroom was cleaner, and a little prettier than my bathroom at home. Oh my gosh, let's not forget the fact that Mr. Sunflower and I got a room to ourselves AND the kids got a room for themselves, too! Granted, it wasn't a huge room, it's a cabin. However, it had bunk beds, and plenty of space for their bags. They loved it. It was hard to get them out of there, as they used the top bunk for playing, and then at night each kid took a night to sleep up on top, then on the final night, they slept up there together. The beauty of being small enough to sleep in the same bunk!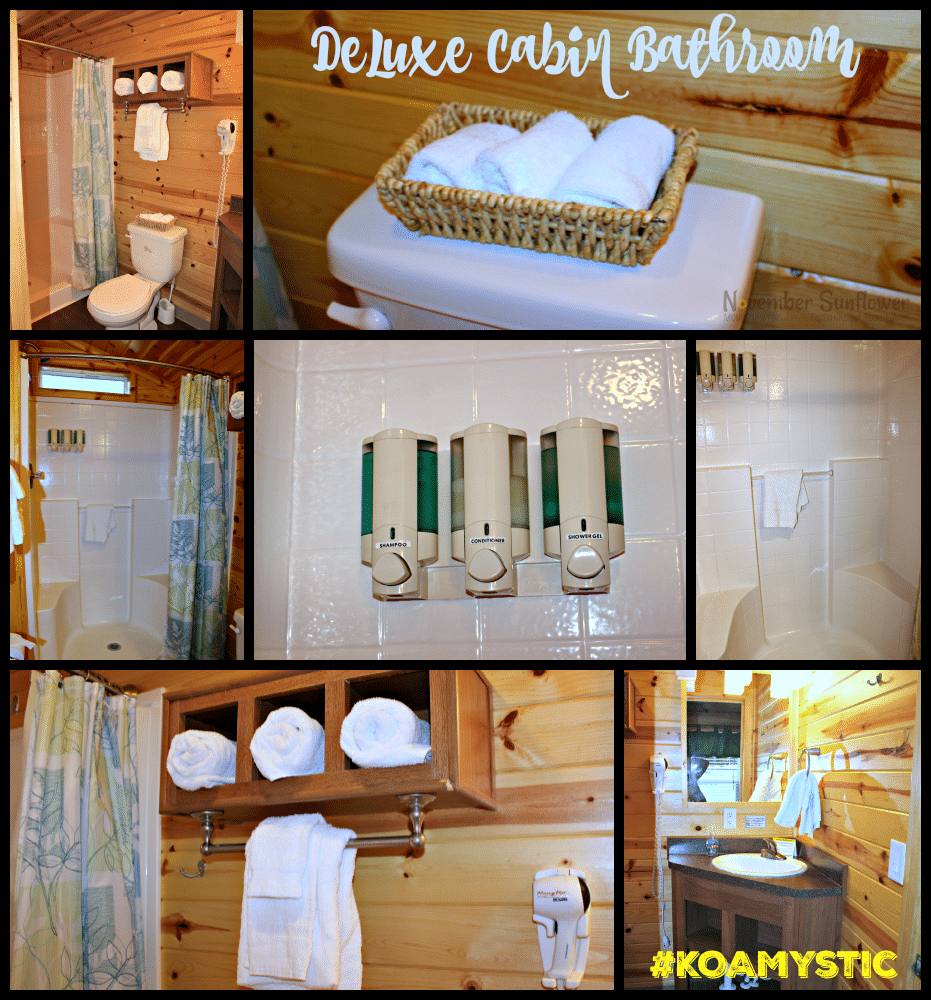 Now the one minor fail on the part of the cabin? The pull out sofa couch. The pull out was fine, but when it was a couch, it was the most uncomfortable thing to sit on. The cushions kept sliding, and it was just impossible to get comfortable on. Although it was damn pretty, I'd have preferred a futon, or a material covered couch. However, that's my preference, and my opinion.
Best part about the cabin at KOA Mystic
Everything was fantastic, with the exception of the couch. I loved staying in the cabin. However, the BEST thing about the KOA Mystic cabins? NO ANTS anywhere. Trust me, I looked. We'd had our first camping trip earlier this year, and stayed at a place that was recommended by many people. Well, let's just say the place was infested with ants. I didn't realize that wasn't normal, because hey, it's camping.
Well, my friends, it's not normal. KOA Mystic was CLEAN AS ALL GET OUT, and there wasn't an ant in sight in our cabin. I hunted for them. I opened up drawers, and undid our bed in the main bedroom. I repeatedly looked by the garbage cans, and in the bathroom. I hunted for them on the kids' bunk beds. The floor, the tiny crevices by the windows and door. NOTHING. Not one ant could be found.
It was, by far, my favorite part of the cabin at Kampgrounds of America in Mystic. No joke. It also meant I wouldn't bring any back home with me after we packed up, and left. My hats off to you KOA Mystic, this Sunflower looked everywhere and found NONE. The weather was warm, and I was ready to find something, but I found nothing. Now, if I could have just had my son not leave the cabin door open and let in one particular fly, we would have been good. We did get to use the fly swatter provided by KOA in our cabin, so everyone knows, they have a fly swatter and we used it thanks to my son!
In all seriousness, it's just a pleasure to have bed linens, pillows, and blankets supplied to campers. We had dish soap so we could clean all the dishes, and utensils, as well as pots and pans. A Keurig for our coffee, or just to run hot water through to make hot cocoa. What I hope they will update is having a toaster oven, not just a toaster, in the cabins. Poor Mr. Sunflower had to make his cinnamon buns on the BBQ. It didn't turn out as well as expected, but they ate them anyway!
All the comforts of home showed up at the Deluxe Cabin bathroom: towels, toilet paper, shampoo, conditioner, and shower gel. Just bring your own lotion, and you're all set for your visit. Plus, if you need to switch your towels out, you can bring them down to the office and swap them out for clean ones. We stayed for three nights, so we didn't have them come to the cabin to do any freshening up, but if you stay for more than 7 days, they'll be happy to come and freshen up the place for you.
Final thoughts on our KOA Mystic visit
I'd stay in the cabin for a week, no doubt. It's clean, it's comfortable, and it's got all I need to get me through a great week in Mystic. The kids had tons to do, and I do believe in the summer months, would love to enjoy even more outdoors. There's two pools, and these wicked cool slides down a hill that are only open over the summer. They weren't excited about the playground, they said it was more for younger kids, which made sense.
Miniature golf can be done even during the fall season, and there's some cute sandbox fun to be had, as well. Now, the one thing the kids begged to do every day of our visit at KOA Mystic? Jumping on the Jumping Pillow. It was, in the words of my children, "the best mom, can we do it again?"
Just to also mention, you don't have to stay in a cabin at KOA. You can reserve a spot for your camper, too. There's plenty of people who hooked up their campers!
Have you ever stayed at a Kampgrounds of America locations in your area? What did you think of the staff, and facilities? Do you stay in a cabin, or hook up your camper? Let me know in the comments below!