Disclosure: Thanks to a partnership I have with MomSelect, I received free products in order to host the LeapFrog and CLIF Kid Fit Made Fun celebration, sponsored by MommyParty. All opinions are 100% my own, and that of my children.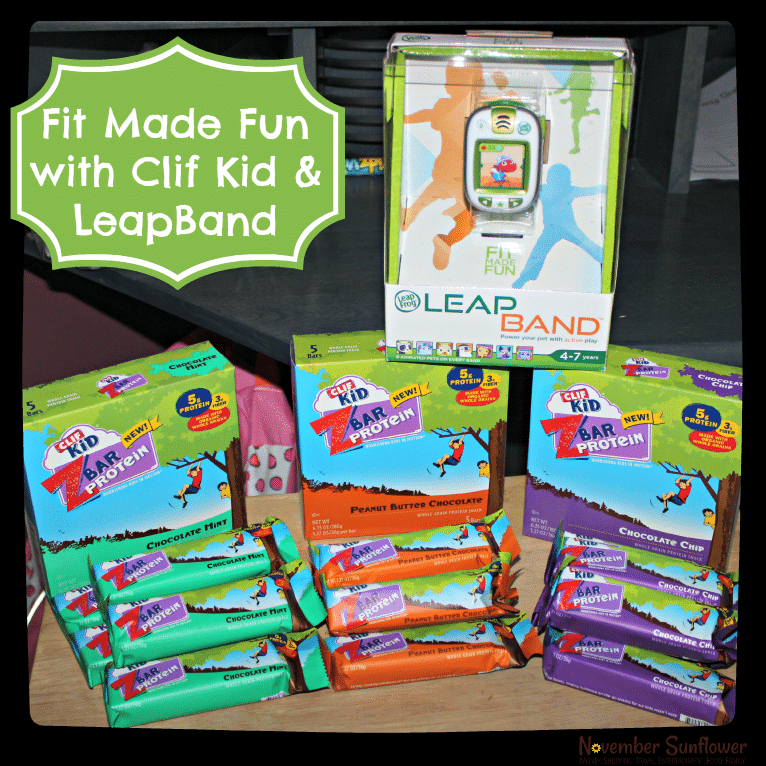 It's September, but Mother Nature seems to think it's August. We're having the hottest couple of days the last couple of days, and it's starting to get in the way of our fun! Our Fit Made Fun Day celebration with LeapFrog's LeapBand, and CLIF Kid was plagued by one of the hottest days this week. We had to get super creative with our outdoor activities…. and even with lots of water bottles, the kids didn't last as long as one would have hoped! However, we were able to fit in a little outdoor #fitmadefun with some Snorkle Dancing and a run through our sprinklers for the kids.
Since the water bottles weren't enough to keep the kids cool, we had all the older siblings loaded with water guns and sprayers. When the kids got a little sweaty and hot, they just called for a dose of water and one of the older siblings was all too happy to douse them with a TON of water! We probably could have gotten all of them to do the Ice Bucket Challenge by the end of all the outdoor fun! Instead? We had the kids run around in the sprinklers to cool off, before heading back into the house to enjoy CLIF Kid Z Bar protein snacks, more water, and a few other treats (like central air conditioning.)
Almost every kid loved the CLIF KID Z Bars. When you've got 10 kids in a group, you know there's always at least ONE that doesn't like what you give them! It's just the rules of the world! For the kids that loved them, the most popular one seemed to be the chocolate chip flavor, but my favorite was the chocolate mint flavor. Imagine a Girl Scout Grasshopper cookie….but healthy for you. Totally loved that one. I think I might just keep those for myself, and the kids can enjoy the peanut butter and the chocolate chip ones. WHAT?!!! They'll never even miss them! Besides, mommy works hard for those goodies….. the kids just get to have fun with their friends, and the LeapBand. Pfft.
Our beautiful celebration needed to end with a little healthy competition (see how I used a little play on words, there – "healthy competition." Get it?!!!) Since The Boy already scored himself a LeapBand, he was "game master." What's a game master? Basically he handed out some Bingo sheets for Pet Pad Action Bingo, so the kids could compete for the grand prize of a LeapBand of their very own. They all wanted what The Boy had! We wanted to keep it fair, and incorporate a little healthy fun, so Bingo felt like the best option during a super hot day! The premise of the game? The Boy helped me pick cards. Each card described an activity the kids needed to do, plus a picture to cross out on the bingo board. Pretty cute, and fun for the kids.
The game got intense. We had two winners (we had to duplicate a couple of boards, so of course we had two winners. WHOOPS.) The two winners had to go head-to-head for a final battle to see who would win the ultimate prize of the LeapFrog LeapBand, and the runner-up would be rewarded with a box of CLIF KID Z Bar of their choice: chocolate chip, mint chocolate, or peanut butter. It was an intense battle, but it all ended rather quickly! Our winner had never won ANYTHING in her 6 years of life. I'm so excited to introduce you to our big winner. Our perfectly manicured nails, Disney Frozen-loving princess!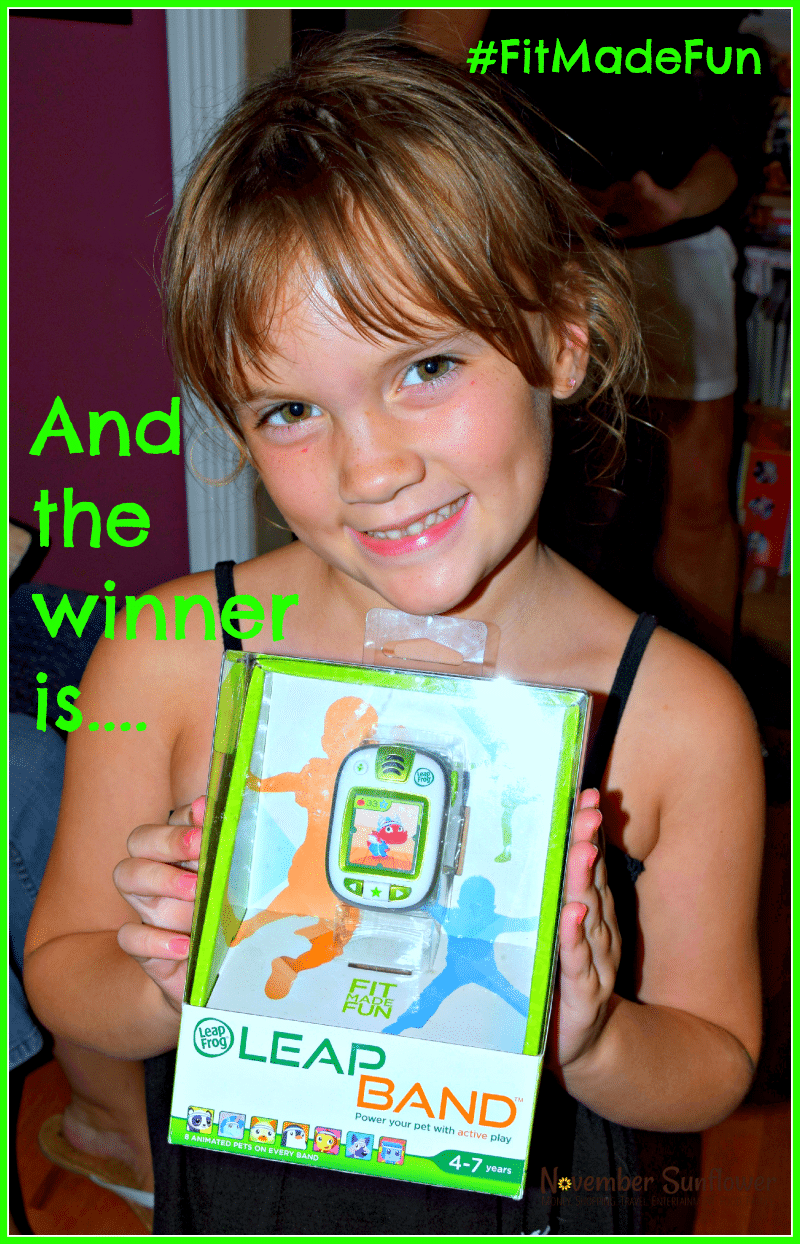 Our winner put her new LeapBand on when she returned home, and her mom shared how much she loved her new band. Shhhh, don't let her know it also comes with a pink band. I only had the green one on hand to give away, and The Boy has a green one as well. I would have LOVED the blue one, but hey, it's all good! You get what you get, and you don't get upset, right??!!!!! She customized her "pet," and I'm sure has been doing tons of activities on the band, and racked up a lot of joules so she can earn new pets!
I also told The Boy not to let her know about the little trick he learned about the LeapBand, which is kind of a big downer with the LeapBand: even if you don't perform the activities, you still earn the joules. It's something that might need to be tweaked for the next version. I did let the winner's mom know the cord that's used to charge the LeapBand up falls out easily, so just make sure not to move it around too much while it's attached to the computer and charging up. I'm sure LeapFrog will work on that aspect, as well.
All of the little glitches aside (weather, upset bingo losers, and minor LeapBand issues,) it was a day filled with activity, movement and healthy snacks! It couldn't have been any better, unless it had done us a solid and gotten a little cooler. However, the kids were troopers, and had a ton of fun. I think quite a few of these kids will find a LeapBand under their holiday tree this year…… or for an upcoming birthday!
Interested in learning more about the LeapBand, or purchasing one for your little one? I'd recommend visiting LeapFrog's LeapBand page!