Is your front porch welcoming? The front porch was once the symbol of friendliness, a space where neighbors and friends gathered to wind down after a busy
day or drink a glass of iced tea. Now the deck is used by the family as a gathering place, and it is shut off from the neighbors or passers-by. The front
porch can again be turned into a welcoming space and be a true asset for your home.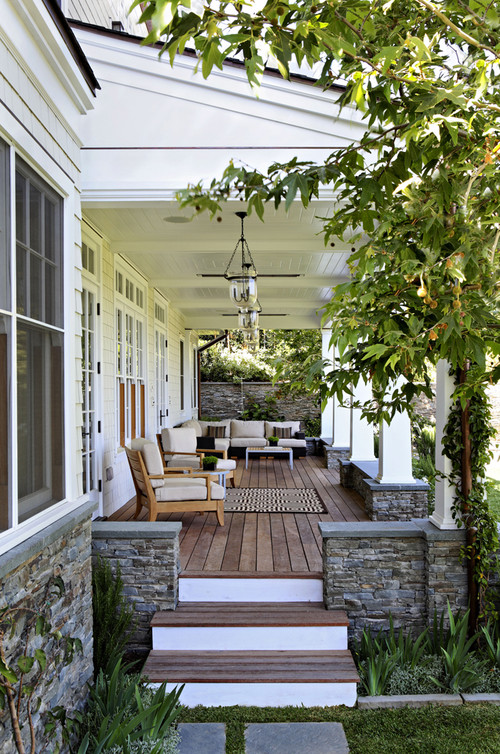 Keep it Light and Bright
Architectural lighting makes your porch more inviting. A good porch light and lights along the walkway to your home make your home warm and attractive. It
is also a safety factor to provide a lighted walkway for sure footing. Lighting enhances all the details that make your home distinctive, like columns or
pretty railings. Your porch can be as pretty at night as it is in the day.
Highlight the Details
Look at your home's porch. There are details that make it distinctive, like molding, shutters, and trim work. Consider painting them a contrasting color.
Painting the front door can turn a bland façade into a focal point. Highlighting with color is an easy way to set your home apart.
Create Conversation Areas
Select outdoor furniture to create conversation areas on the front porch. Rockers, porch swings, and tables invite your guests to sit and visit. Area rugs
and accessories pull the area together into a cohesive unit.
Seasonal Blooms
Fill your front porch with seasonal plants and flowers. Live plants always create a warm, inviting tone. Hanging baskets full of blooms, potted plants and
flower arrangements invite friends to sit awhile and have a conversation, rather than going to an impersonal coffee shop. Line the walkway with flowers and
create a welcoming pathway to your door.
Use a Variety of Materials
Blend a variety of materials and textures, such as brick, metal, slate, or wood shingles to highlight details of your porch. Use tiles to outline walkways,
or to outline seating areas. Try changing out materials used for railings or banisters to create visual interest. Elements like your house numbers, the
porch light, banisters and railings can be painted or changed out to create visual interest.
Good ol' front porch hospitality is a lost art, but you can bring the warmth of neighbors and friends back to your home by updating and enhancing the front
porch. These simple steps will make the porch more visually appealing and let friends know that you are always happy to see them.
For more design ideas for your next home project, head to Modernize.com.