Winter weather is perfect for cozying up inside and getting in touch with your crafty side, reading a book, cooking something yummy or just chilling with your friends. Lazy Saturdays call for the most comfortable lazy Saturday outfit! It calls for comfortable clothes that keep you warm without sacrificing your signature style or the contents of your wallet.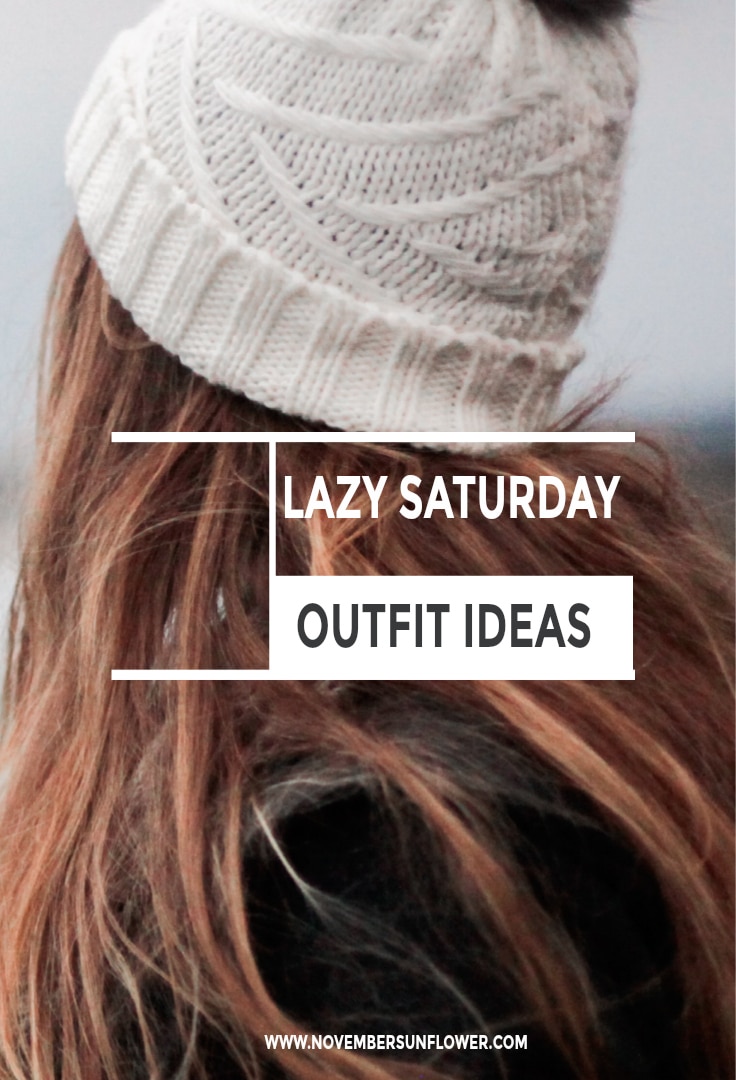 Lazy Saturday Outfit Ideas
You can always find ways to remain lazy and comfy without forgoing fashion!
Basic Outfit Ideas
Leggings and boyfriend shirts, or over-sized sweatshirts, offer the perfect mix of casual and cozy. Start with thick leggings offering total rear coverage. You can find the best quality for a decent price at the mecca of low-cost fashion shopping, Old Navy. (Keep an eye out for their many sales and online coupon codes!) Add a T-shirt, and top with an over-sized pullover sweatshirt, or a boyfriend flannel.
Heading out for coffee or cocoa? Belt your boyfriend shirt, then add a cute slouch beanie to go from "staying in" to stylin'. Keep a cozy wrap around so you can add another layer if you feel a chill coming on. Best of all, these pieces are available on the cheap at stores like Forever 21 and T.J. Maxx.
Over-sized cardigans you can wrap around yourself are a must for lazy weekend days. Pair these snuggly sweaters with jeans and a tee to complete a lazy Saturday outfit. Wool will keep you warmest, but can feel itchy. For more of a bargain, try wool blends.
For a date night in, try a cozy sweater dress with tights, or leggings, underneath. You'll be warm and cute, but feel completely comfy. Have a super soft plush blanket on hand. You can find them for around three bucks at stores like Big Lots, as well as Walmart. Then the two of you can snuggle and stay warm while you watch a movie.
Accessorize
Accessories are a great way to mix up your casual look without spending a ton of cash. Furry hats offer the warmth you need and a little bit of whimsical style. Think vivid faux fur trapper hats or plush animal beanies with super cute ears. Fingerless gloves, or gauntlets, are perfect to wear when working on your computer. They keep your hands warm and can add a pop of color to your look, but you have total finger mobility to do all the things you need to do. Best of all, it's cheaper than buying a whole new outfit. Hit the end-of-season sales for the best deals!
Fab Footwear
There are so many fun, inexpensive styles of shoes to wear on lazy winter days. When deciding where to spend your footwear budget, consider the climate you live in. If you live in an area where it gets into the single digits, or lower, you'll need insulated slippers. These might be down booties, sheepskin-lined moccasins or even plush slippers with animal faces that make you smile. For those in warmer climates, an inexpensive pair of flip-flops can work.
When it's time to go outside, those in colder areas should have some insulated—and preferably waterproof—winter boots on hand. With the warmest slippers and boots you may not even need socks underneath, which could save money in your budget to put toward a better quality pair of boots. Those who live in warmer climates will still no doubt want a pair of water-proof rain boots for those dreary February days; in early spring, find them on sale at both department and mass retail stores.
Even when you're hibernating at home, looking good can boost your self-confidence and your spirits. And saving money on your cute outfits can make you feel even better! Use seasonal sales as an excuse to bulk up your stash of cute winter wear and make sure you have everything you need for cozy Saturdays. The more options you have for footwear, accessories and warm winter wear, the more you can focus on having fun and looking good no matter the weather outside.
About the Writer: Lindsey is a professional writer living in the Indianapolis area. She specializes in writing guest posts on social media, and education. Currently, Lindsey is completing work on her master's degree.
---