Planning a wedding can feel like an overwhelming task for many individuals, but it doesn't have to be. Picking the perfect wedding services, along with some helpful planning tools you can be well on your way to having the perfect special day.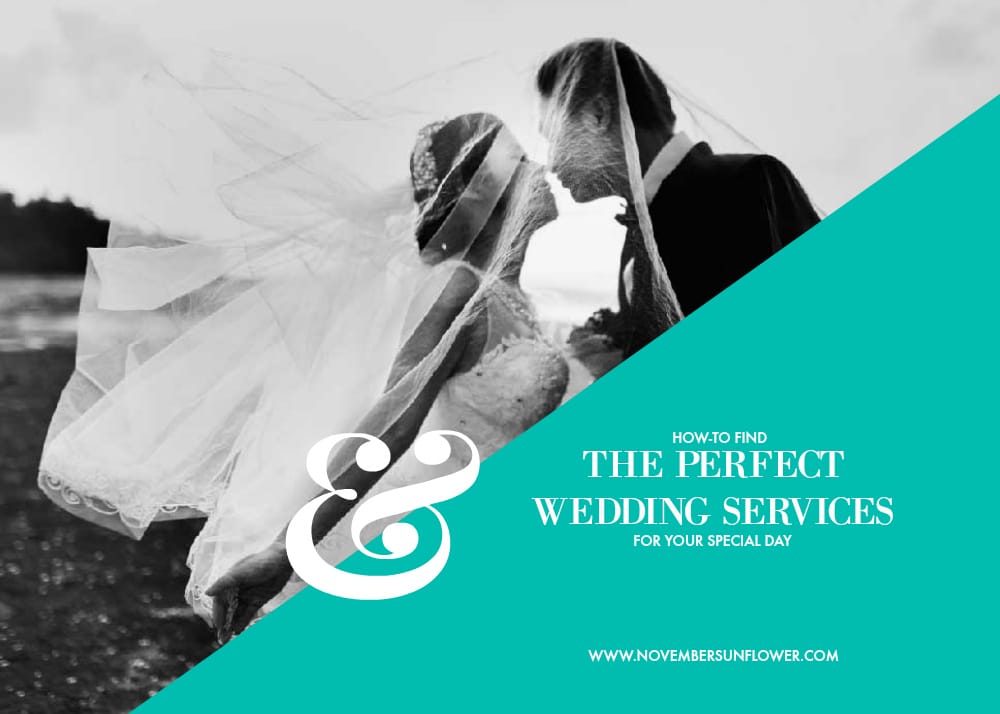 Wedding How-To: Finding the Perfect Wedding Services
Here are some key ways to plan and execute your perfect special day.
Plan the big stuff first
When starting to plan for your nuptials, make sure to plan the big things first so you have those important things picked out well in advance. Then take the time to do the smaller stuff, like decor after you've already found the venue.
The top things to pick out well in advance are the:
Locating a Venue
The first thing you want to do: figure out where you plan to get married. Decide whether you want a church setting, a beach setting, or whatever! Then figure out where you want to hold your reception. Once this is figured out you'll have a better idea about:
how to decorate
what kind of budget you have for other parts of your wedding
If you're having a destination wedding and want to spend less money on the wedding itself, you'll want to make sure you do a little research into the wedding locations and what kind of services are offered. You will also want to make sure that the destination works for your budget.
Finding a Dress
Sometimes, the most expensive part of a wedding is the wedding dress. Oftentimes, bridal gowns cost several thousand dollars, but if you need a custom made dress you may be able to save money on the price. Be sure to bring in pictures of the gown you like before you decide to order it.
Choosing a Photographer
Finding a wedding photographer may be a daunting task, especially if you're trying to find one in your local area. Most people look for wedding photography companies on the Internet, in newspapers, and in magazines. But the best way to find a good photographer is to ask you friends and family about photographers they used.
As you're looking for possible options ask potential wedding photographers what services they have. Ask if they have discounts or if they provide specific packages that fit your needs. It's also a good idea to look at the pictures they've taken of previous weddings and get a feel for their photography style and if it's the kind of photos you are looking for.
Another important thing is the price, which will vary depending on the type of wedding you want. You want a wedding photographer who can give you a fair price, as well as a good price.
Before choosing a photographer, make sure you understand the price they charge for photography services. Make sure you have an idea of how long it'll take to complete your project. Also find out if they'll be using a certain camera or setting up the area where the ceremony will take place.
Get Help Planning
While there is certainly much more to plan after finding the above, the rest is much more detailed and you can spend a little more time figuring out exactly what you want. If you still feel like this is too much though there's always the option of hiring a wedding planner to help with all of intricate details. The most pertinent part of the job of a wedding planning consultant is getting you through the planning process without calling them a million times.
They can help you with all of the details associated with your nuptials, including what type of:
music
attire
decorations
food and beverages
music
They can also answer any questions you have, as well as giving you valuable advice that will benefit your ceremony as it's taking place. It's an important day to you and to them and they'll provide you with the resources and tools to make the most of your wedding day.
There are also some amazing wedding planning apps out there that give you a list of items to check off and can also help you stay in your wedding budget.
Conclusion
Don't let planning your nuptials get in the way of having a spectacular wedding day. While it can be stressful, if you take it one task at a time you will be able to have a well planned, enjoyable wedding day.
About the Writer: Samantha Higgins is a professional writer with a passion for research, observation, and innovation. She is nurturing a growing family of twin boys in Portland, Oregon with her husband. She loves kayaking and reading creative non-fiction.