Tackling breakouts all over my face is my new full-time job, apparently. I'm not sure what happened to my skin. It's been a struggle for months. The odd part is, when I was eating poorly (a.k.a. JUNK FOOD, fast food) my skin was fine. Just broke out when that monthly fun came (ladies understand what I'm referring to, guys, ask your ladies). After changing my eating; focused on nutrition, my body has thanked me above-and-beyond. It's providing me with:
a thinner physique
no more migraines, or even headaches
reduction in chronic pain in my hip, neck, shoulder, and wrist pain
However, my skin: riddled with acne, and breakouts.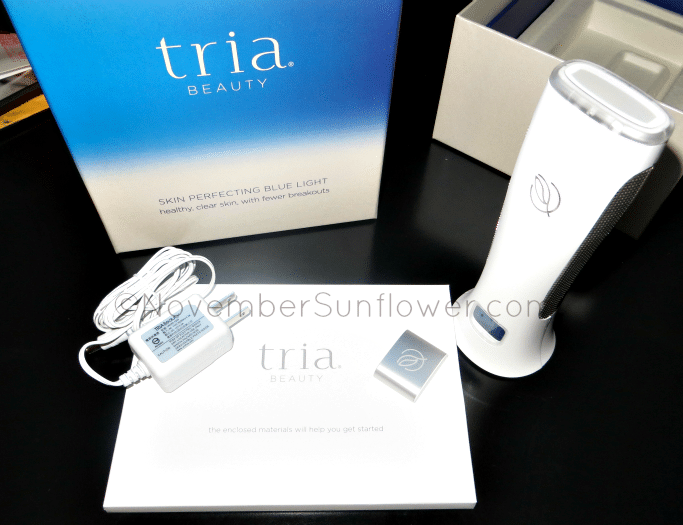 Tackling breakouts with something new
I tried every darn product on store shelves promising clear skin, not one worked. I'm also not using prescription products, because they all burn my face, making breakouts worse. Feeling defeated, I sometimes sneak some bad habits back into my life.
However, instead of reverting back to the crappy way I used to feel, even if I had great skin, I'm tackling this skin issue with the Tria Skin Perfecting Blue Light. I'm trying out the Tria Skin Perfecting Blue Light as of TODAY, my friends.
Testing out Tria Skin Perfecting Blue Light
I'm testing the Tria Skin Perfecting Blue Light out over the next couple of months. Of course, you'll see all my progress! If this bad boy works, it'll save huge amounts of money for me. I won't have to waste so much time, as well as money, finding the perfect cleanser.
It's completely exhausting looking for a natural, non-toxic facial cleanser. Plus, any I find, never work. Watching my money go right down the crapper drain isn't working for me.
What's the blue light do?
I  know, you're asking yourself, "what's this new thing do?" Basically, it's a hand-held acne-fighting device using a therapeutic blue light. Dermatologists use similar technology in their offices. Blue light helps gently eliminate bacteria, deep within the skin.
Blue light eliminates the bacteria without:
harshness
UV light
long-term adverse health effects
Thankfully, FDA-cleared Tria treats the source of acne living in the pores of skin: bacteria (P. acnes). The light hits the bacteria, kills them, and doesn't affect the surrounding tissue. It takes out the acne-causing bacteria, which in theory, clears up clogged pores, blemishes, pimples, and breakouts.
Will Tria work? Let's find out!
Fingers crossed I'm one of the lucky ones who sees 70% of my breakouts cleared within 2 weeks. Hoping I'm one of the 93% who notices a smoother complexion in 4 weeks, and definitely wishing I'm part of the 100% whose skin looks healthier and more radiant in 4 weeks.
Here's a close up of my face today, August 31, 2012 (it's as close as my point and shoot camera could get, so it's not showing how gross I really look, but it's a good indicator for my BEFORE SHOT):