Growing up, I don't think it was mom's main concern to make meal time fun. I mean, I grew up with an artist for a mother. She isn't the stereotypical artist with wild hair, and flowing bohemian inspired clothing. However, artwork filled our home. Art in all forms covered the walls, and the flat surfaces in every room. However, our dinner plates were blah, and boring. I'm sure if Ceramictopia was around many years ago, these plates would have graced our kitchen table for not just the kids, but the adults, too.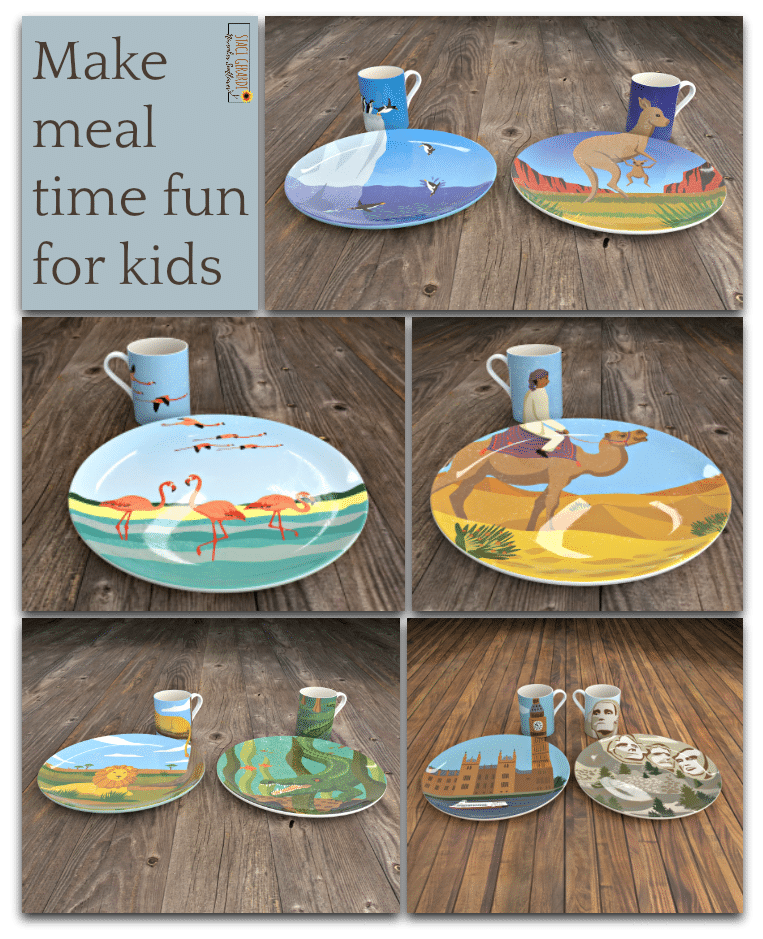 Make meal time fun for kids (and perhaps, adults, too)
Dinner wasn't exactly "fun" growing up. We ate dinner together every night, however, it wasn't what I'd call fun. We'd talk, catch up on our days, and eat. Life was a bit different growing up in the 70s, and 80s. Both parents working, throwing dinners together quickly, and wolfing everything down in order to finish homework before bedtime. No room for fun!
I wish I'd had art like Ceramictopia to eat off of every night. Even better? Creating fun dinner parties around vibrant dishes, and corresponding cups. I'm not sure how other kids are, but mine love themes. They "theme it up" for Halloween, as well as their birthday parties. If it was up to them, every day would center around a theme.
Australian at heart
Many of you know, I'm not only Sicilian (on my father's side,) but also Australian (on my mother's side.) If you'll notice above, there's a bit of Australia represented in Ceramictopia. Seeing a Kangaroo design, set against Ayers Rock. My heart. I love the idea of more people seeing these beautiful creations, and having this insanely joyous feeling I get when seeing Australia represented! Often, Australia isn't represented beyond the Sydney Opera House, and Koalas.
Working with artists makes Ceramictopia unique
Designers, artists and creators design each plate. The packaging is eco friendly. From start to finish, tapping artists for this dinnerware, is inspiring to witness. However, funding is necessary in order to get these plates onto dinner tables. Hold up, not just dinner tables, but party tables.
How awesome would it be to have a set of Ceramictopia paper goods for a Halloween party? No joke, it's in their plans to start creating gorgeous paper goods, too! Everyone reading this right now, take a minute to check out the Ceramictopia.com Kickstarter campaign.
Right now, the plans include ceramic plates, and mugs. If they end up with enough funding, glassware will be added to the line. Ceramictopia plans on keeping its artists busy designing, and creating, and expanding the line with more designs, too. Quality products are few, and far, between these days. We need more quality in our lives!
Donate and receive special customized rewards
When you donate through the Kickstarter campaign, depending on how much you donate, there's a chance to create your own design for a set of dinnerware. Plus, a video of your design being created. WHAT? Yes, I know, kind of awesome. Now, keep in mind, it's a big donation to receive this awesomeness. However, there's plenty of customized rewards for a variety of donation levels.
Why are you still here? Go explore the Ceramictopia Kickstarter campaign, and help make meal time fun for kids (and, adults.)