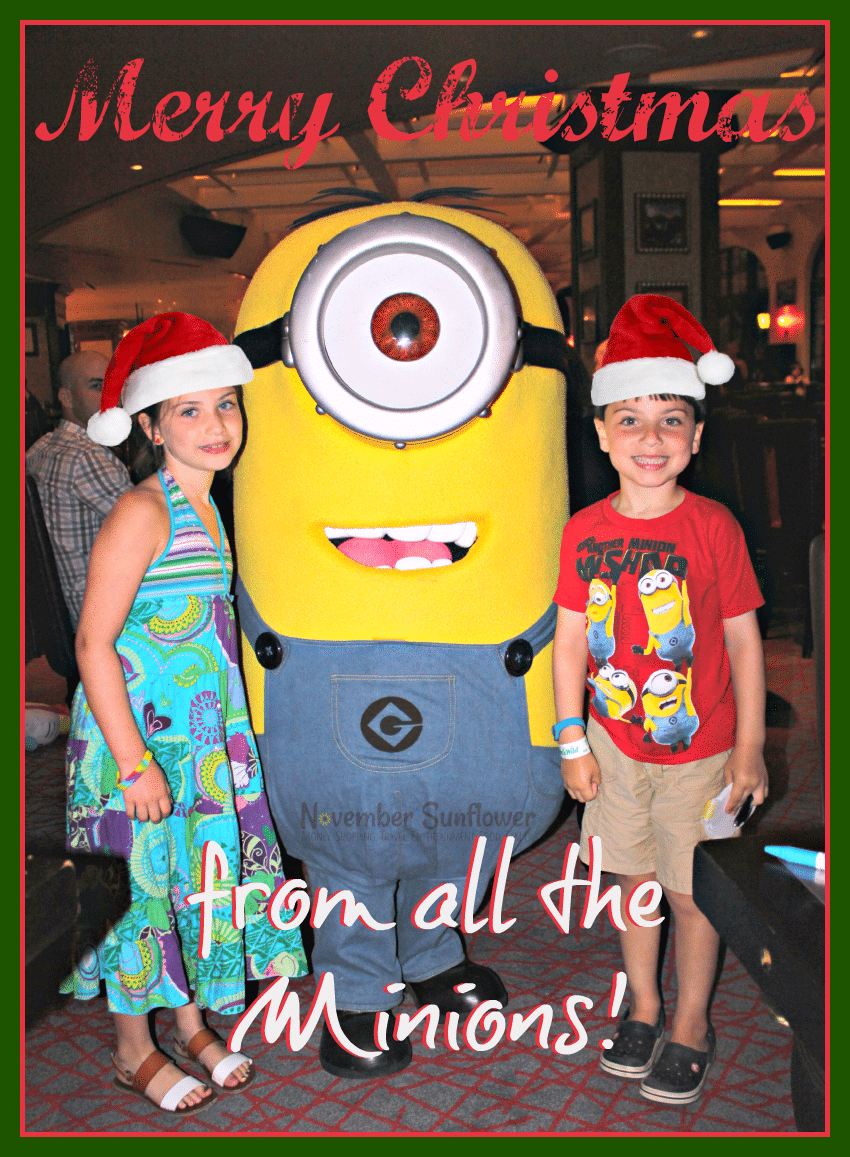 We had a couple of amazing trips this year, and the holidays are less about gifts, and more about experiences! Trips to Disney and Universal this year are trips the kids will remember for a lifetime. Memories are the best gifts you can give your kids, and we're wishing everyone a Merry Christmas from the Minions! All the Minions!
Merry Christmas from the Minions
The Boy
The Boy obsesses over Minions. He loves them all, but Bob has to be his absolute favorite of all time. I think it might be because he completely adores his Uncle Bob (my brother). It might be that King Bob has two different colored eyes. Perhaps it's because Bob is the shortest of the Minions, and my son is normally the shortest kid in a room! Whatever the reason is, he loves those little yellow guys and having the chance to hang with them at Universal Studios in Orlando, made his entire life!
Olaf, the little snowman from Disney's Frozen, is another favorite of his. Getting to not just meet Olaf, but also get a "warm hug" from him, set my son into smiles like I have never seen on his face! Our Disney adventure we took back in May will be one for the books. FastPass was a dream, and the kids got to experience everything they love at every park that makes  up Walt Disney World!
Little Miss
Little Miss loves to ride crazy rides with her mom, so she loves to talk about how awesome the coasters were at Universal Studios. Of course, being a huge Tinker Bell fan, she couldn't get enough of seeing her at Disney, this year. Plus, getting warm hugs, and autographs, from Olaf was also exciting.
Granted, Mama Sunflower doesn't bring in loads of cash with my website (although we're hoping to change that in 2016,) but I do have access to some of the most amazing experiences for my family. I get them at a much lower price tag, and I couldn't be happier to get invited to amazing events my industry creates for families like mine.
Our budget took a bit of a hit this year, but it was worth it to have the amazing memories. Our holidays will have less physical gifts, just one big gift for the two of them to share, and the kids are totally fine with this arrangement. As Little Miss told me "Disney and Universal were the best gifts we ever could have gotten, and we got to spend time with new friends we'll have for a lifetime!"
Yup, that's what it's all about, isn't it? The experiences, the memories, and the lifelong friends you make along the way.
Best Christmas we'll have since the kids were born, and less wrapping of gifts for me. We all win, folks. We all win!
Merry Christmas from my Minions to all of you Minions out there.