What better way to spend time at Disneyland, than to have a girls getaway with some friends? You know what's even better? When you receive complimentary 1-Day Park Hopper Passes to Disneyland, as well as Disney California Adventure! Kids are back at school, and #MomsDisneyDay recharges us moms after the kids go back to school. Disney without the kids is sometimes a tad more fun. Less whining, less fighting, and no battles about what to eat, and when to eat. Just three grown women recharging after a long summer with the kids!
#MomsDisneyDay recharged moms after the kids go back to school
Did you hear that Disneyland is celebrating its 60th Year? Yes, it's their Diamond Anniversary. How could I miss seeing it for their Diamond Anniversary? My birthstone is a Diamond, of course, I had to get to California to witness all the beauty, sparkle and fun. However, the kids wouldn't be able to come. It's too expensive to get the whole family cross country by plane, so it was just going to be me.
Doing Disneyland by myself wasn't going to be much fun, so I figured there had to be two California girls that wanted to join me for #MomsDisneyDay at both parks. Plans were set, and I got my girls Sondra, from Happy Healthy Hip Parenting, and Melodi, from Family Review Guide, to join in the fun. All three of us had a rough summer. A hot summer. A summer filled with drama, and more. Every last one of us needed to recharge after the kids went back to school, and heading to the happiest place on Earth sounded like the perfect solution to get our juices flowing again.
As luck would have it, we also scored the opportunity to see a lot of the Halloween decorations put in place to prep for all the Halloween festivities that would start THE FOLLOWING DAY. Yes, folks. We chose to head to Disneyland on September 10th, which was a day that Disneyland closes early (5PM) in order to put their final touches on the park for the opening day of their Halloween Season. Personally, I'm not a big fan of Halloween, but it was really cool to see all the pumpkins, and orange colors, everywhere we turned while we walked through the park.
Every store had tons of 60th Anniversary goodies to purchase, and man, a lot of it sparkled. Which makes sense, since it is the diamond anniversary for the park! We even saw a little pouch that could holder your phone, and when your phone rang, it would light up the fireworks over the castle shown on the pouch. I was tempted to get it, because it was just beautiful. Definitely should have snapped a photo, or taken some video of it, but for this trip, I wanted to really focus on being in the moment. Photos were a total afterthought. Instead of being behind the camera the whole time, I chose to be present, and in the moment, as I don't get to do that all that often. I definitely don't get to do that with my girlfriends!
I did require a photo of me, with Stitch, and since he wasn't around to get a photo with, I had to make do with a super hot hat. It was worth it. Man I love me some Stitch.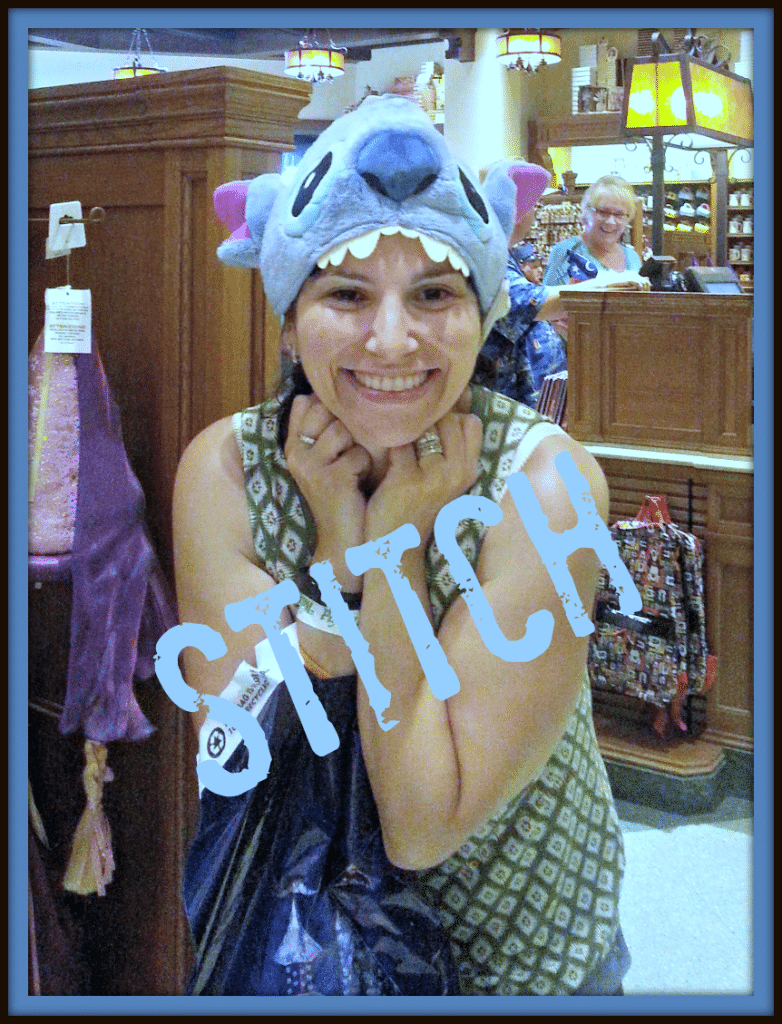 My thoughts on Disneyland
Disneyland is a smaller, more petite version of Orlando's Walt Disney World. It's broken up into lands, just like Magic Kingdom is in Orlando. The lands are smaller, but include many of the popular rides, such as Star Tours in Tomorrowland, Big Thunder Mountain Railroad in Frontierland, and Splash Mountain in Critter Country. Unfortunately, Space Mountain is being refurbished, but since I'd gotten to ride that with the kids in Orlando, I was okay with missing it at Disneyland.
What Disneyland has that Orlando's parks do NOT have, is the Indiana Jones Adventure. It's in Adventureland and it's probably one of my favorite rides at Disneyland. It's loud, has fire, and my kids would totally love it! It's nothing too scary, but it does have some small dips, and there's some backwards movement, too.
If you're going to be at Disneyland, it's necessary to jump on the Disneyland Railroad, which takes you through Mickey's Toontown, New Orleans Square and Tomorrowland. Hop on at Main Street, and enjoy the ride. Plus, over in Tomorrowland, get on the Disneyland Monorail. Disneyland isn't overwhelmingly large, so you'll have plenty of time to hit up EVERYTHING fun in about one day, IF you don't run into huge lines. Luckily, we didn't. We picked the perfect day to go! I guess no one wanted to spend the money for a shorter Disneyland Park day.
Let's not forget, in Fantasyland, every kid should experience Dumbo the Flying Elephant, which is a rite of passage for all Disney lovers. However, for me, the ultimate rite of passage every Disney lover must experience is the Enchanted Tiki Room. It's a super cute show, in air conditioning, and it's also where you can find the Tiki Juice Bar, and the one, the only, Dole Whip Float.
Lunch at Disneyland is a no brainer for me. I much prefer the food at Disneyland, than Disney California Adventure. It's a personal preference, because Rancho del Zocalo Restaurante has the best food. I love Mexican food, and their service, as well as their food, is outstanding. They give you a HUGE portion of food, and the prices cannot be beat. Carne Asada & Red Chile Enchilada Platter is heaven. I'm also addicted to the Crispy Chips con Limon. Hold me. I may cry I miss it so much!
Since I'm fairly new to Disneyland, and basically all things Disney, here's my tips from a beginner Disney Traveler:
Go to Disneyland on a day that it closes early, because the following day is going to be a "first day for some event." We chose the day before their first official Halloween kick-off. It worked out perfectly. We waited on super short lines, under 10 minutes for most of them, even though they said 15-minute waits!
Head to Disneyland on a weekday. If you can't go the day before a huge "first day" type of event, then hit in during the week. Kids are at school, there's not as many people to compete with on lines.
Go to a quick-service restaurant for lunch. They move fast, the food is fantastic, and you get a ton of food if you go to the right kinds of places!
Bring more water than you think you'll need. Just load up. Get yourself a huge re-usable bottle, and bring one of those spray bottle water bottles, too. There's nothing like a nice spray of water to cool you off on a hot day at Disneyland.
Go for the Park Hopper tickets. Disneyland still has the old school system, no magic bands yet. You can hop from park-to-park all day, just remember to get your hand stamped. What's the benefit? If you've decided to go on a busy day, the FastPass system will allow you to get three from one park, and three from the other park. You can work your FastPasses for all they're worth.
Be in the moment. It's a smaller park, so put the phone away and the camera. Just enjoy the time, and take it all in. Especially if you're there for their 60th Anniversary, and during their special holiday themed festivities. It's all so beautiful, and not a lot of construction happening, so you can actually SEE Sleeping Beauty's Castle without obstructions, or ugliness.
If you can't stay at one of the Disneyland Hotels, I highly recommend booking a room at the Anaheim Marriott. It's super close to the parks, and it's got the best service there is in town, along with a fantastic restaurant in the hotel. PS-The pool is beautiful, and there's a hot tub, too.
Are you heading to Disneyland this year? Will you help celebrate their 60th Year in Anaheim? I wish I could bring the kids, they'd love it there.
Next up, I'll share my thoughts on Disney California Adventure. Look out for it to go live on October 5th. See you real soon!
*Complimentary 1-Day Park Hopper Passes were provided to me by Disneyland Parks in order to facilitate this review.