Invites were sent out about a month before the big, bad, Lorax and Orange birthday party for the kids. I had lots of orange items on my "to buy" list. There was a Lorax cake to be created by my niece. Everything was planned, and running along its merry way.
Then Super Storm Sandy hit Long Island. I had no power for 9 days. There was a gasoline shortage all over Long Island……..and it wasn't looking good for my plan to find a ton of orange stuff on sale the day after Halloween. WHY? Because most of the area was out of power, and Halloween was canceled in most of Long Island. My kids got to go around my mom's neighborhood, but most kids didn't have that chance.
My niece wasn't able to make the cake, because they didn't have enough fuel to get to the store they needed to get to in order to buy the supplies needed. She was bummed. She had been looking forward to making a Lorax birthday cake.
Thankfully, my fantastic friends at Hershey hooked me up with some orange candy!!!!! I had Reese's Pieces, which I sorted and only used the orange ones. Then we had ORANGE Kit Kats. The actual chocolate was orange, not just the outside packaging. HOW COOL IS THAT?!!!! We even had some Hershey Kisses wrapped in orange foil, thanks to the upcoming Thanksgiving holiday! Orange was our "new" theme, and we were going wild with it!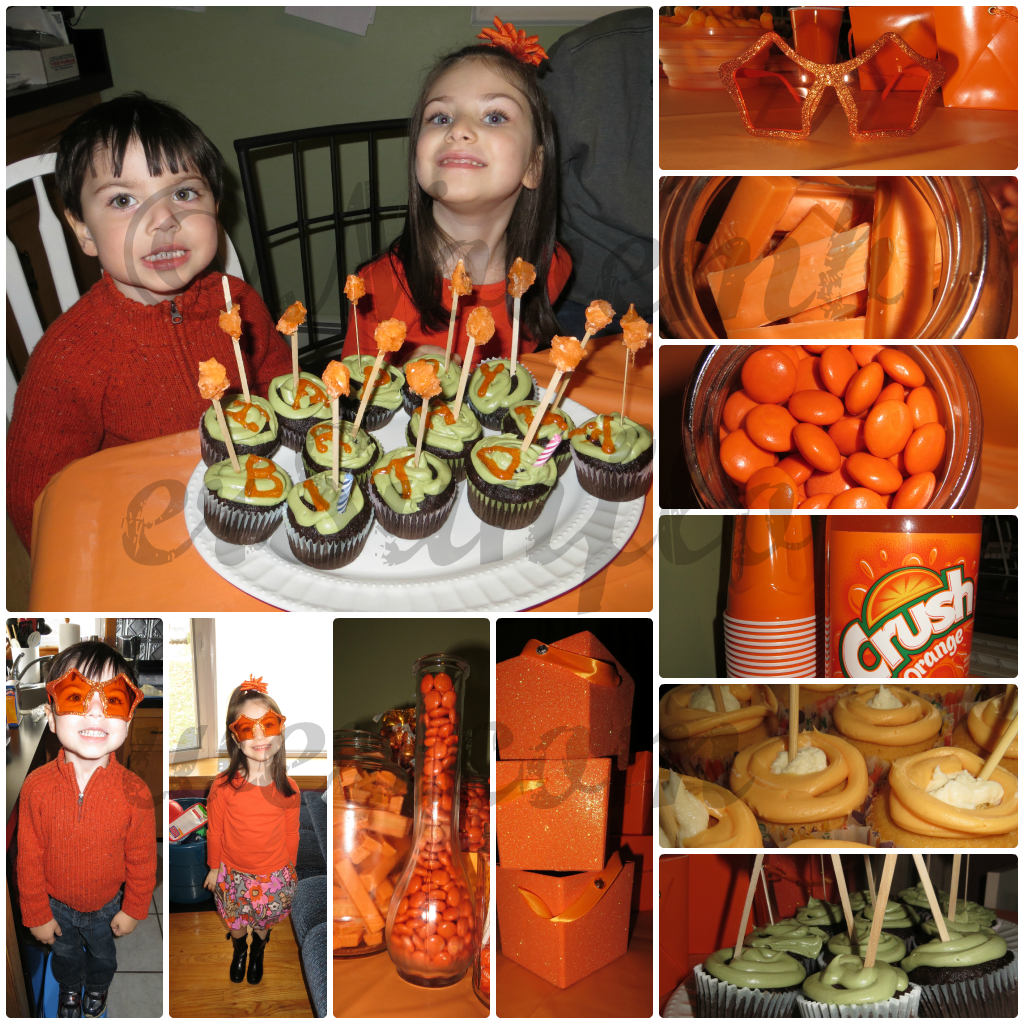 Orange foods like Macaroni and Cheese. We had orange colored drinks, like CRUSH soda. There were orange snack foods: cheese doodles, gold fish, Cheeze its, OH BOY!!!! The kids had on orange, the parents had on orange, and many of our guests came wearing orange. They even got a few gifts that were orange. We had orange cupcakes, baked FROM SCRATCH (no mix at all) by November Sunflower's hubby. And they TASTED like orange creamsicles. DELICIOUS. A friend made Oreo Truffles, and made the outside of them ORANGE. I'm sure it was a pain in the butt to food color all that chocolate orange, but she loves my kids, and she muscled through. Props to my buddy Kim! We loved 'em!
Tables were covered in orange plastic, the paper goods were all orange, utensils orange, too. Let's not forget the Solo cups, at this party there weren't any red ones, only orange. And everything was served on ORANGE tupperware, or clear tupperware, so we could see the orange foods through the clear containers. OH YEAH. That's how we roll.
Our favors for all the kids were all orange colored items like kazoos, barrel of monkeys, slime, bracelets, and candy! The girls got sparkly orange boxes to take their gifts home, and the boys got orange Chinese food take out boxes for their goodies.
The tribute to our Lorax theme, beyond just having orange everywhere, was the Lorax cupcakes. The hubby baked (from a mix for this one), chocolate cupcakes, and made the green frosting from scratch. He then sat there with orange colored cotton candy and made the Truffala trees. What a good Daddy!
It wasn't EXACTLY what we planned, but hey, Super Storm Sandy – you didn't take away the fun.
Thank goodness the kids love orange! Thank goodness I like orange, too!