Disclosure: This shop has been compensated by Collective Bias, Inc. and its advertiser. All opinions are mine alone. #MomsTrustHugges #CollectiveBias
Have you ever wondered how moms in New York City handle the juggling act of being a mom, having a baby, toting around diapers and living in the city that never sleeps? How do New York moms master baby solutions for all things baby? Good question. To be super honest, half the time I didn't know if I was coming, or going thanks to the sleep deprivation I experienced as a mother. If people tell you kids get better about sleeping as they get older, they're right. What people FAIL to tell you is once you're a mother, you become a light sleeper who gets startled over ever little sound. I kid you not. The only thing I mastered after having kids, was the diaper situation.
New York moms master baby solutions
As far back as I can remember, I never carried a pocket book. As a little girl, I never cared for them to play with during role playing. The teenage years hit, and I couldn't be bothered. I always made sure my pants had pockets, and my jackets had plenty of deep pockets for my stuff. Once I became a mother, I wasn't about to change this when traveling all over New York City toting around a baby. Who wants ANOTHER thing to carry, like a diaper bag? Forget that nonsense. Her sweet little face wasn't changing my mind about lugging a bag around New York!
Yeah, what a sweet face, right? Not so sweet when it's time to change one of those blow out diapers! Creativity was KEY in mastering my baby solutions for schlepping around diapers, and wipes. Trips to CVS with my Huggies coupons were a weekly excursion, and there wasn't any hope of this changing. Saving money when you've got a baby at home is mandatory, so are value diapers, and using coupons.com coupons to make those purchases even more worthwhile, had to be done every trip to CVS! It didn't matter what I got, Snug & Dry worked great, and so did Little Movers. Whatever was on sale, and whatever I had a coupon for, was what made it home!
Once stocked up with Huggies, it was time to figure out how to slip diapers and wipes into my life with a baby. Normal moms get a diaper bag, and be done with it. Well, normal moms don't have to bring their kids through New York City streets and avenues, along with riding subways and sometimes, hauling them into taxis. Kids are heavy, and need to be held. There's no way I was going to have a child hanging off of me, and lug around a diaper bag. No thanks. Instead, an investment had to be made. The investment of all investments for New York moms: a jacket with lots of deep pockets. Pockets are a moms best friend.
Yeah baby. My jacket became my diaper bag. It evenly distributed the weight of all the goodies I placed in the pockets, including my phone, keys, sunglasses, and the extra sets of clothing for the baby (it never failed while in the city, there was always a BLOW OUT.) Forget the diaper bag that weighs on your shoulder, and causes neck spasms. Get a jacket full o' pockets!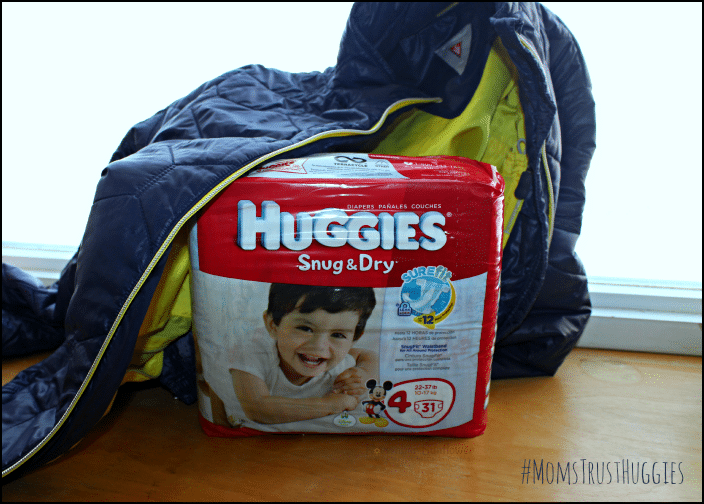 Now it's your turn! I've shared my top New York moms tip with you, and I'd love to learn about yours! Leave a comment sharing your favorite mom tips! Be aware, I review all comments before they go live!