I'll be the first to tell you, I'm notorious for running out of ink at all the wrong times. Two printers, and I'm still running out of ink right in the middle of a huge project. Why? I don't pay attention to the low ink light. Plus, I like to live on the edge. However, the time has come. I must grow up, be an adult, take myself off the edge, and just buckle down and prepare. Seriously, I'm a business woman for goodness sake! Luckily, I've an HP Envy 5660 and it's eligible for HP Instant Ink. Do you know what that is? It's HEAVEN ON EARTH is what it is!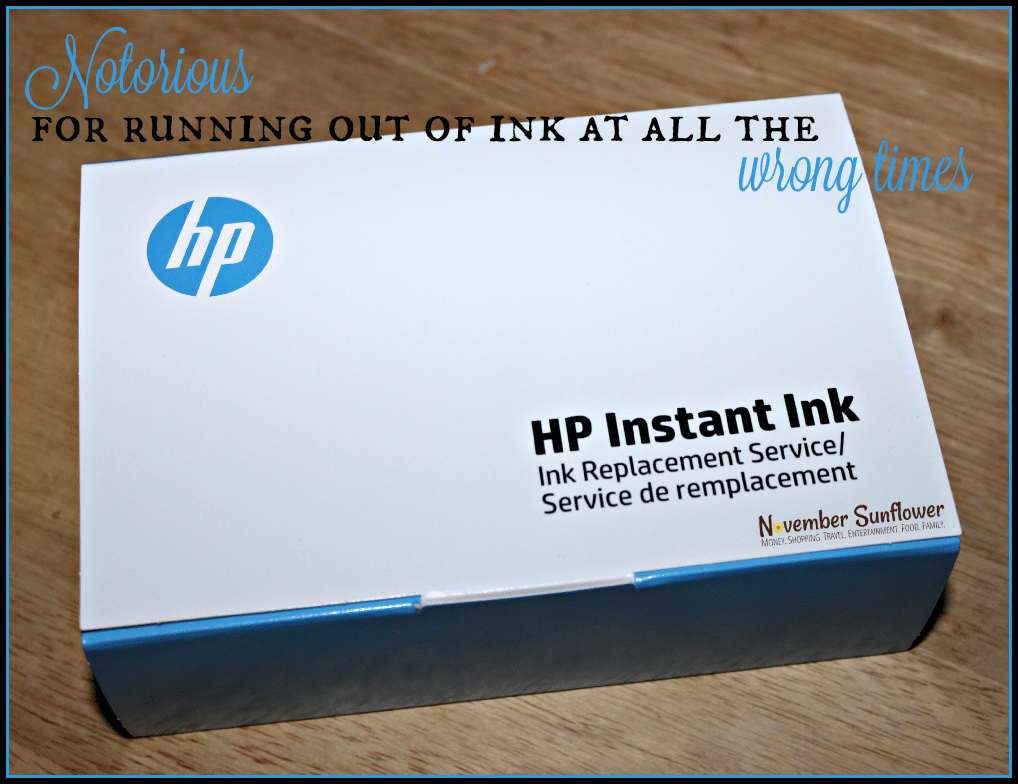 Notorious for running out of ink at all the wrong times
You all know you do it to, you are all running out of ink at all the wrong times. Just fess up, and embrace your faults. It can only go up from here. If you're like me, you just keep putting ink on the list of things to pick up at the store. Then you think "that light has been lit for a few days, and I'm still good, let's ride this out, see how far I can take it."
Low ink indicators are total "drama queens." They go off months before you actually need to change the ink, we all know this fact. You see it light up. Make a mental note. Then a few weeks later you write it down on your "pick up at the store" list. However, something happens. Seeing the light becomes normal, so you kind of forget about it. It's part of your day at this point.
Tragedy strikes
Then, your kid has an assignment due, and you've got to print thank yous for the kids to fill out for all their birthday gifts they received…..a month ago. Everyone has something to print, and all of a sudden the printer decides it's finally out of ink. WHAT???????!!!! The stores aren't open at 9pm when you've decided to finally sit down, and print everything. Welcome to November Sunflower's world, it's a fun one, and we like to live on the edge here.
Running out in the early morning hours, to pick up ink at the local office supply store, isn't high on my list of fun things to do with my time. Although I do love to wander the aisles at my office supply store, I don't love it at 7 in the morning. Plus, I have a time limit, so it pains me, because I can't wander around the store admiring all of the paper clips, notebooks, date books, OH MY!!!!!
Lesson learned
After this last snafu, I finally broke down and decided to hook myself up with HP Instant Ink. Have you heard of it? If you've got an HP Printer, you're going to want to sign up for this service. HP Instant Ink sends ink to you, without you having to order it. The printer KNOWS it needs more ink, and before the ink runs out in the middle of your most important print job, it sends ink to your front door. Plus, it's cheaper than buying it at the store. Well, at least for me. I only print about 100 pages per month, and the program bases it on pages printed, not on the actual ink your printer orders for you.
Kind of awesome, don't you think? Even better? I waited so long to do this, that I was able to take advantage of the 6 months free offer they have right now! Sometimes, it pays to procrastinate. Other times, not so much. But this time, baby, it worked out well. It could work out well for you all out there, too!
Make sure to use my affiliate link to enroll –> sign up for HP Instant Ink