Every day I remind myself that my kids are only little once. When it comes to Little Miss, I have to repeat this over, and over, and over, when I walk into clothing stores and see inappropriate clothing for sale. At the age of 9, my daughter doesn't need to show a ton of skin. Anything covered by her underwear, or a bathing suit, needs proper coverage at all times. I feel this should be the rule for everyone when out and about in the public. Unless you choose to go to a nude beach, then this rule doesn't apply.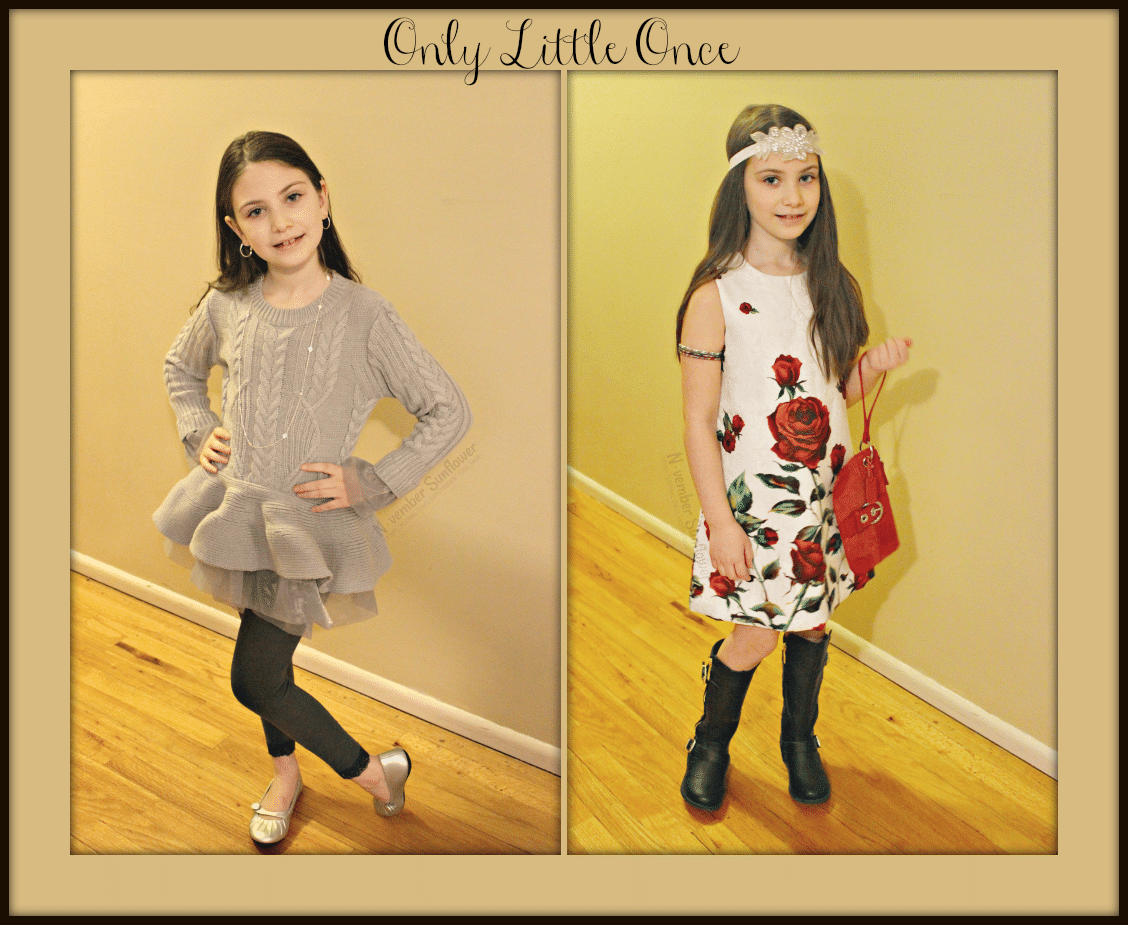 Only Little Once
Shopping for my son isn't a big deal, because I rarely find see-through shirts, or thongs. It's just my nine year old daughter they want to see in garments not appropriate, so it's difficult to dress my daughter properly, but with style. We do our best, and sometimes we get lucky and find clothing like the ones at Only Little Once.
Beautiful, fashion forward clothing for young girls that won't break the bank! Everything is tasteful, covers the necessary "bathing suit" areas, and is unique. It's nice to find quality, without having to go into foreclosure on your home in order to purchase, beautiful clothing!
Little Miss's unique style
Little Miss has unique style, and loves making outfits her "own." Little Miss definitely knows fashion. When the pieces arrived from Only Little Once, she went straight to creating the perfect outfits to show off not just how beautiful her new pieces were, but how little girls can make them all their own! It's not necessary to buy ALL new pieces every time you head out to shop. She proves that every time we go clothes shopping for her.
As special events hit our calendar, she's having a hard time deciding which outfits to wear at each event. I let her know she should base it on the weather, and that made her feel better. I'm sure she's hoping it's a little chilly for the next event, so she can wear the Tulle Knit Peplum Sweater, and save the Juliette Floral Dress for a warmer-weather occasion. Seriously, she looks adorable in both outfits! I understand her dilemma.
As soon as she finished styling her outfits, I made sure to grab them up and do a little "abuse" test on the seams. I pulled, tugged and stretched the material. Solid sewing.
What do I love about Only Little Once clothing?
What I love about the new pieces we received from Only Little Once:
each piece is made for a little girl, not a 25 year old woman
the prices for each piece aren't crazy, expensive
the quality of the pieces are fantastic for the cost effective price tags
all the clothing is unique, and doesn't look like a whole lot of what you'll see in a department store
Did I mention how cute Little Miss looks in the outfits? Too sweet. I can't wait for Easter to roll around! Mother's Day, too.
The down side of Only Little Once? There's not a big enough selection, especially for boys. Let's keep our fingers crossed they stock up, because I know Little Miss and many other young girls, will love picking out great clothes for themselves! I'd also love to see larger sizes. Little Miss can still fit into 7 and 8 sizes, so the selection is broader, but that won't last long. There's definite room for improvement, but we're enjoying what we've got, so far!