Picnics are an essential part of summer, aren't they? If you're heading out to enjoy a picnic, you'll need to know how to pack the perfect picnic basket. You never want to leave out the picnic essentials that'll make your picnic stand out from all the rest. What are the picnic essentials one needs for the perfect picnic basket? Glad you asked, I'm certain I've got your back with this list!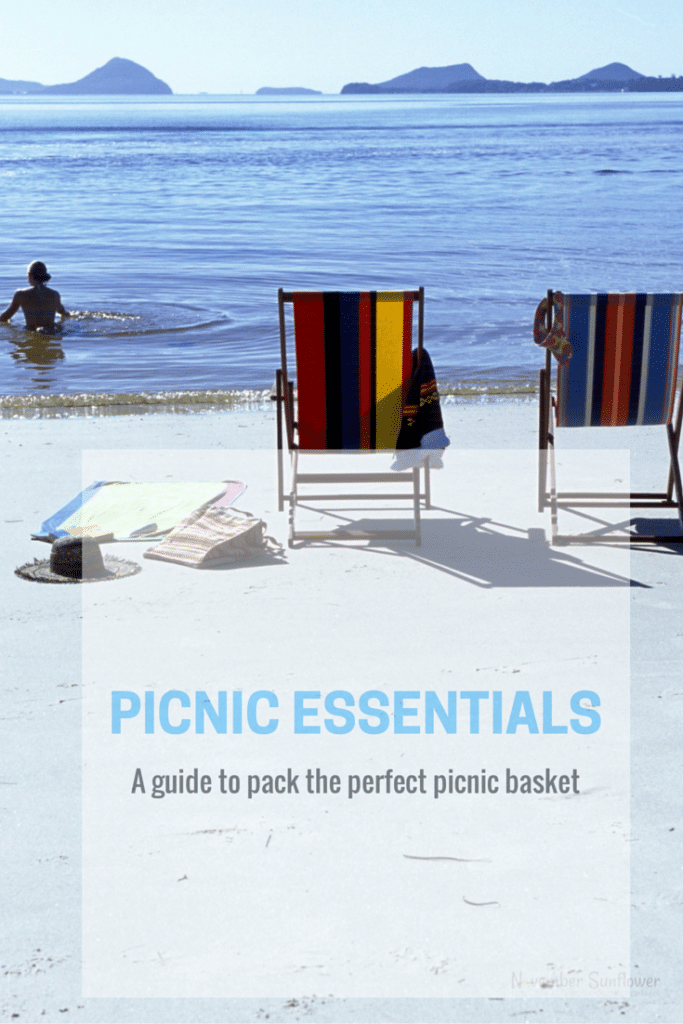 Picnic essentials: a guide to pack the perfect picnic basket
Blanket
It's go big, or go home, when it comes to a picnic blanket! Plus, I like when there are weights on it, to keep it in place. It's a thing with me. Just go with it. I also like strong material, because it needs to take a beating with my kids! The Sand Escape Compact Outdoor Beach Blanket/Picnic Blanket is 20% bigger than most blankets, and has the built in sand anchors. Oh, and a valuables pocket!
Basket/Backpack
I'm a fan of all picnic baskets, but my preference: backpack-style. It makes it easier. I like to have my hands free to carry other stuff, or grab a kid from danger. I have two kids, and neither of them seem to like to stay out of trouble. It's their thing, I guess. Free hands work best. I'm recommending this Picnic Backpack, not for the goodies it comes with, just the functionality. I prefer to use shatterproof glasses, but the plates and utensils could work…. it's up to you.
The blanket you can always use when the sun sets, and it gets a bit chilly. Stick with the aforementioned blanket to sit on, trust me.
Pillows
Strange? Nope. If you've got kids with you, or you just like to be comfortable, having pillows is kind of key ingredient for a great picnic. Face it, you're going to be sitting on the ground for an extended period of time. You might as well have some comfy pillows to break up the monotony of sitting on your butt. You're all nodding in agreement right now, I can tell! You get what I'm saying. Go with a light color if you can, because dark colors absorbs the heat from the sun and make you hot. Lighter the color, the better. Just make sure you get indoor/outdoor pillows. Don't bring the living room pillows to the picnic.
Wine Table/Holder
Now, if you use glasses with stems, you'll want to get a table to hold not just the bottle of wine, but also the glasses, right? Or, whatever you're drinking in your stemmed glasses: sangria, frozen cocktails, etc. If you're going for stems, have a place to keep them from tipping over and losing all that adult beverage goodness. You can put it in dirt, someone's lawn, or a sandy beach. Slap your bottle of booze on the table, stems in the holders, and you're all happy picnic goers.
Cooler Backpack
You're going to probably have someone with you for the picnic. Since you're carrying the picnic backpack I suggested, have a friend carry the insulated cooler backpack. See, always thinking! You want to bring the cooler one, because some foods need it. However, some don't need chilling, and get soggy in the cooler. I hate when that happens. It's so off-putting. Best to keep snacks separated: no cooler needed vs. cooler required!
Unbreakable stemless wine glasses
I don't drink wine, but many people do. It's a big deal at picnics, so I'm told. Even though the above picnic backpack has a set of glasses, they are so not great for a picnic. Anything glass, and breakable, is a recipe for disaster. It's why getting unbreakable, stemless wine glasses is important. Safer, and less chances of it spilling everywhere if there's no stem to deal with. Am I right? I don't know, I'm totally asking, because I don't do the wine thing! I thought these were great, plus they come with a foldable travel wine bottle. SCORE, right? PS-If you don't do the wine thing, but fancy something else, you can fill it with something else. Even water. The possibilities are endless.
Serving trays
Even if you're doing regular plates, you'll need some serving trays to have a bit of stability at the picnic. However, you want serving plates that aren't going to break. Plus, are easy to clean. I like ones with a bit of a lip, so snacks won't slide off easily. You can put the snacks right onto the tray, or throw a paper plate down and then the snacks. Whatever works, it's your picnic! Go wild.
Food
Obviously, bring foods that you'll want to eat. With the cooler backpack, there's no limits! Fruit? Sure. Sandwiches? Yup, bring them. Cheese? Go for it, it's your picnic, bring whatever you want. Just make sure you bring things everyone will enjoy. Also, bring easy-to-dispense goodies. Don't bring all the pieces to make a sandwich, and try to make the sandwich there, know what I mean?
Did I miss anything that you always bring on a picnic? Share in the comments below. Just remember, it won't show up immediately, as I monitor all comments, so I can respond to them as they come in!