Thanksgiving this year is one for the books. It's been a rough year, with a whole lot of downs. However, I'm so thankful for so much this year. I've learned to embrace the super simple things in life, to get me through each day. I take my days one at a time, and not plan too far into the future. I learned the lesson of a lifetime this year: life is short. I've got to enjoy the smaller, daily gifts life brings me.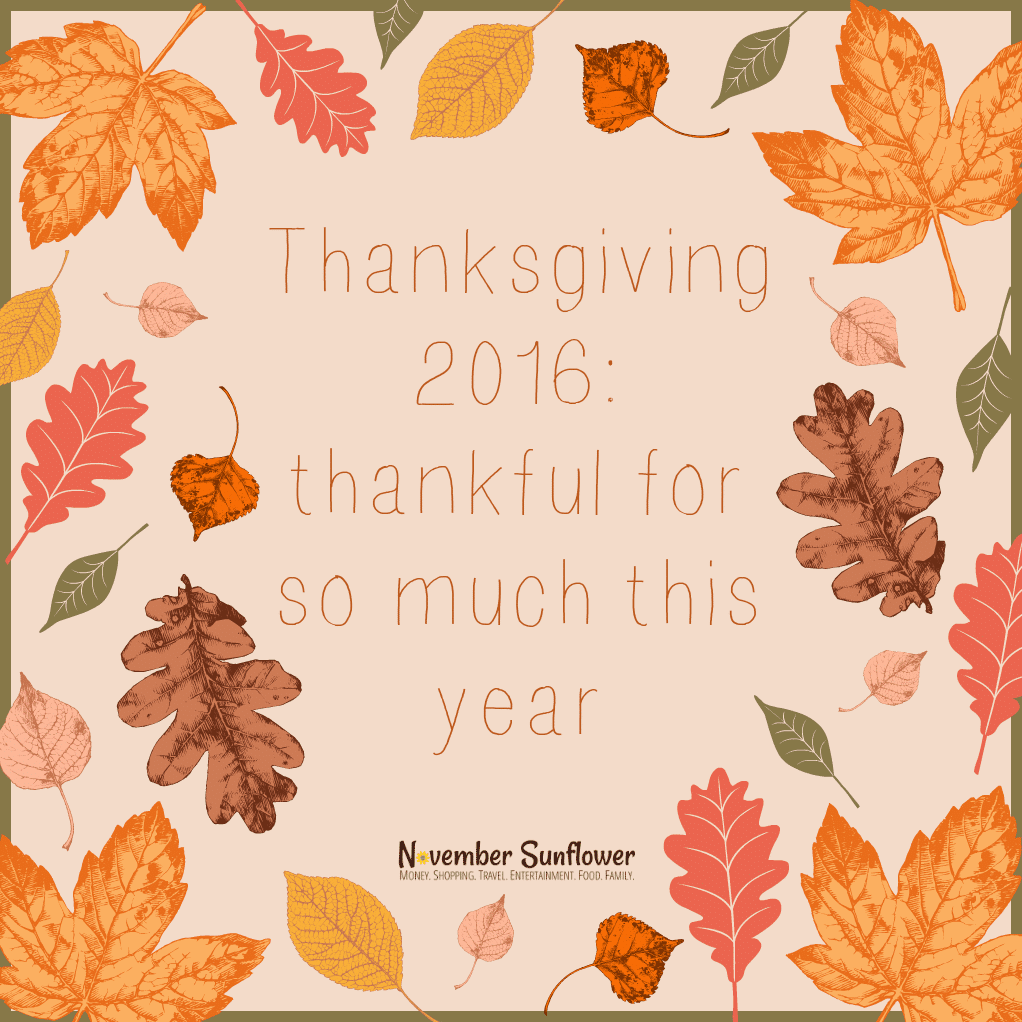 Thanksgiving 2016: thankful for so much this year
Where I live.
I live in one of the greatest states in the country: New York. However, I don't live in Manhattan. I live on Long Island. I'm close to ocean beaches, as well as the more calm beaches along Long Island Sound. I can hop on the train and head into NYC. If the city isn't doing it for me, I can drive out to the Hamptons for a day. I experience warm weather, snow, fall foliage, and the spring rains. But the best part, apart from having my family so close to me? I live on a gorgeous lake. Yes, Long Island is filled with beautiful bodies of water, and I am blessed to live on a beautiful one. Water calms me, and living on this Island of mine….especially on a lake….so thankful.
Friends.
I'm not one to open up to people. It's just not who I am. I depend on me, and me alone. However, in 2016, I opened up a lot more to a few chosen people. Through a couple of difficult experiences in 2016, I have found ride, or die, friends. Some of those friends have been around for a little while, but were more "let's have fun, and a good time" friends. For me, 2016 changed me. Are the changes good ones? I'm not quite sure, as of yet.
What I do know is this: I have a found ride, or die, friends. No matter what happens in each of our lives, these friends have allowed me to be my true self. It's an amazing ride in life when you can find friends that allow you to be the real you. I don't have to always be "on." I can show all my colors, and no matter what, they accept everything about me. At my best, at my worst, and all that falls in between – ride, or die, friends. So thankful for each one of you: my local "brother," Jared; my West Coast Ginger, who happens to share my exact same birthday, Sondra; one of my favorite Gingers, who, no matter what I throw at him, he's got my back in life, and with this dang website, Michael; my West Coast disco-loving, microwave bread making partner in crime, Joshua; my East Coast Jersey Girl, who shares not just my sense of humor, but many of the same life struggles, my girl, Elle; and a former East Coaster, living in HOLLYWOOD, but definitely keeps it real with me each, and every damn day, Timothy.
Work.
Not many moms can say this, but I get to work from home. It means a lot of flexibility for my children. Is it bringing in a huge income? Not yet, but I work hard every day, so I'm sure things will start to line up for me. However, the bigger picture is I can be a constant in the lives of my children. I'm at their school celebrations, capturing amazing memories in my mind, as well as my camera.
Working from home is hard as hell, but the beauty of living in the town I live in? I have access to Verizon FIOS, which means I get my work done faster! Not as many late nights as I used to have when I had another internet provider. I'm so thankful to be home for the kids, and still be able to write, be a social media maven, and so much more!
My Mother.
Having my mother alive, here, on this Earth, is something I'm beyond thankful for. My mother survived a heart attack thanks to an amazing staff of heart specialists, and is recovering from her stroke she suffered because of the heart attack. Every day she battles back, so she can walk further each day. She works every day to get her right hand back, but has come a very long way with transitioning into being a lefty! She's determined to walk around with the kids next Halloween for trick or treating. This year, she was in her wheelchair, and had fun. But, she wants to walk it next year. I know she will!
Teachers.
I have teachers in all areas of my life. However, the teachers I'm most thankful for this year are my children's teachers. My kids have amazing teachers for the 5th and 3rd grade years of elementary school. We lucked out for a second year. The Boy is doing fantastic in third grade, and my daughter, the one I already knew was smart as hell, has blossomed into more than just a little brain.
Both of their teachers know me very well, and have been very helpful with giving my children a little extra love as we get through a difficult 2016. Truly thankful for two of the best teachers at their school, and getting them both in the same year! I can breathe a little easier at home, knowing the kids are being well taken care of each day, in their classrooms. Education is important to both teachers, but being "family" to my children is equally important to them, too.