Back in 2014, I had joined a network called Mom it Forward. I thought it had a lot of great opportunities, and it was a good fit for me. I had no idea it put on an amazing conference, dedicated to families and building stronger bonds within the family. The Family Forward conference is held at Universal Studios each year, and back in 2014, I was tempted to attend. However, we just didn't have the trip within our budget. I'd never heard of it before, so I had no idea I should be saving for it! I made a mental note to make sure we could hit this event in 2015. So glad I did. I'm going to share just a little bit of what went down at Family Forward 2015.
How it all started
First, let me tell you how it all started for our family. Again, I learned about the event in 2014, and I made sure I was on the email list to receive notification about when we could sign up for the 2015 event. When the email came out with the date, and time, the sign ups were happening, I marked my calendar and put 5 different alerts on my phone to remind me.
Wouldn't you know it, I had a meeting at the school the same morning. I rushed through the meeting, and darted home, so I could be sure I wouldn't miss the sign ups. So glad I did, because the event sold out in minutes. MINUTES. Personally, I think it was a snafu on the registration website, because once they sorted it all out, the thing opened up again with quite a few slots for sign ups.
I got in without any issues, and no worrying about being on the waiting list! Woohoooo. It was right then and there I decided to not tell the kids until much closer to the trip, and that was going to be quite a long time to keep this a secret! March was when the trip was booked, we weren't going until September! There were quite a few times I almost slipped, but I didn't! Mr. Sunflower and I had our Universal conversations after the kids went to bed, or through emails. I even packed them without them knowing, and just told them what they were looking for must be in the laundry to be cleaned.
It worked, and when we surprised them on the morning of September 1st, I don't think they believed us!
What went down at Family Forward 2015
Our family arrived a couple of days early, so we could enjoy some time together. Pool hopping was on our agenda, and a little fun at Universal CityWalk. We had a blast, and enjoyed ourselves, but the real fun started when we got ourselves registered at the conference check-in! Our welcome dinner was amazing, but a little dark. It was not easy to get photos with my little smart phone camera, but I managed! We got to meet Popeye, Betty Boop, Marilyn Monroe, Shrek and Fiona, plus Gru and his Minions.
Our first official Family Forward #UniversalMoments
Our journey began with a Super Hero welcome courtesy of Children's Miracle Network Hospitals. The kids wore their capes, and masks, as we made cards for kids at the hospitals, plus little care kits for family members staying with their children. It was a great way to start off such a special family weekend! Giving back is always something I try to work on with the kids, and they love doing it!
After the welcome party, it was time to attend the Welcome Event Dinner at Universal Studios! It all started with a bus ride from the hotel over to Universal Studios, where we were red carpet welcomed by Woody Woodpecker and a band. Very cute, and the kids loved every minute of it. Once inside, the kids were excited to see all the characters, and as we all know by now, I was most excited for the food. Nacho bar, and the slider bar, were my favorite parts of the entire evening. I can't help it, my stomach rules my world!
Our amazing hostess with the mostest, Meredith (losing her voice before the weekend started,) told us all about our fabulous adventure we were about to be a part of. The kids were THRILLED to learn about everything we would be doing, and couldn't wait to get started. Off we went with the crowd to be led to the Hogwarts Express for our trip to Universal Island of Adventures for a Nighttime Dessert Reception, featuring Butter Beer! Oh, and some rides.
After a couple of rides on the coaster all the kids could ride on, it was back to the hotel to rest up for the very busy days ahead! When we returned to our room, a special surprise was waiting for us from Universal!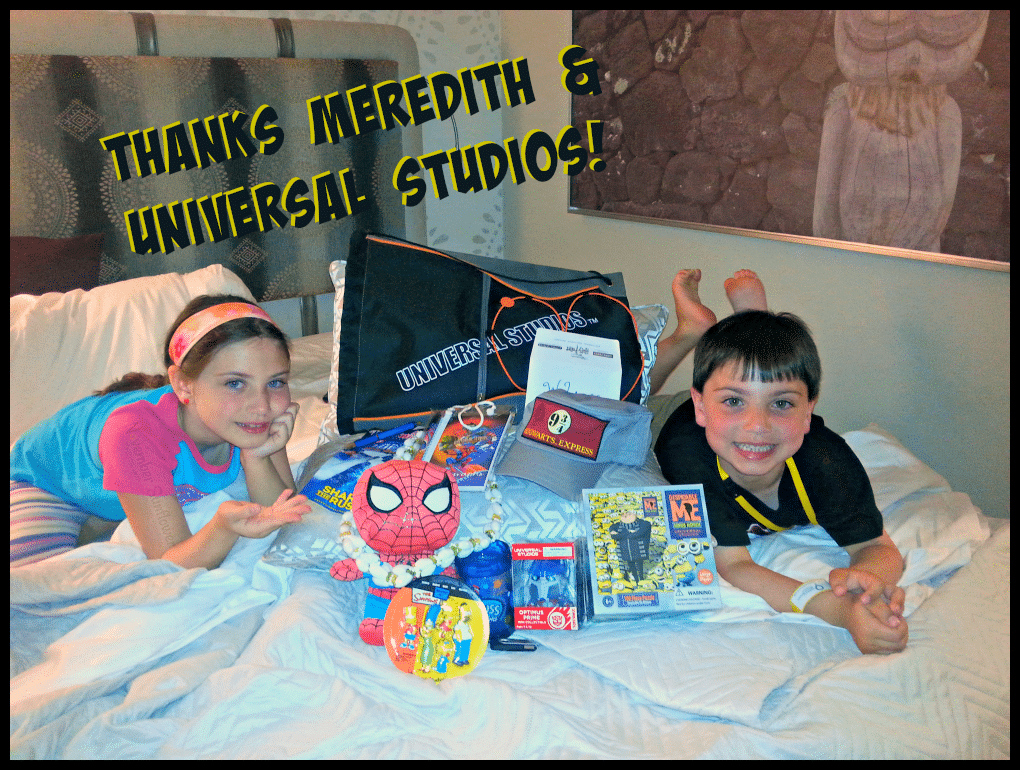 Full first day at Family Forward
Breakfast. It always tastes better when someone else is making it, serving it, and cleaning up after it, isn't it? Eggs. Bacon. Sausage. Biscuit. Bagel. Fruit. I was in heaven. Loews Royal Pacific Resort hotel knows how to throw down when it comes to breakfast! I could have just hung out there eating the entire morning, but we had lots to get to, and DohVinci wasn't going to create itself!
By now, the kids had found our New York friends, and luckily, we were able to join forces and become a large tribe. Kids were taken care of by all the adults, and everyone in our tribe had everyone else's backs! It was a whole lot of fun, and the kids loved hanging with friends while bringing their art to life. Once the kids were done, it was already time for our Royal Caribbean Cruise Lines sponsored lunch! I couldn't say no to that! Husbands took the DohVinci art back up to hotel rooms, and the rest of us shuffled over to the right room to find a table that would fit our entire group of three dads, three moms, one grandmother, and seven kids. It wasn't easy, and we all got super close at lunch. Fine with us!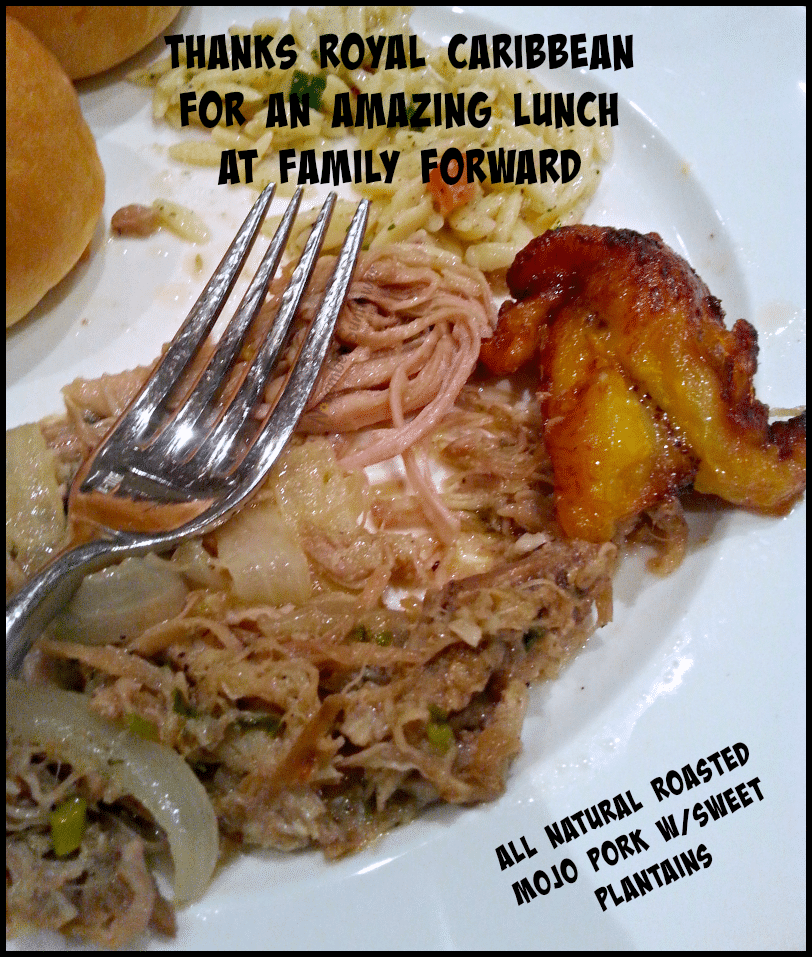 The kids even got to hang with Shrek!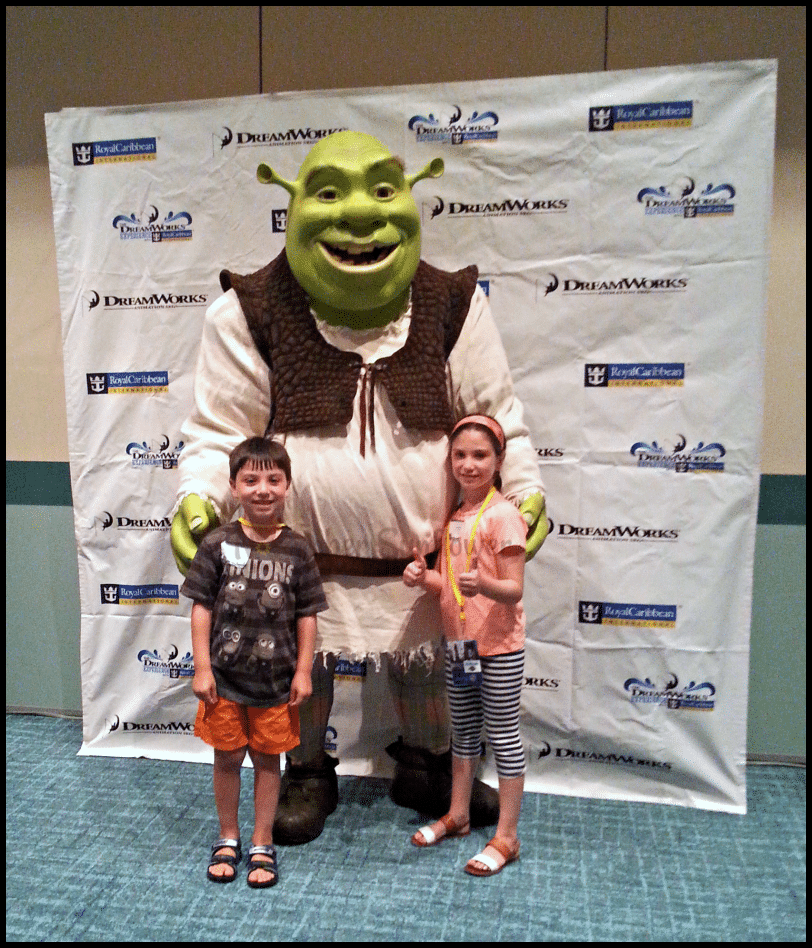 It was a very full rest of the day for the kids….
… and then the rains hit. We were nervous about this, since the evening festivities were going to be spent at Wet 'n Wild Orlando. It wasn't looking good when the buses first dropped us off.
Instead of wasting time waiting, we headed to the food courts and started off the night with some pizza and a burger at the private covered area just for Family Forward attendees. However, in true Florida form, the rains stopped and the fun was back on! The kids and Mr. Sunflower took off to go get wet on rides, instead of in the rain. I followed soon after, once the rest of the tribe joined us. The most popular place for most of the kids and fathers? The gigantic Wave Pool!
It's crazy to think this place will be shutting down at the end of this year, but at least Universal is building a brand new one within walking distance from their hotels, and CityWalk! It'll be very exciting to visit the new park once it opens. Glad we got the chance to experience Wet 'n Wild Orlando while we had the chance to! We were there until the last bus took us all back to the hotel, and once we were there, a couple of us enjoyed some night swimming back at the Loews Royal Pacific Resort hotel! Some drinks might have been had, as well as some night swimming.
Saturday's V.I.P. Experience at the Universal Parks
Our Saturday started rather early, with a fantastic breakfast Universal Orlando Resort hosted for us at Jimmy Buffett's Margaritaville at Universal CityWalk. Eggs. Bacon. Sausage. Biscuits. French Toast Sticks. OH MY! Breakfast wasn't the only thing on the menu to start our morning, though. Dancing was a huge part of the event, and the DJ made sure he got all the kids involved!
Now, don't get me wrong, everything was super fun, but it was time to get our V.I.P. Experience at the parks with our tour guide, Emmanuel (sorry if I didn't spell that correctly.) All I have to say is our group was fabulous, not just because we had kids that were similar heights, and ages. But because our families just adored each other! Kids loved each other, the adults, the adults were enjoying each other, and all the kids. It was damn fun! However, poor Little Miss was the only female child in the tribe, but she loved hanging with my favorite New York girlfriends, Nellie and Scherrie! Plus, she totally loved being the mother's helper when called upon! All the dads loved having her around.
Our guide hit all the rides our kids could go on, and it was a blast. All their faces were lit up the entire day, even with all the walking and the unbelievably hot day, not much complaining took place. It helps when you get to go on rides without waiting in lines, and getting to sneak into the "exits" instead of going through the entrances! We also learned that a couple of rides were closing in a couple of days FOR GOOD, so we made sure to hit those rides on Sunday before they closed down for good. The entire experience was amazing, and six hours flew by! It all went by way too fast.
Our family decided not to attend Blue Man Group, because we had already decided to book our character dining experience at The Kitchen at the Hard Rock Hotel. Well, Mr. Sunflower and I decided to skip Blue Man Group, and the kids had no choice. It's something we can do in New York City if we want to do it, and all we wanted was to enjoy some time together as a family after a day at the parks.
Sunday Park time with our Universal Express Passes
Our morning started off with some leftover breakfast treats in our room, and then a quick text to find a place to meet up with ThirtyMommy's family. The Boy had become quite attached to ThirtyMommy's oldest son, and luckily, we could all go to the parks together again. It was a full day of adventure, and I even got to do the Revenge of the Mummy ride with Little Miss! We dragged along ThirtyMommy's hubby, while Mr. Sunflower took the boys to do Transformers (again.)
The longest lines we had to wait on, with our Universal Express Passes were The Simpon's Ride and Revenge of the Mummy. The waits at each ride weren't too long, maybe about 15 to 20 minutes. Without the passes? Over an hour. So glad we stayed on property! Totally loved having those passes to get us through the lines faster. Even with all the rides we went on, including DISASTER!, which is now closed to make room for Fast & Furious, the kids just adore getting autographs from the characters, and photos with them, too.
I just love the faces on my kids in the character photos. So happy, and full of excitement. How can you not have a good time after seeing such joy? Even after the rains just poured down on us while we ran to M.I.B. so Little Miss could buy a Pug in a bag that she saw earlier when we went on the ride, it was such a great experience at those parks with friends, and family! The Boy got to take Daddy on the M.I.B. ride again, and Little Miss got to buy her little Pug in a bag, and we ran again through the park and all the way back to the hotel! We had to get ready for the final dinner with Family Forward!
Dinners at VIVO and The Cowfish
Family Forward hooked us all up with amazing restaurants, so we could enjoy our final dinner together in style! I had to split our family up, which worked out well. It wasn't a big deal, and it gave Little Miss a Daddy and Daughter dinner, while I got a little one-on-one time with The Boy. Half of the family went to VIVO and had amazing Italian food: lasagna and spaghetti with meatballs. Of course, Mr. Sunflower didn't take any photos, but since I'd been VERY lax in my photo taking all weekend, I couldn't be too upset!
The Boy and I went to The Cowfish. I know, fish and I don't really jive. However, I do love me some cow! Cow in the form of a delicious burger, topped with bacon and so much awesome, I can't even tell you. I do have to admit, the favorite for both me and my son? Parmesan Truffle French Fries. Get them, they're amazing. The bacon on top is killer! It's the truffle that got my taste buds watering.
Event Finale and Dessert Party
After our meal, we had to water taxi back to the hotel to pick up our tickets to get back into the park. I'd forgotten them, of course! We needed them to return to Universal Studios in order to attend the event finale. Thankfully, the rain had stopped for a bit, and we could take the water taxi quickly back to the hotel, get the tickets, and then hop back on to get back to the park. Unfortunately, the rain started to fall again, so our event finale at Universal had to be moved indoors. It made for a very tight fit. It was so hard to even find a table, let alone sit down. The kids did most of the sitting while eating their ice cream, and then we slid ponchos on them and whisked them outside to watch the fireworks show!
It was such a fantastic end to the night for the kids, and our super huge tribe! Our group returned to the hotel, and just us moms headed down to the Bula Bar by the pool at the Loews Royal Pacific Resort, to enjoy some beverages. It was nice to just chat, unwind, and laugh. We had to make it an early night, though. Two of us were leaving the following day! My family was going to be leaving the earliest, so packing up everything had to be done. UGH.
Monday was another day to explore the parks if you were staying, but our family had to fly home so the kids could start their first day of school the next day. Sad to go, but we truly hope to be lucky enough to attend again next year!