Few things are more satisfying than doing a thorough spring cleaning. While some items you come across can definitely go into the junk pile, allowing you to free up some much-needed space, others can become "good as new" with a little love. In the spirit of this season of rebirth (and saving a little cash!), why not give particular pieces a rebirth themselves. After all, there's no need to let your budget keep you from new spring looks so you look fabulous for spring.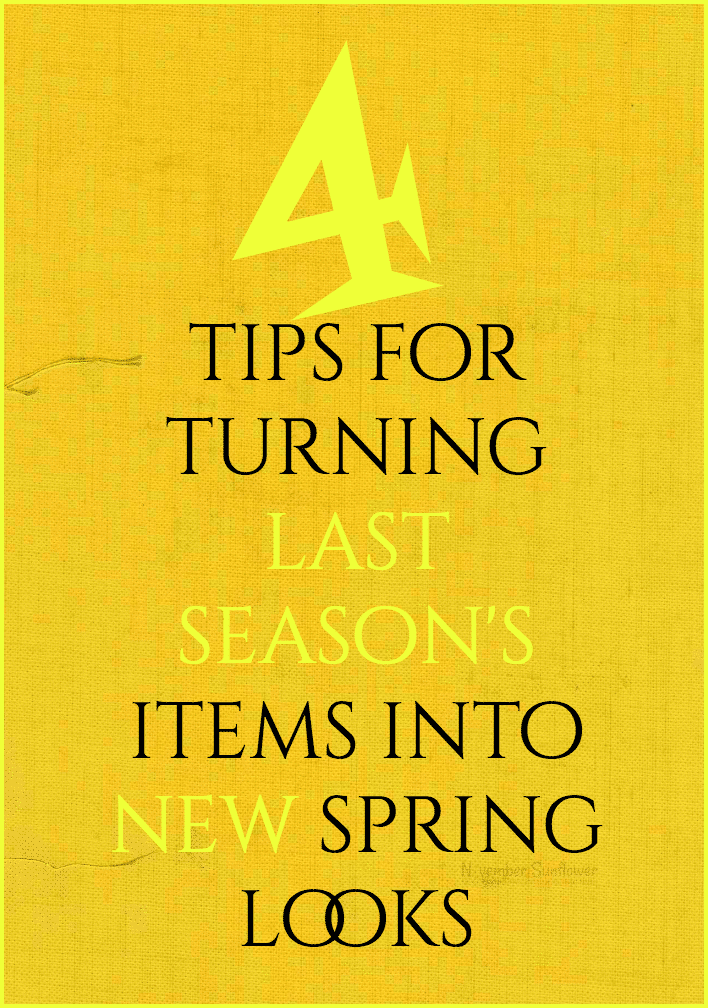 4 tips for turning last season's items into new spring looks
Thankfully, several easy little tricks can help you turn sad-looking items into vibrant pieces, perfect for the spring season.
Fabric Markers
These little markers are magical. They are magical because they are so simple to use. You don't have to get out a sewing machine, needle and thread, or even scissors for that matter. All you have to do is purchase these at your local craft or superstore and go to town. According to your taste, just add a little design to the collar of a boring top, or a pattern to the bottom of some bland shorts. You can even jazz up a plain handbag with a fabric marker. The goal is to give these spring items a new, refreshed look for the season in order to get you excited about wearing them again!
Dye
It is unbelievable how many colors of fabric dye are out there today! It's rather exciting, especially when you have the task of brightening up your drab wardrobe for spring. When choosing a color of dye, make sure you do not play it safe. Go for the colors that make it evident that spring is in the air! Of course you can dye tops, pants, jeans, jackets and scarves. But don't forget about bags and shoes. Another creative tip is that you don't have to necessarily dye the entire item; you can dye part of the item and even use more than one color!
Add Lace Trim
Talk about reviving an old piece of clothing for a perfect spring look! Beautiful lace trim will make any article of clothing a spring wardrobe stand-out. Add lace to:
shorts
tops
bottoms
jackets
and just about any article of clothing, really!
Sew some on:
the top or bottom of shirts
to the edge of sleeves
the bottom of skirts, shorts, pants or capris
The options for adding lace for a fresh spring look are endless, and the fabulous end result is totally up to you!
Embellishment
There are so many different ways to embellish your wardrobe for spring. You can choose embellishment that is small and shiny or large and patterned. Sew it, or simply use fabric glue. You can embellish your shoes, scarves, wallet, hats, sunglasses, tops, shorts, and headbands. Embellishments come in a variety of material, shapes, and sizes and can be beads, sequins, jewels, flowers, feathers, or patches. As with anything, you should choose embellishment according to your personal style and taste. Embellishment truly makes your style stand out above the rest!
Love fashion? Check out all our fashion pieces: Fashion on NovemberSunflower.com
Author bio: Aimee Lyons is a twenty-something free spirit who loves crafting, painting, building, and anything else that lets her exercise her creative muscles. A born do-it-yourself kind of girl, she started DIYDarlin.com to inspire others to embrace their inner creators and tackle projects with confidence. When she isn't crafting, you might find her vintage shopping or taking her Corgi Champ out exploring in her hometown of Austin, Texas.