Fall's almost coming and the fashion critics have already given in their word as to what's going to be cool this winter. Here are some of the fashion trends we picked out from runway shows earlier this year.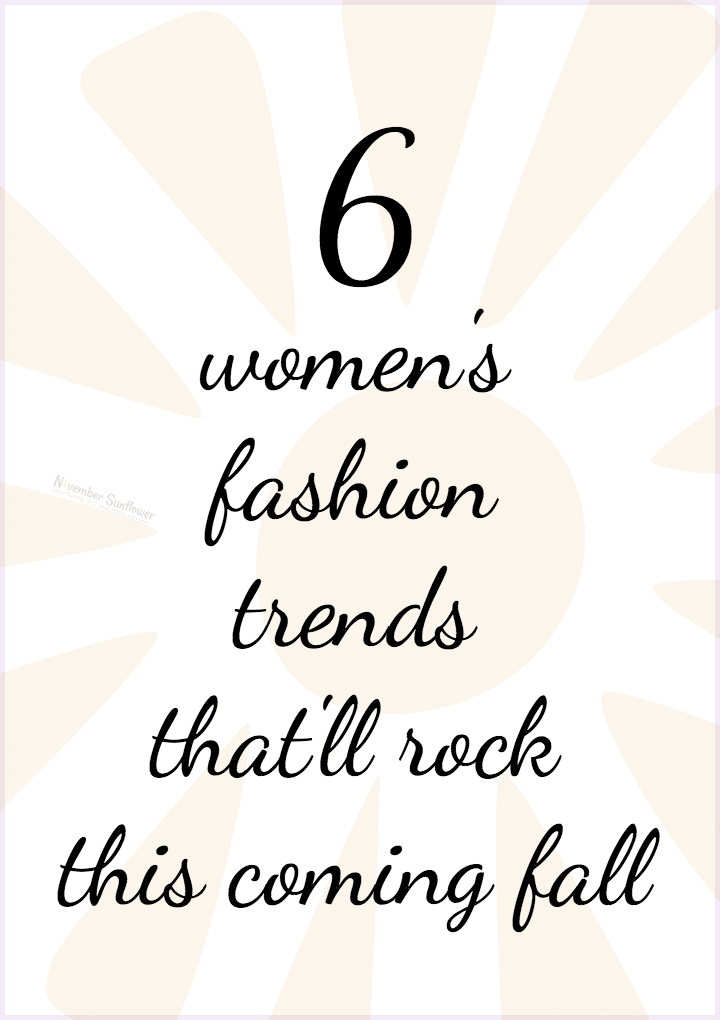 6 women's fashion trends that'll rock this coming fall
Statement fur
There's probably nothing that screams winter better than velvet and fur, but in fall 2016, it's going to be more of the latter. Statement fur is going to be all the rage this fall, and by statement, we mean a BIG statement! Overall, fur – both real and fake –made a grand appearance in fashion shows for fall earlier this year. However, it wasn't the furriness, rather it was the use of bold, bright colors and prints that caught everyone's' attention. The fur that really stole the show was J. Crew's cotton candy coat – just edible!
50 shades of tan
Summer's nude pinks and skin tones are still sticking around for winter, but with a slight wintery touch. Fall 2016 is going to be painted with tan. Pants, skirts, knits, and even outwear – everything's going to be done in shades of tan. From muted khaki to soft camel, tan is the chicest, the most classic color there is for winters, and your wardrobe is going to be incomplete without a few – you need, not one, but a few pieces in tan.
Bomber jackets
And of course, the coolest fall 2016 trend for outerwear is going to be shearling bomber jackets. Designers like Altuzarra and Kate Spade paired bomber jackets with just about everything from kick flares to midi dresses. Not to mention, they too were all furry and definitely a breather from the traditional long single-colored boring outwear that we've been seeing from the last couple of years.
Turtlenecks under dresses
Its winter and why not add a couple of more layers to your style. Fall 2016 runway shows showcased shirts with long sleeves and turtlenecks being worn under sleeveless, deep necked, and below-the-knee length dresses of all shapes, sizes, textures, and colors. Karen Walker and Tory Burch surely did take layering to another level earlier this year while showcasing for fall 2016. It's a great way to take all those slinky slips, glitzy sequins, and low-cut cocktail dresses out in broad daylight. So looks like you won't be getting rid of your cute summer dresses and party wear any time soon.
Women In suits
Women Empowerment just keeps getting bigger and better! Slim-fitted, stylish, and colorful, women are going to be able to wear these suits to just about any personal or corporate affair. Cristian Siriano's horizontally striped suit in black purple and olive was one that really got the crowd's eyes glued to it. Looks like a lot of women just might give up the idea of wearing plaid this time around.
 Chokers
Grab some bedazzling statement jewels as chokers are going to the number one jewelry trend fin fall 2016. Designers like Adam Selman and Oscar de la Renta styled many of their off-shoulders and deep decollates with matching chokers. Though they weren't too blingy, the gems eventually do creep in because… well… jewelry and bling are a match made in heaven.
About the author: Henry Kingston is an enthusiastic fashion, and lifestyle blogger. Henry loves to write, and make people aware of the latest fashion trends, through his writings. His aim? To become this country's most renowned fashionista, and own a fashion house where he can show all his creativity. For more updates follow him on Twitter.