Another city, another chance to experience amazing food. This is Long Beach! It's not the Long Beach in my native New York, either. It's the Long Beach on the other side of this beautiful country, out in sunny California.
Experience amazing food in Long Beach, California
I've said it before, and I'll say it in the future, and always: food makes me happy. I love to eat, and I completely love visiting new cities and spending time eating my way through them. Visiting local places, and experiencing local cuisine, is part of the travel experience. Well, at least for me! My recent trip to Long Beach was no different! Dig in, everyone, and enjoy!
Fuego at Hotel Maya
Guacamole, salsa, cocktails, and amazing fries covered in meat, and egg? Yes, please. When visiting Long Beach, most of the allure is the beach, and the views. Getting to enjoy appetizers at Fuego at Hotel Maya, while looking out at the amazing Long Beach sky line, is priceless. It's one of the most gorgeous properties in Long Beach, and Fuego's offers South American, Mexican and Latin American flavors wrapped up in beautifully presented dishes. I could have eaten the guacamole all night long, no doubt!
Sir Winston's on The Queen Mary
Five star steakhouse, on a boat that's permanently docked in Long Beach? Who says no to that kind of awesome? Not me! After having the chance to tour The Queen Mary, filled with history, and apparently paranormal activity, Sir Winston's is the perfect way to end an evening in Long Beach. French Onion Soup is hot, bubbly, and all kinds of cheesy. You're probably thinking "soup, in California, what gives?" Well, contrary to what you might believe, Long Beach gets a little chilly once the sun starts to set. The breeze kicks in, the sun is down, and the chill sets in. Soup is perfect, and French Onion is my favorite. Followed that up with Beef Wellington for my main meal, and it was perfectly cooked. I didn't even need a knife to cut it, just my fork. Cut through it like butter. Amazing.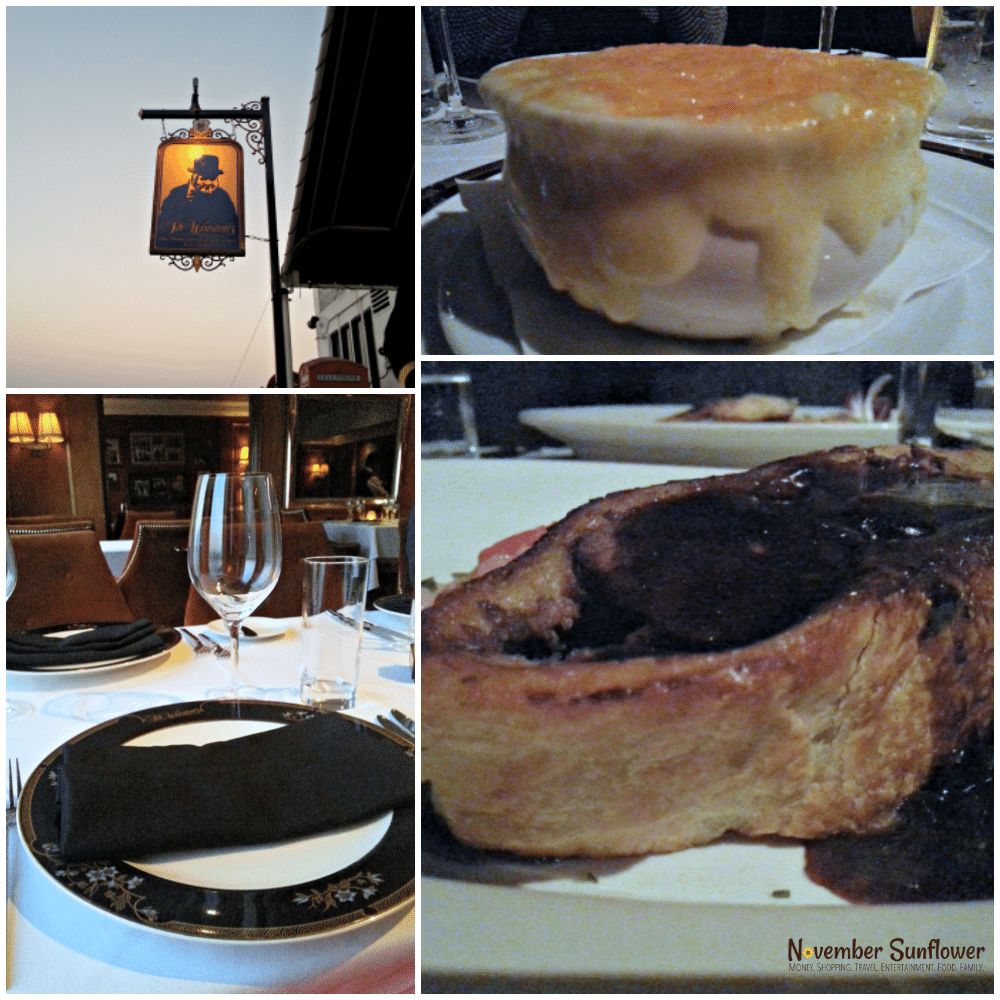 Bay Street Kitchen in Hyatt Centric
Breakfast. It's probably the one meal I regularly skip. I know, I know. Terrible habit, but I find that I'd rather sleep later and just eat a larger lunch when the time comes. However, when traveling, rising early is a must. Which means breakfast is a must. Hyatt Centric has Bay Street Kitchen right off the lobby of the hotel. It's the perfect spot to eat a farm-to-table ingredient filled, hearty breakfast. And I mean hearty! They don't skimp on the amount of food they serve up, that's for sure.
Eggs tastes amazing, because they are so fresh! House-made granola is equally amazing. Definitely head to this little spot, even if you're not a Hyatt Centric guest. You'll be happy you made the trip!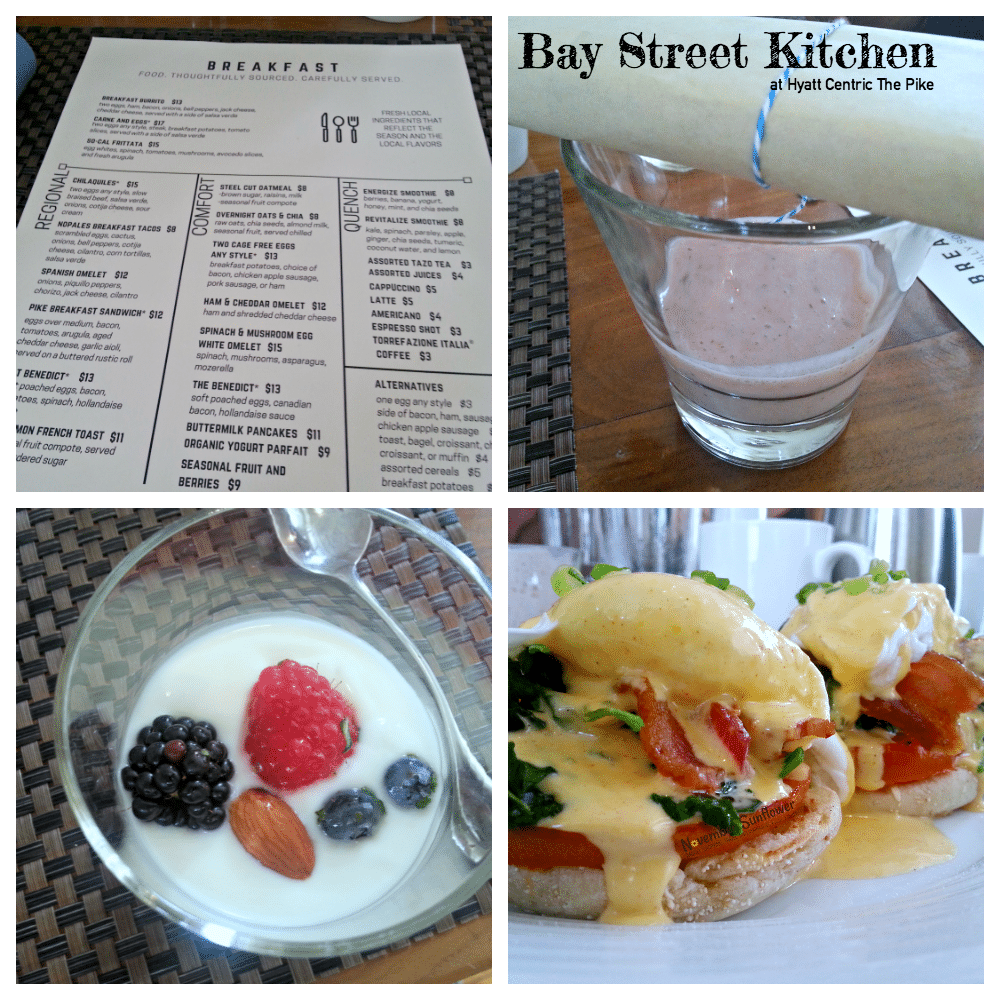 Lola's Mexican Cuisine
One of my favorite cuisines ever, is Mexican. It's even better when the recipes are passed down from generation, to generation, and used at local restaurants. Lola's Mexican Cuisine offers another local spot that uses the farm-to-table ingredient mantra, and does it well. Plus, the theme in Long Beach seems to be, serve big meals!
One Night, Dine Around at The Federal Bar, George's Greek Cafe, Michael's Pizzeria and The Sky Room
One night, four different spots, for four different parts of a meal. Appetizers and cocktails, followed by a dinner salad, with amazing Italian dishes for the main event, followed up with a wine and chocolate tasting for dessert! It's the best way to sample a variety of local spots, while enjoying all Long Beach has to offer. Walking around the city, enjoying the people, and atmosphere, plus great food, now that's a vacation.
The Breakfast Bar
Another early morning, another amazing breakfast served by a staff so friendly, you'd think you were in a television show! The line was long, but once you're seated, the food at The Breakfast Bar is worth the wait. Potato pancakes are a must when ordering, so don't say no to those!
Parker's Lighthouse
Lunching by the lighthouse is one of the best feelings in the world. The sun is shining, the breeze is perfect, and the scenery makes the food taste that much better. Whenever I visit a new place, I have to at least try a burger at one of the many restaurants. So glad I chose to try out the burger at Parker's Lighthouse. It comes sandwiched between two ooey gooey cheesy garlic bread slices. I tried to add a healthy aspect, and had them throw avocado on the top.
The Boathouse on the Bay
Seafood isn't totally my favorite, but when I eat it, I normally go for the lobster. At The Boathouse on the Bay, my lobster choice was surrounded by creamy macaroni and cheese! Huge pieces of lobster, creamy, hot delicious macaroni and cheese, was the perfect way to end my Long Beach trip. The night was chilly, but the food warmed me up, along with the outdoor heaters positioned perfectly outside. Such a beautiful experience in Long Beach.
Long Beach is calling my name again, and I fully intend to visit again in 2017. Parker's Lighthouse's burger is worth the long, cross country trip, no doubt.
What places do you love in Long Beach? Comment below, share with our community!