Girls who enjoy a good pedicure come from all walks of life. Even those of us who are more apt to follow the boring girl beauty lifestyle want our feet to feel soft, and look pretty. Granted, in the winter it's harder to stay on top of foot maintenance, but it's something that can be done quickly. Don't believe me? Come on now, I'm Mrs. Boring Girl Beauty. You know I'm doing the bare minimum to make sure my beauty routine is simple, and downright BORING!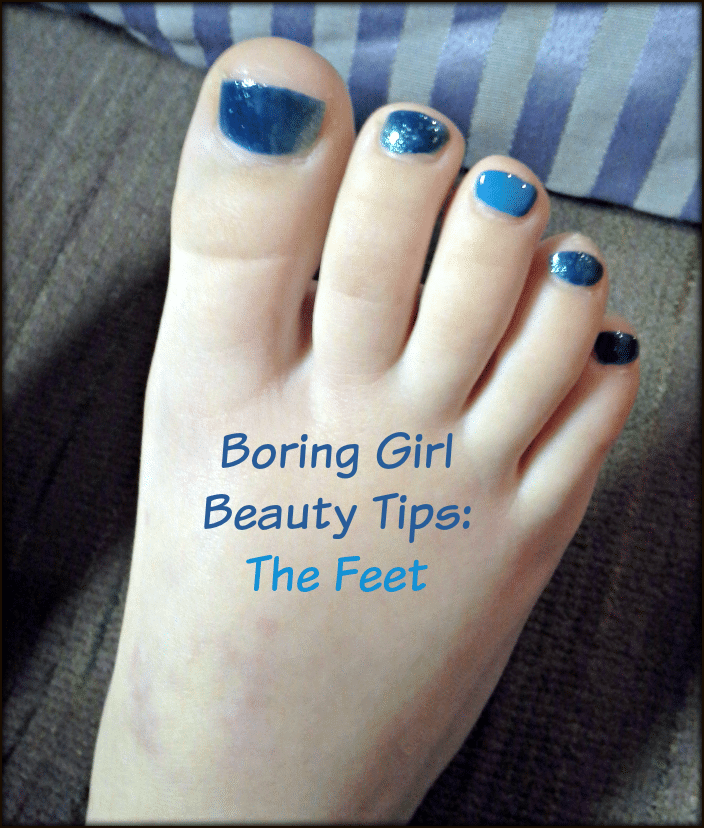 Boring Girl Beauty tips: The Feet
Foot files were always the thing I used to help smooth out my feet. Now? I've upgraded! It wasn't something I was looking for, but I got it for free so I figured, why not amp up the foot care with a Silk'n Pedi! It gets rid of the calluses and dry skin from my feet. I wont' go into detail, but you know from your own experiences how foot files can just get dust everywhere. Plus, they never really get your feet as smooth as when you're pedicure technician does your pedicure.
Stepping it up to "the big girl" battery operated machinery. Just accept that it's faster, and works better than your standard foot file. Embrace the change. It's a $29 investment, which pays for itself since those foot files don't last long! Summer's will be here before we know it, and sandals require gorgeous feet that don't just look pretty, but feel pretty. I'm sure significant others around the world will be happier feeling your smooth, sexy feet against them in bed, than the mess they've got hitting them right now!
Filing away the calluses, and dry skin isn't enough! Lotion is mandatory. If you're not hydrating your feet after you've cleaned them all up, what's the point of doing anything to them? It's important to have just the right foot treatments on hand. If you haven't been won over, and still want a foot file, so be it. Get a great one. What I won't budge on insisting about is an excellent lotion for your feet. I'm a huge fan of Mint Condition Pedi Crème.
Not interested in doing all of this hard work? Hook yourself up with a 30-minute mask. There's a 3-pack of masks, but there's only one of each mask, which means just one foot mask for that deep down, get rid of the heel cracks kind of treatment. It'll work, but honestly, you'll get addicted to it and it'll be come a slippery slope of addiction. I offer this option with a lot of hesitation, but it would be wrong of me to withhold this kind of golden nugget of fabulosity. Moisture Mask Trio for not just your feet, but your nails and hands, too!
Pretty simple, right? Two steps: get rid of the calluses and dry skin, then lotion up. Or perhaps the one step moisture mask for your feet. Do you think I'm done? Of course I'm not done!
Here's your bonus tip: If you're a Julep Maven, you'll know all about a little gem that you'll never want to be without! It helps to not just keep your feet hydrated, and silky smooth, but it also helps keep blisters at bay. If you're breaking in a new pair of shoes, or you've got that one pair of shoes that just always gives you blisters, it's time to give the Doublestep Foot Treatment and Friction Stick a try.Life saver when you're on vacation, too, and never had a chance to break in your brand new sandals for the trip. It won't be a problem, and no band-aids won't be needed.