Disclosure: I received a free bottle of Pompeian Oil from Smily360. All opinions are my own.

Chicken. It's a staple in my house. Unfortunately, it's getting a little old having breaded cutlets so often. A little change was needed, especially since I'd scored 40 lbs. of chicken recently! Branching out into the world of marinades was a must at this point, and I quickly found out chicken's boring without a little Pompeian Olive Oil added to my marinade! I'd have never known without Smiley360 asking me to test out Pompeian Olive Oil. Isn't being a writer fun sometimes?!!!
Sure, I'm not what you would call a "cook." My husband still breaks out the fire extinguisher when I tell him I'll be using the stove top. Now in my defense, I've never started a fire. I have burned things so the smoke alarms go off. However, so has he. I do burn myself on the toaster oven EVERY DANG TIME I use it. If you saw where my husband decided to put it in the kitchen, you'd understand why. I'm on my tippy toes every time I have to use it. It's kind of a given that I'll burn myself! It's kind of like he wants to keep me out of the kitchen……
My real expertise is the crock pot, and making marinades. I've got a great set of taste buds, but normally they're used for eating, not cooking. I use my taste buds to test out my marinades, which require no fire, or cooking. Just a little bowl, a few ingredients, a little whisk, and my tongue. (Mind out of the gutter, people.)
Marinades need a high quality olive oil to taste amazing. It just brings the marinade up to a whole new level. I thought I had good olive oil……and then I opened up my Pompeian. NOW, my marinades are at the level I'm always striving for when I make them. No more "eh, it's good, but it could be better" from the husband!
My 40 pounds of chicken are going to be bathing in my favorite marinade! It's a new favorite, because it came with my bottle of oil. However, it's won all of us over, and it's going to be a staple in this house, for sure. Want me to introduce you to him? DONE!
What? You actually want me to share my new found recipe? I don't know……I've been using it for a couple of weeks now, I've grown attached. However, I'm willing to share it. I owe it to all the chicken in the world, and Pompeian Olive Oil, too! Here it is folks, the recipe for Balsamic Honey Mustard Marinade :
Ingredients
1/3 cup Pompeian Balsamic Vinegar
2 Tbsp. Pompeian Extra Virgin Olive Oil
1/4 cup honey mustard
1 clove garlic, crushed
Salt and freshly ground black pepper, to taste
Preparation
Combine the first four ingredients in a bowl. Whisk to blend. Season taste with salt and black pepper. Makes 3/4 of a cup. The marinade can be used with chicken breasts or thighs, turkey breast, or pork!
When you've got it together, put your chicken in it overnight. Or for a few hours. It's up to you. We grilled the chicken, but you can cook it however you like. It's the beauty of chicken, it tastes good on the grill, in the oven, on the stove top! Go wild!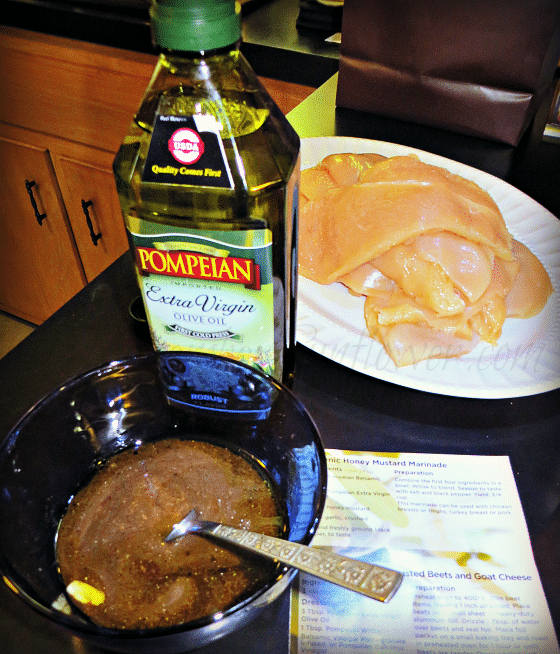 Even my husband liked the flavors of the marinade on the chicken! SCORE!
You can also like Pompeian Oil on Facebook and there's coupons on there, too! Perhaps if I score 40 pounds of pork for free, we can use it on the pork, too!