Food. It's probably the only other thing, besides my kids, my life revolves around. If you catch me looking like I'm deep in thought, it's probably because I'm going over in my mind what my next meal will be. Asking me to check out CPK's next chapter menu equals my perfect night out.
CPK's Next Chapter Menu has arrived (on Long Island)
Each time I saw the new menu at California Pizza Kitchen, hit another location, I was annoyed. Two years it took for this amazing Next Chapter Menu to hit Long Island. TWO YEARS. Dang, CPK. However, after sampling it, TOTALLY worth the wait.
I'm serious about my food, people.
What's on the new Next Chapter Menu? 
I tried all of it, even the fish, and I NEVER eat fish. When in CPK, and the General Manager insists he doesn't usually eat fish, however, even he loves the new Next Chapter Menu halibut dish, you just take the plunge and go for it.
California Pizza Kitchen, it's not where I go for pizza. I'm a New York girl. In my mind, California Pizza Kitchen equals crazy pizzas with pineapple on it. I don't know why I think pineapple on pizza, but I do. Pizza in New York is all about cheese, a great crust, and more often than not, MEAT. It's not "froo-froo" pizza.
Now? It's all about:
steak
chicken
amazing cocktails
Baked Potato Soup
Kyle, the General Manager, suggested two amazing soups to start off with, before we did our main meals. So glad he did!
The Baked Potato Soup: a puree of potato with Nueske's applewood smoked bacon, and scallions. If I could have taken that entire bowl, and licked it clean, I would have. It's creamy, with the perfect amount of bacon and scallions. People forget how important those scallions are to a baked potato soup. Amazing. It's even so dang pretty when it comes to the table. Not too pretty to eat, of course!
Farmers Market
Farmers Market Soup: roasted squash, market vegetables, as well as a touch of cream. Finished with a drizzle of California extra virgin olive oil. It's too pretty to eat, to be honest. My favorite part of the entire soup? The olive oil drizzled on top. It adds that extra bit of fatty goodness I love in a soup. You can taste how fresh it is, as well as the fact that they use farm fresh ingredients. Hard to believe for a chain restaurant, right? Right!
Once the soups were sampled, and the bowls were licked clean, our attention was turned to our main dishes.
Fire-Grilled Ribeye
The Fire-Grilled Ribeye is cooked with house-made pinot noir sea salt, topped with creamy bleu cheese butter, and served with roasted fingerling potatoes. It also comes with a lemon garlic wild arugula salad.
Ribeye, cooked to medium, was perfect.
Potatoes were crispy, yet super moist on the inside. Normally, when you get crispy ones, the inside is so darn dry, right? Not these. Insane snap as you bite through it, and then the moist potato inside.
I didn't need the knife to cut the ribeye, it was so good. It will be a regular for me when I head back, over and over again!
Hearth-Roasted Halibut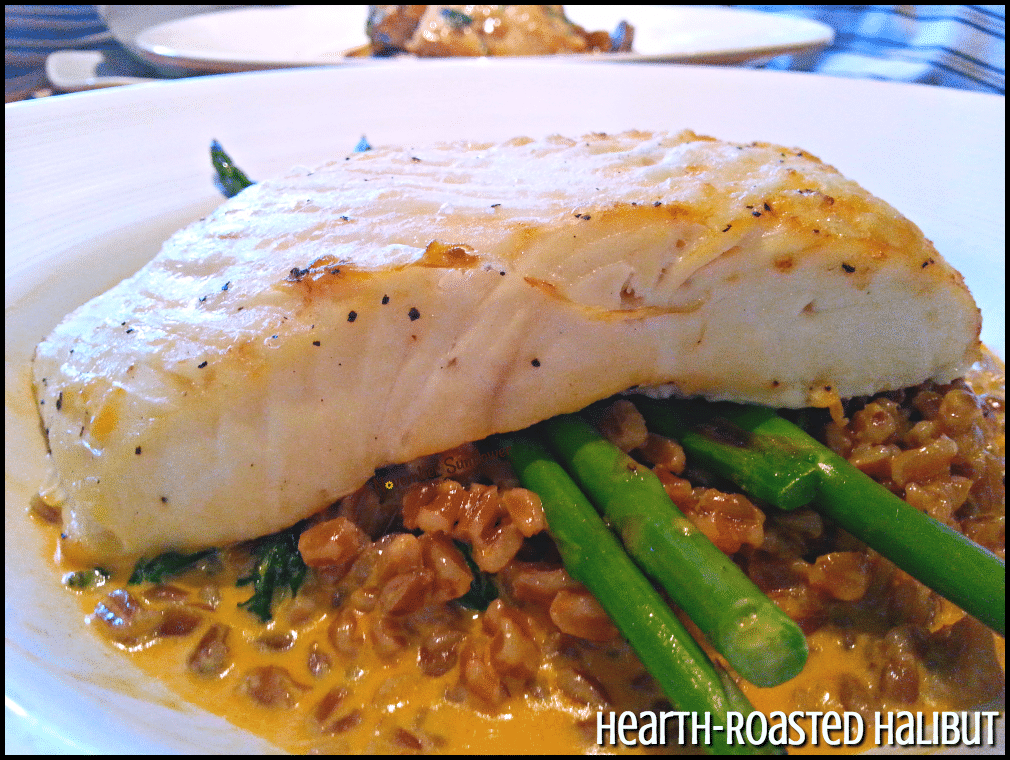 Fish isn't my favorite. I would even go so far as to say I despise fish. The smell makes me gag, as well as the texture and the fishy taste. When Kyle recommended trying it, I said "sure, I'll give it a try." After he said he isn't a huge fish eater, however this one he likes, I figured he wouldn't steer me wrong.
He didn't steer me wrong, at all. I've never had halibut before, but I'd definitely order the Hearth-Roasted Halibut from this New Chapter Menu at CPK. What I fell in love with? The butternut squash Farro, as well as the grilled asparagus, and baby kale.
Oh that butternut squash Farro should be a main dish, with some asparagus on top, and the baby kale. I could dive into it, roll around in it, and lick the bowl clean. Amazing.
Roasted Garlic Chicken with Season Vegetables
Chicken. It's something Mr. Sunflower never orders when we go out. He orders steak, and has them burn it. Why doesn't he do chicken? It's always too dry. SAY WHAT? Yes, the man who loves to have his meat burned to a crisp, doesn't like dry chicken. Go figure.
He almost finished the entire plate of Roasted Garlic Chicken! It was so juicy, and covered in my favorite ingredient, GARLIC! The Roasted Garlic Chicken with Season Vegetables is a crispy-skin chicken breast in lemon-garlic sauce, with a medley of the season's freshest vegetables (we had three different colored carrots & cauliflower).
I was so excited to get cauliflower with a meal. I rarely see it on a menu. Restaurants rarely make a good cauliflower side dish. CPK does it well.
Garlic Cream Fettuccine
If you're not into these beauties, and want a little bit of pasta, there's a fantastic pasta dish that's not a "new" menu item. It's been around for a bit of time, but as stated above, our family hadn't really looked into the menu prior to our recent visit. Definitely check out the Garlic Cream Fettuccine. It has their special garlic Parmesan cream sauce with fresh Italian parsley. You choose a protein to add to the pasta. Mr. Sunflower chose chicken, however, guests can get:
shrimp
chicken and shrimp
sauteed Cremini Mushrooms
plain chicken
If you don't love garlic, don't order this one!
Sangria Flight
Cocktails! Glad our server, Henry, recommended them. I will tell you, next time, I will try out the Moscow Mule, because HELLO? It's a Moscow Mule.However, this trip, I went for something I normally wouldn't even consider ordering: Sangria.
3 oz. pours of three of the most delicious Sangrias I've had in my life. Of course, I'm not a wine drinker, but for whatever reason, Sangria makes me happy.
Orchard Sangria – white wine, St. Germaine Elderflower, Monin Stone Fruit, orange & cranberry juice
Red-Berry Sangria – red wine, Remy VSOP, Monin Blackberry, raspberry puree, cranberry juice and lemonade
Harvest Sangria – crisp, unique mix of Bacardi Superior Rum, St. Germain Elderflower and Kendall-Jackson Chardonnay with muddled grapes, basil & fresh agave sour
Finishing strong with dessert
What's a dinner out with the family without getting dessert, right? It's not part of the Next Chapter Menu, but oh my lord in heaven, it's a little bit of paradise right here on Earth and I have to share it with you. It's the Butter Cake. It took all of me not to get the Salted Caramel Pudding, because of my addiction to salted caramel! However, I wanted to please all those in attendance at this fabulous meal at CPK, and I went with the Butter Cake.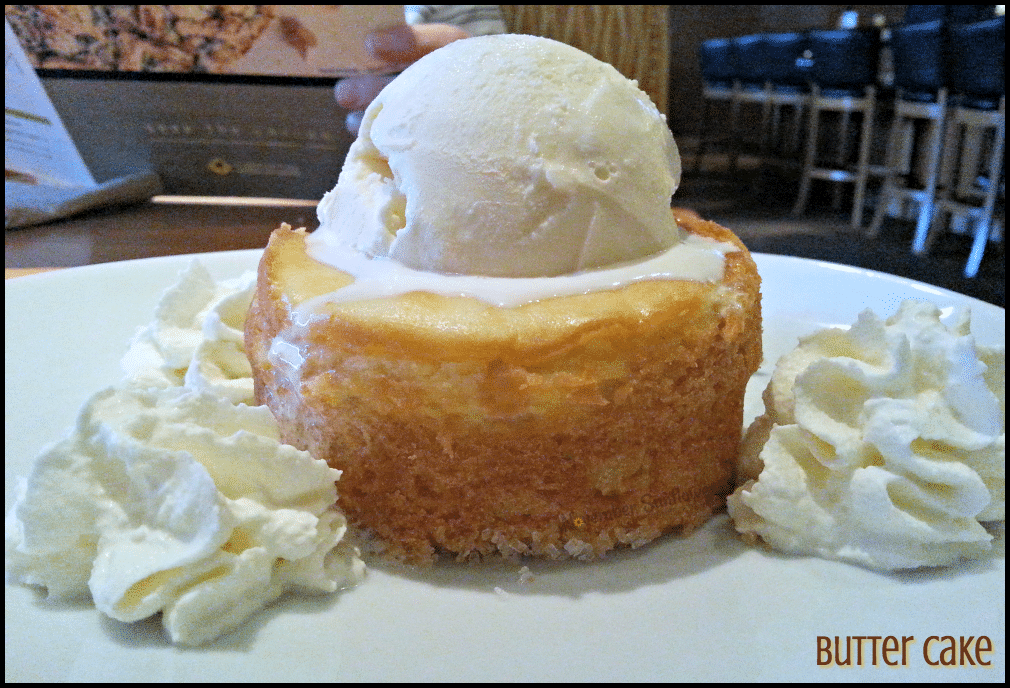 Whoa, baby. It's rich, buttery, and basically the ultimate pound cake with Vanilla Haagen-Dazs ice cream, and house made whipped cream. It's the perfect ending to a perfect meal. No doubt. Believe it.
One bit of "criticism"
I offer one bit of feedback: offer a different salad with the Rib-Eye, because some of us aren't into Arugula. It's my only note on the entire New Chapter Menu. Good job, CPK. Good job.