Discover the ultimate family friendly Rochester activities. New York is so much more than everything in New York City. Yes, there's plenty of family-friendly amazingness in NYC, but there's also a city a little further North, offering numerous experiences to kids and families. Hop in the car, road trip it to Western New York, and enjoy all the things kid-friendly fun in the City of Rochester.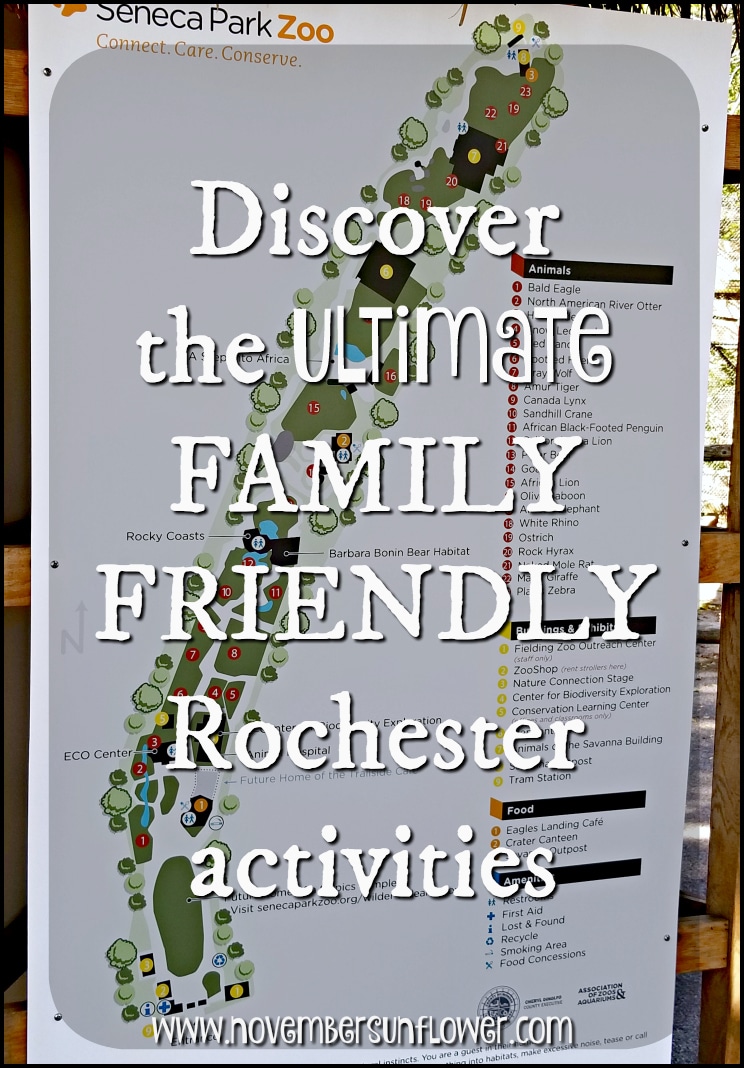 Discover the ultimate family friendly Rochester activities
I grew up on Long Island, and we spent our yearly vacations at Lake George in upstate New York. However, as I grew up, I realized New York has insanely beautiful towns; amazing family-friendly destinations; and, my kids are happy to take long car rides when the destination offers as much as the City of Rochester does! It's my pleasure introducing family friendly Rochester activities!
Genesee Country Village & Museum
Electronics rule our world. Kids clutching their tablets, or phones, and never want to lift their heads. Getting outside, and exploring what life was like "back in the old days," always brings out the best in kids. Genesee Country Village & Museum provides young, and old, a chance to explore a living history museum right in New York State.
It's the third largest living museum in the U.S. and offers opportunities to see, smell, taste, touch, explore and experience historic buildings, and artifacts. Each building showcases items used throughout history, as well as people doing many of the actual jobs, and activities, done throughout history, whilst dressed in authentic-looking clothing.
Perhaps my favorite parts of the museum: old time baseball games and camps! The baseball games are played with the rules, and uniforms from long ago. The camps for kids immerse the children in the history and science. No tablets, or laptops, or video games allowed.
Wickham Farms
Apple picking. Pumpkin picking. Corn maze. Miniature golf. What more can one ask for in a fun-filled family adventure? Wickham Farms has all of this, and more. I'm pretty sure the jumping pillow attracts a ton of kids, but the best part of the whole place? A family owns it. I love supporting family-owned, and operated, places.
Oh, and the apple cannons are kind of awesome, too.
Seneca Park Zoo
Animals. Kids love to visit the animals. Seneca Park Zoo is small enough to do in half a day, yet large enough to entertain a variety of ages groups. It's new African Savanna expansion is absolutely stunning, and provides a new home for the famous White Rhinoceros, Bill, people seem to have a cult following for.
Unfortunately, visiting on too hot of a day means not seeing many animals. I missed seeing the new Red Pandas in the Cold Asia habitat. Super disappointing, but it gives me a reason to return with the kids! I also missed the new Polar Bear's (well-fed by Wegmans) arrival. If you plan on attending, make sure to head over when the weather isn't 90+ degrees.
Maybe try visiting when they hold their overnight events where kids can bunk with beasts.
Erie Canal Cruise on the Sam Patch
Most kids love to go on boats. It fascinates them. The unique part of an Erie Canal Cruise on the Sam Patch: experiencing a lock. In case you're not familiar, locks are how boats "step up" and through a canal. A boat "locks" into a position, water rises in the lock until the boat's level with the next portion of the canal. The lock opens, and the boat continues down the water until it reaches the next lock.
It's fascinating for kids to witness, and during the cruise, learn the history of the Erie Canal.
Ontario Beach Park
A day at the beach equals a great day. Ontario Beach Park has the beach, a boardwalk, and a huge amount of park area everyone will enjoy. Take a spin on the newly re-opened working carousel, and a stop at Abbott's Frozen Custard completes the day.
If you're big on fishing, have at it. Just love sitting on the sand, taking in the sun, go for it. Lake Ontario is there to enjoy, so enjoy it!
The Strong Museum of Play
In most museums, no one's allowed to touch anything. Total snoozefest for kids. The Strong Museum of Play isn't like your ordinary museum. The Strong, a year-round cultural attraction, has two floors of hands-on, interactive exhibits. Arcade games, along with a miniature-size Wegmans, allow kids the ultimate play experiences in Rochester.
I'm partial to the butterfly experience. It's a little extra to see the butterflies, but it's worth it. Small, but packed with such beauty. Don't skip it! Trust me, there's no better family friendly Rochester activity than hanging with butterflies at The Strong.
Explore all the family-friendly activities with your kids, or even alone. Just because you're an adult, doesn't mean you can't experience each of these places without the kids! Heck, The Strong has adult-only nights dedicated to all the big kids out there.