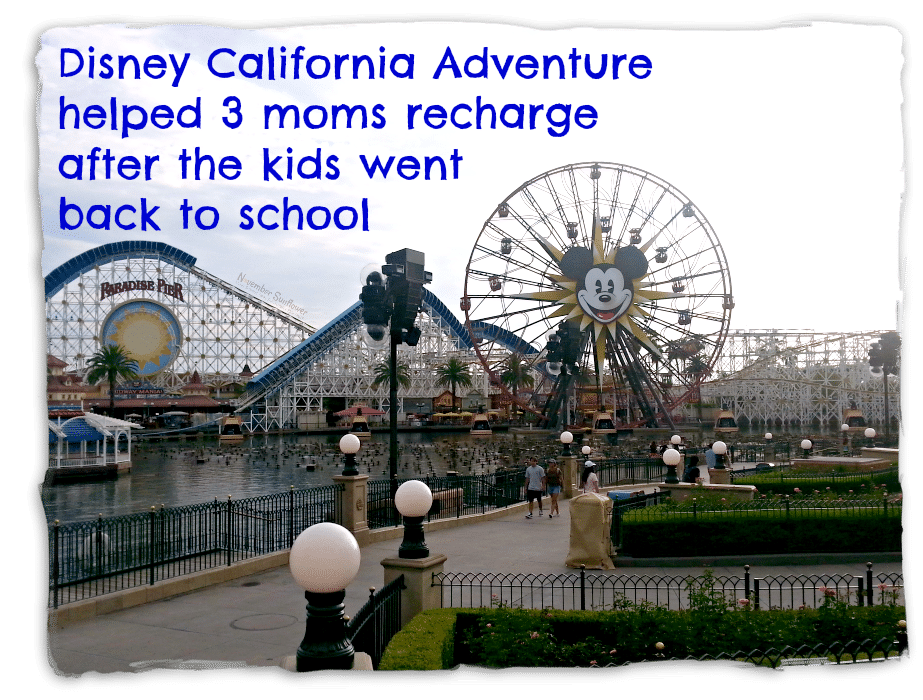 Moms recharge together in Anaheim, California! Who goes to Anaheim without hitting BOTH Disneyland and Disney California Adventure? Not a trio of moms who kept #MomsDisneyDay going strong after the kids went back to school, that's for sure. After we'd had our Disneyland fun, it was obviously time to head over to Disney California Adventure, and enjoy the park that puts you in the most popular Disney Movies of all time! Plus, an amazing Pixar Play Parade.
Moms recharge after back to school with a little Disney California Adventure fun
Don't get me wrong, Disneyland is the bomb. I can't wait to bring the kids to California to experience all Disneyland has to offer. However, if you're heading to Anaheim, you've got to go across the large esplanade and spend a day at Disney California Adventure. Without kids, it can be done in one day, for sure. Frankly, without kids, both parks can be done in one day. Depending on the time of year you go, perhaps you'll get lucky with a smaller crowd at the parks.
BEGINNER TIP:
It's a fantastic idea, when the parks are at their most crowded, to ask about the single rider lines. Sure, you're there with friends, but hey, a girl's got to get her ride on, and make it through Disney Parks without waiting on the longest lines known to man!
As luck would have it, the crowds weren't terrible at Disney California Adventure. The only ride that had a super long line when our trio of moms arrived, was Soarin' Over California. It wasn't thanks to a huge number of people at the park, but rather because one of the sections of the ride wasn't working. Less people could ride, which meant a longer line. No worries, that's what FastPass is for, right?
Timing is everything at Disneyland
Since Sondra from Happy Healthy Hip Parenting, Melodi from Family Review Guide, and I, are smart ladies, we had a plan of attack. Halloween season was starting at Disneyland the day after our visit. It meant Disneyland was closing up shop early, around 5 pm. We decided to leave Disneyland a couple of hours BEFORE their early closure. Most of the crowd was still hanging out at Disneyland while the three of us had finished Disneyland, and were ready for California Adventure! Once inside, we headed for the most popular ride in Cars Land: Radiator Springs Racers. It was the longest wait we had all day, and it was only about 15 minutes. SCORE.
Well, wait. We didn't go straight to the most popular ride. I mean, we had to hang out, and see Red arrive for his fans. Can you blame us? So dang cute.
California Adventure highlight of the day
However, the highlight of this trip for us: the Pixar Play Parade. Every Pixar character I love, including the Inside Out gang, is in this parade. It starts off with the Inside Out crew, and it blew me away how perfect they got those characters! I don't know why I was shocked at the detail put into those characters, I mean, it's DISNEY. They know how to get the details right!
Once the main Pixar Party Parade starts, there's nonstop fun. Monsters Inc., The Incredibles, Toy Story, and of course, Cars, are all represented along the parade route. We got a great spot, right up close, thanks to Cast Member Tiffany, who told us the exact place to get the best seats for the parade. We got wet, and received a lot of love from the characters! Of course my phone decided to die, so I didn't get as many photos as I would have liked.
However, it was the best thing that happened. I stopped looking at the parade through the camera lens, and enjoyed it for what it was meant to be: a KICK ASS parade!
Cocktails at Grand Californian
There's no topping a full day at Disneyland, and Disney California Adventure, with two of your favorite California ladies. Ohhh, how I love my fellow "stressed out" moms! Get to California, head to Anaheim, and leave the kids at home! Totally worth it, and all moms deserve a #MomsDisneyDay to recharge, unwind, and de-stress. Add some great cocktails to the afternoon at the Hearthstone Lounge in the Grand Californian. OUTSTANDING!
After a full day at the Disney Parks, being able to head back to a spectacular hotel is a huge luxury. Anaheim Marriott has a great location, with tons of exactly what every family, or group of girlfriends, need in a hotel!
*Complimentary 1-Day Park Hopper Passes were provided to me by Disneyland Parks in order to facilitate this review.