November Sunflower, and the Sunflower Family, aren't what you'd call luxury travelers. We're more of a "budget-friendly" family in life, as well as whilst vacationing. Hell, we rarely get to vacation, let alone vacation in a high-end resort like Disney's Yacht Club Resort. Don't get me wrong, we're classy animals, for sure. I say excuse me after I burp. Isn't that what classy means? No? Our little family felt out of place at Yacht Club Resort during the Disney Social Media Moms Celebration. However, we made the best of it. I mean, seriously, if you have the chance to look at this view for three nights and four days, you put your big girl panties on, and muster through!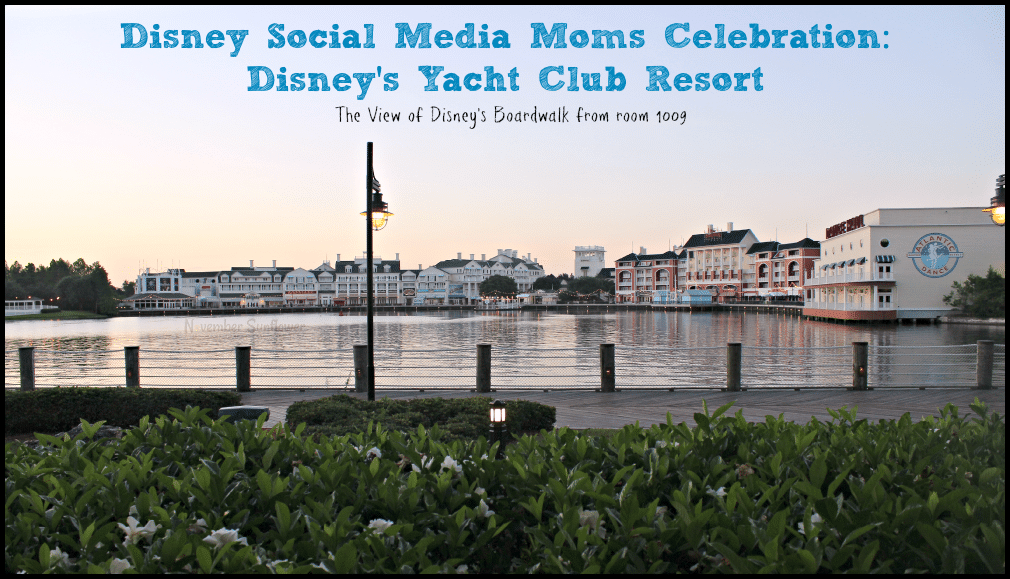 Disney Social Media Moms Celebration: Disney's Yacht Club Resort
Again, our take on Disney's Yacht Club Resort is comes from a family used to staying at places like Howard Johnson's. Keep this in mind as I wade through all of the fun we had during our stay at this luxury resort. You've been warned. Beyond the gorgeous view from our veranda, the cast members working at this resort were top notch.
The room was huge, and the views couldn't be better. No joke, check out the fireworks show we witnessed from our little veranda outside our very own "home-away-from-home."
Beyond the fireworks
Fireworks show aside, the water pressure in our bathroom, was horrible. Flushing the toilet became a project! Showers? Well, showers meant adding more time into our schedule. It took three times as long to wash out shampoo, and conditioner, from our hair, thanks to the water pressure. However, this isn't the only thing that needs improvement.
What struck Mr. Sunflower as odd when hunting for the in-room safe? With all the technology Disney has brought into the parks with Magic Bands, and MyDisneyExperience.com, one would think in-room safes would be a bit larger, and perhaps, more up-to-date.
By up-to-date we mean: NO KEY. Well, check it out for yourselves folks. The safes at this resort require guests to use a key, and then walk around with it. REALLY?
Come on Disney, can we work on updating this aspect of the rooms? Who wants to walk around with a key all day, after finally getting rid of room keys! We don't have paper tickets to worry about, either. We love you Disney, but let's make the magic happen!
Where's the phone?
My personal chuckle meter went on overdrive when I saw this in the bathroom, but then I realized, hey, it makes sense. If you're in the bathroom, and need help immediately, why not have a phone next to the toilet! It's for emergency calls!
How's the pool at Disney's Yacht Club Resort you ask?
Mama Sunflower isn't much for swimming, and hanging out in the pool. The kids and Mr. Sunflower love that stuff, and holy smokes. The pool shared by the Yacht Club and Beach Club Resorts – let's say it's probably worth every penny you pay in order to stay at both of these resorts. Gorgeous. Sparkling water, clean and there's an actual sandy beach for people to enjoy.
Yes, the pool is awesome and there's actually more than one at the resort. However, the grounds of Disney's Yacht Club are what caught my attention the most.
Disney's Yacht Club Resort property
One word: STUNNING. The flowers, the gardens, the buildings, the verandas. The views from those verandas. It's all visually appealing, and we loved every moment submerged in the world of luxury.
Trust me when I tell you, the hotel and cast members are beyond what I expected. It all made up for the terrible water pressure in our bathroom, and the silly in-room safe not big enough to hold much of anything. I still shake my head about the whole lock and key situation, but man, once I walked out onto the veranda of our room….all was right in the world. ALL was RIGHT in the WORLD! It was a sad day bidding our Yacht Club view goodbye.