The first night of the Disney Social Media Moms Celebration conference, our families enjoyed an outrageous Family Dinner at Epcot, after the CONFERENCE attendees enjoyed a welcome reception. The family dinner was amazing, and once it ended, we were led over to the IllumiNations Sparkling Dessert Party. The party had cocktails, desserts and one of the most amazing views of the IllumiNations: Reflections of Earth show. Once the show ended, our family headed back to Disney's Yacht Club. It had been a long travel day, and this sunflower had to get up super early for the all-day conference the following morning.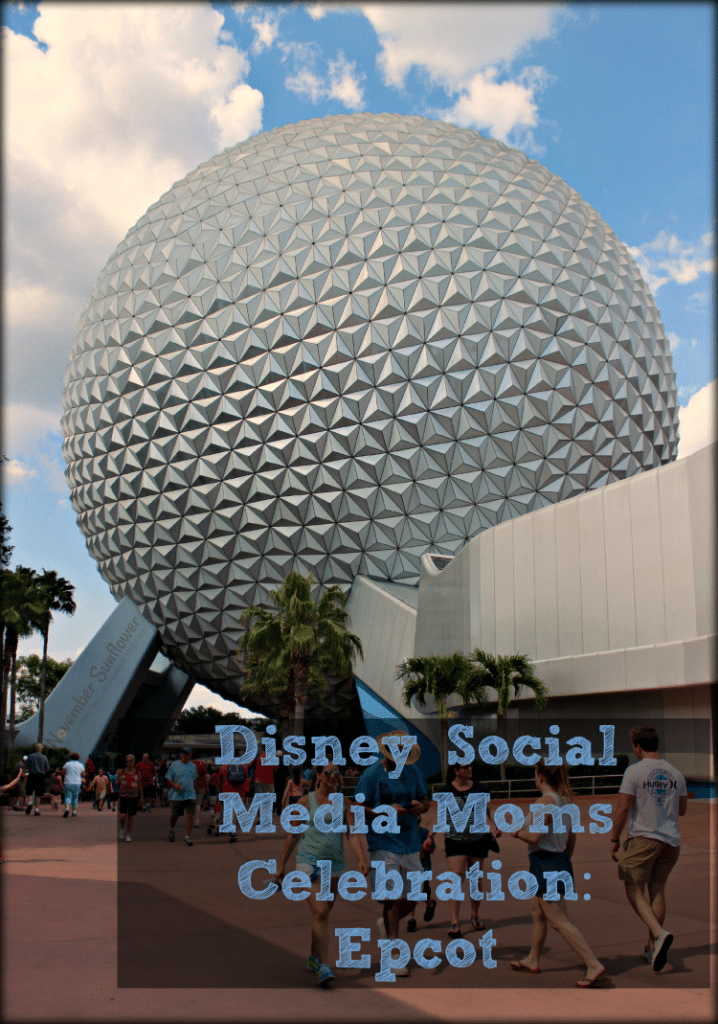 Epcot for the family
On the day I was hard at work learning during the official conference day of the Disney Social Media Celebration, Mr. Sunflower took the little sunflowers back over to Epcot. Why? It's easy to walk to Epcot from the Yacht Club Resort, and it's a much calmer park to handle when alone with two kids! Of course, my family didn't actually walk to the park, they hopped on a boat. Still, much easier than handling buses. Our room at the Yacht Club was RIGHT near the boat launch, and with all the walking they were going to do in the park, it made sense to take the boat. They loved the park so much, they BEGGED to return to it, and we did. TWO MORE TIMES!
Disney Social Media Moms Celebration: Epcot
The first visit without me was a short one at Epcot. They tested out the FastPasses, enjoyed a little walk around the park, and then went back to the hotel to hang at the pool. I don't blame them, the pools at Disney's Yacht Club are awesome. I heard all about it following the conference, and they asked if we could all go together another day. OF COURSE, Epcot happens to be one of my favorites. It's THE PLACE to eat, and it has my favorite ride, Soarin'.
Family time at Epcot
True to my word, we headed back to Epcot the following day. After a morning filled with watching a preview of Inside Out at Disney's Downtown Disney, we headed back to the hotel for a quick pool dip, then Epcot! The kids insisted we go on the ride they loved from the day before's visit, Journey into Imagination with Figment. How could I say no? However, a stop after at Soarin' was necessary, before we headed over for pictures with Mickey & some friends for Visa Card holders!
Disney craziness
Once we finished a quick trip, we walked over to sample some different sodas over at Flavors of Club Cool. I never let the kids drink carbonated ANYTHING, but when in Epcot, you get a little Disney crazy. We threw out lots of rules in order to relax and fully immerse ourselves in the experience. Well, that's what I told myself as my kids sipped a variety of soda flavors from all around the world. Happy faces kind of took over my brain, and things just happened! Who wouldn't smile as your feet stick to the floor, and the kids suck back sample after sample of soda? Who was I not to embrace it! Bring it on Epcot. Bring.It.On.
We only had time for a quickie trip that day, as we were heading to Disney's Hollywood Studios for some fun, and of course, our Jedi Mickey Star Wars Dine. Even though it was a quick trip, we took in so many of the gorgeous flowers and topiaries! If ever there's a time to visit Epcot, it's during the International Flower and Garden Festival, for sure! Just load up on your allergy meds!
When to return to Epcot
Mr. Sunflower and I chatted about when to return, and we decided our final night would be the perfect chance to enjoy a laid back night at Epcot. Have a little dinner, walk around and enjoy the International Flower and Garden Festival, as well asm hit up a couple of rides. Sounds like the perfect way to spend the final night with Disney magic. We started the day at Disney's Animal Kingdom, then hit the pool at Disney's Pop Century Resort, just so we'd have a calm day before heading back to New York the following morning. The kids had to return to school right after we got home, and Mr. Sunflower had to get back to his job. Plus, I had to return to normal life…working, being mom, and getting all our laundry done. UGH.
It was sad to think this was our last park of the trip! As we walked by the big "golf ball," Little Miss asked if we could go on the ride inside the ball, because the line was such a short wait time. Our plans were pretty loose that night, so we headed into Spaceship Earth! It worked out well, because when we stepped out of the ride, everything was soaking wet. We'd missed the downpour brewing while we walked up to the ride! PERFECTION.
Our final night at Epcot
It was decided our final day would end at Epcot, enjoying an amazing meal at Tutto Italia Ristorante. The place held a special place in our life, as we had eaten there 9 years ago while we were visiting Epcot together. Little Miss was still cooking up in my belly, and Epcot was the calmest park I could go to while we were down in Orlando for a birthday party. I have to say, the food was even better this time! I'm not sure if it was because I looked across the table, at this little girl sitting across from me, who 9 years before, was on the inside of me. Whatever the reason, it proved to be the best meal I've had while at Disney!
Our final night at Epcot was on a Tuesday. We didn't make a reservation. We decided to wing it. After hearing about everyone booking meals months in advance, I thought we'd end up waiting for hours. We waited 5 minutes. Honest to goodness, I don't even think it was five minutes. It was less. I barely sat down in the lobby, and they called Mr. Sunflower's name for us to sit. JOYFUL.
After dinner, we just walked around enjoying the park's beauty.
And then we decided to do dessert. We walked over to Disney's Boardwalk to grab some ice cream, then headed to Disney's Yacht Club so we could catch a bus to bring us over to one of the parks, and then hopped from that bus right onto one to Disney's Pop Century for the ride home! Great end to a great vacation.
Tips for Epcot from a new Disney traveler:
Enjoy the calm of Epcot. Walk slowly, and sample lots of different foods in the different countries.
Make it a point to enjoy the food. Seriously, it's the best part of Epcot.
Sample lots of different drinks from all the different countries, it's the second best part of Epcot.
DO NOT skip doing Soarin'. It's such a simple ride, but so amazing. Experience it. I fell in love with it at Disneyland, and had to have the kids experience it while at Epcot.
Take a walk from Epcot over to Disney's Boardwalk. It's not a long walk, and the boardwalk is small, but it's packed with gorgeous views of the Yacht & Beach Clubs, and has great little shops and places to eat, or have a simple dessert, like ice cream!