It's all about the money, money, money when doing home improvements, isn't it? Even a simple thing like purchasing just one set of shutters can break your budget wide open. When we moved into our home five years ago, I really wasn't in love with the green vinyl shutters around our bedroom window. Green's nice, but they were so boring and blah. FINALLY, I decided to do a DIY project. My amazing DIY project updating vinyl shutters. The research behind it was plentiful!
DIY Project
Do-it-yourself projects aren't really something I'm known for around here. My husband was shocked I wanted to not only take on the vinyl shutters, but also our front door, and our garage door. Needless to say, he was all to happy to inform me "you can't just paint vinyl and high gloss front doors" and expect the paint to stay. I nodded, like I knew all of that already, and quickly called my mother to ask her what the hell I should do first.
Mom's always good for home improvement help, and guidance. She said "let's head to The Home Depot and find a base coat, and the color you want to use on everything." Perfect!
Apparently, vinyl can't be painted over without using a specialized type of primer. Mom knew there was a product that would be good to use, she just wasn't sure what the name of it was. We asked someone in the paint department at The Home Depot. The answer? Zinsser Bullseye 1-2-3 Primer. It would stick to ANY surface, including vinyl shutters. Victory was mine! If only it had been that easy to find the actual blue color I wanted for the shutters. I had it in my head….. but it took a while to hunt it down with all those paint sample charts. Poor mom. TORTURE for her. It took forever.
Picking a paint color
I knew the exact blue I wanted, but it was in my head. None of the options from my preferred paint brand were matching it. I wandered over to a different brand and finally found it, and had to talk mom into just going with the other brand for this project. I had to have the right blue, or I'd forever be wishing I could paint them again! I'd already spent five years with the green ones I didn't completely enjoy, I didn't want to spend another five years with a color I just didn't love. She relented.
Off to the woman who would mix me up a great color. Her first question to me, which completely surprised me "What brand of paint do want this color in? This one, or a different brand?" I looked at mom, she looked at me and I squealed out the brand I much preferred and said "I had no idea you could mix it with a different brand." The woman responded "Yeah, we can do anything now. It's very high tech now."
Prepping the vinyl shutters
The hubby was brought into the mix for this project! I had him take the shutters off the house, and power wash those bad boys. I wanted all the mold/moss off of them – we live near a large body of water, and honestly, mossy stuff grows on EVERYTHING so fast. The shutters needed to be cleaned, and dried out before the Zinsser Bullseye 1-2-3 Primer was sprayed onto the shutters. The green shutters were power washed, then left to dry for a week in our garage. I like to make sure things are dry…… okay, I procrastinated until the weather was a little warmer, and the sun was shining. SUE ME!
Once the shutters were dry, I set up shop on the front lawn. I placed an old plastic tablecloth on the grass, put down a few rocks to make sure the plastic didn't fly away. Then I went to town with my spray can of primer!
It was fairly warm and dry out the day I chose to do this project, so the shutters dried quickly.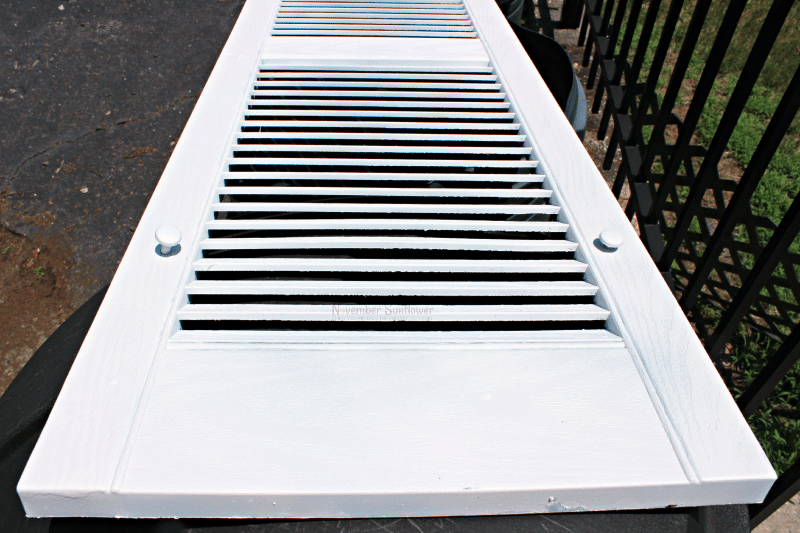 Sweet, right? Even the primer white looks better than that dreadful, boring green. There's nothing worse than BLAH colors on a house, or at least on my house.
What color did November Sunflower choose to update the vinyl shutters?
Once the primer was dry on the set of shutters, it was time to break out the fabulous blue color I'd chosen, while I tortured my mother at The Home Depot. It's a blue no one can ignore!
Doesn't it remind you have the crystal blue waters in the warmer tropical regions of the world…..I just love how bright and vibrant the color is. In order to get the paint onto the shutters, I used a regular brush for the main parts, and then a smaller sponge brush for getting in the little nooks and crannies of the shutters. I also had the kids help out with a smaller brush, a brush similar to their water color paint brushes from school – just an adult version of the water color brush. It worked well, they got in the little spots before I came by with the larger brush, and then anything I missed, they were there to touch-up with their little brushes!
The paint dried quickly, and painting on the second coat went much faster, which was good. By the time the second coat was going on, the kids had abandoned me to go play with Daddy. Dirty flat leavers! However, it was my DIY project and I would not fail. It didn't matter it was hot as hell out there, and the sun was just beating down on me, and no one was around to get me any water…… sorry, I was whining right there, wasn't I? Sorry, I just hate "finishing" projects I start. I usually have the husband finish it, while I move onto starting another project. However, I was determined to get these shutters done, so they would dry and the hubby could put them back up on the house. I wanted EVERYONE to see my beautiful blue shutters!
Wait for it……….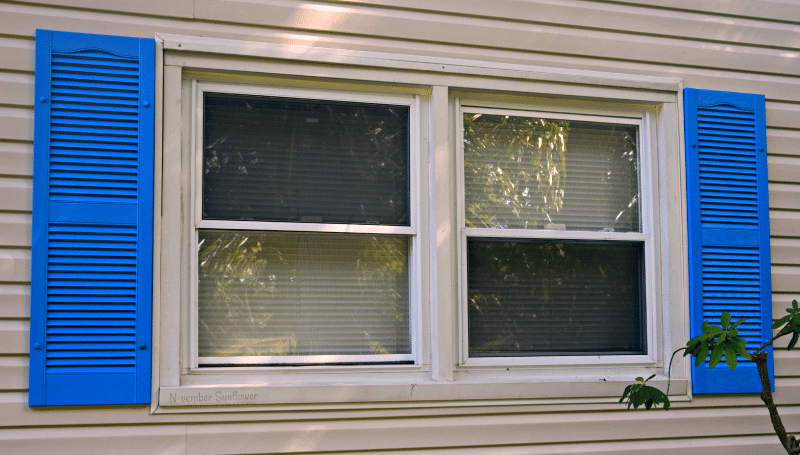 Oh yeah, that's the stuff! That's the stuff right there! Yes, they are totally that blue. I love the color so much, it's going to go on my front door next. After that? It's going on my garage door. Oh yeah, that's right, I'm blowing this blue out! I might even do the house numbers in this color, and our mailbox that hangs on our house (yeah, we've got them on our houses, not in the street.)
My projects kind of stopped happening once the flood hit our basement in August, but now I've decided to get the ball rolling and do the front door. I don't know how long it'll take me to get it done, or when I'll be able to share my work, but it will happen before winter sets in……..
(My fingers were totally crossed when I typed that. I can't promise it'll get started this year, but I can promise it will happen before this time next year.)
Now, if you're interested in painting on vinyl, and you're not sure what to use, I recommend purchasing Zinsser Bulls Eye 1-2-3 Primer
. I'm a total novice when it comes to painting, and basically doing anything related to outside painting. I'm totally not the normal DIY Project person, so take it from me, the product worked well! Even better? They shutters still look fantastic after hanging on the house for the last four months. WHOOP WHOOP! I'm not sharing the color I chose, though. If you want that, you'll have to hit me up over on the November Sunflower Facebook Page and chat me up!
Do you love my shutters? Do you have vinyl shutters you want to update? Head over and make the primer purchase on Amazon.com. Below is my personalized affiliate link. It just means if you click on it, then make the purchase using my link, you'll help support NovemberSunflower.com with a little income. It's not a lot, just a little bit, and it doesn't change the cost for you at all. It just means you're helping me earn my keep here, and it allows me to continue to bring amazing articles to all of you!