I'll admit it to anyone who wants to know: I am not a crafter. DIY projects aren't done often in our house, unless it's a photo gift I can create online. Other than that, crafts aren't my thing…..until now! I OWNED a DIY teacher appreciation gift for my daughter's 3rd grade teacher. I'd never do any kind of craft for anyone, but this teacher was outstanding for my daughter. Plus, she "got me." I felt the need to put a little personal touch into this year's class gift.
DIY Teacher Appreciation Gift
Where does a non-crafter go to find an awesome DIY teacher appreciation gift idea? Ummm, Pinterest, of course. Let me just tell you, I totally spanked the crap out of the DIY idea I got from Pinterest. Yes, I'm tooting my own damn horn, since no one really toots it for me. Why should I toot my own horn? Oh, there's so many reasons:
I actually found a DIY gift idea I liked, so that's a big deal in and of itself.
To put this bad boy together, I had to FIND a star shaped glass candy bowl. I went to three different stores to find it, and I didn't give up and chuck the entire idea. BAM.
After struggling to figure out how to attach the crayons to the glass bowl, I still kept at it. I didn't give up when spray glue didn't work. I kept at it when I did double-sided tape. Why did I try these two methods? Mr. Sunflower doesn't like me to use the hot glue gun, as I usually burn myself with it. When both of my first attempts failed, I looked at him and said "Looks like it's gotta be the hot glue gun, where is it?" He reluctantly told me his hiding place.
Even though I almost always burn myself on the hot glue gun, I DID NOT this time. It was a bloody miracle. Plus, it wasn't easy, since I had a very short cord to work with as I sat doing this craft. But I prevailed.
Mama Sunflower didn't curse ONCE while putting this bad boy together. This is probably the most shocking of the entire project. I had many reasons to let the "F-Bomb" fly, but I was so focused on getting the crayons as straight as possible, I just stuck with it and didn't even utter a sound while I crafted my heart out.
So yeah, I'm TOOTING my HORN for a long time!
DIY Crayon Candy Jar with "date night" themed gift cards
When I first started collecting money from the parents, I wasn't sure what to buy the teacher. I kept thinking after a long year, she should have a great night out. If I got her a general gift card, she'd probably spend it on something for someone else, or the classroom. SCREW THAT. She deserved to spend it on herself, so I came up with the "date night" themed gift card idea.
How would I combine my DIY find from Pinterest, along with my gift card idea? Easy! Check it out.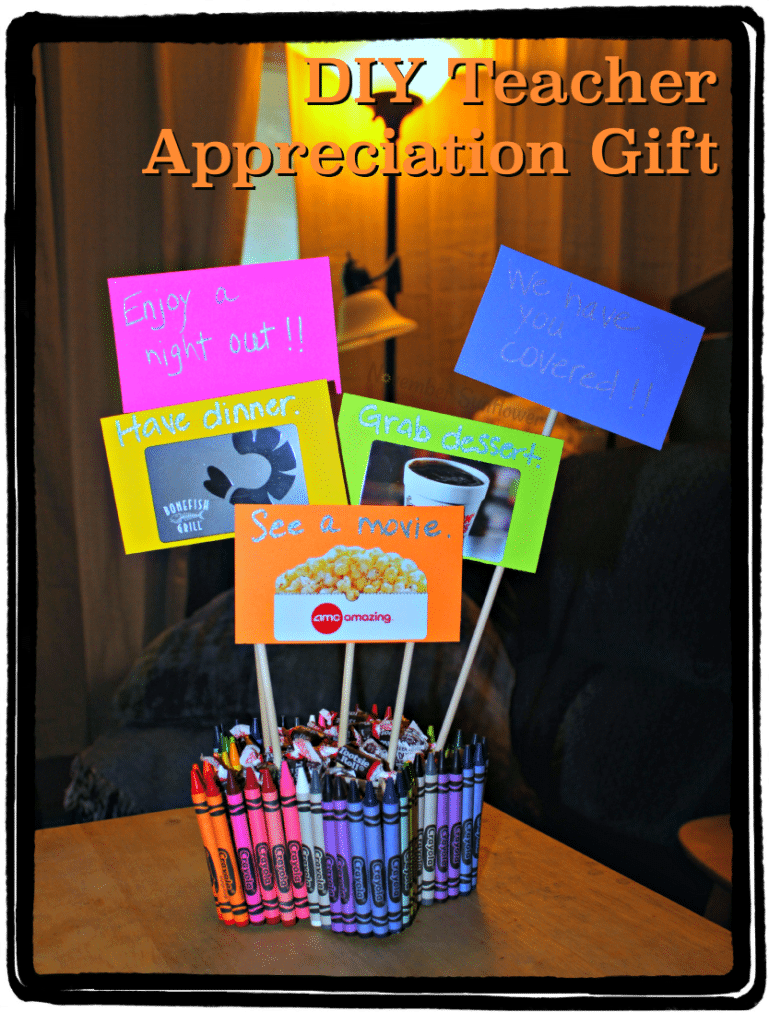 How to put together your own DIY teacher appreciation gift
The crayon candy dish is probably the most time consuming part of the Do It Yourself gift.
Purchase a glass, or plastic, candy dish in a shape that's easy to glue crayons onto. Flat sides are best, of course.
Buy a large box of crayons. Depending on the size of the dish, buy a large enough box to go around the entire dish.
Get familiar with that hot glue gun. It's really the best way to attach the crayons.
Just start glueing those crayons onto the glass dish, keeping the crayons as straight as possible and the labels going in the same direction!
Dish is done? Okay, now to fill it up! 
You'll need to buy the Styrofoam for the bottom of the dish, in order to put the dowels/sticks into. Cut it into the shape of the dish, so it fits into the bottom of the dish.
Purchase wooden dowels, or sticks, to tape the cards onto.
Buy little index cards, or larger pieces of card stock you can cut into whatever size needed to attach the gift cards onto.
Don't forget to buy the gift cards. If you're doing a date theme, you can get restaurant, movie theatre and dessert gift cards. Plus, a general gift card with the leftover cash so the teacher can gas up the card, and perhaps hire a sitter for the date night!
Use a little double sided tape to secure the gift cards onto the different colored cards, and then take a sparkly piece of tape/duct tape and attach the card to the wood dowels/sticks.
Write cute little messages supporting your theme for the gift cards, such as "Enjoy a great dinner," "See a movie," "Enjoy dessert," etc.
Jam those dowels/sticks into the Styrofoam in the bottom of the candy dish.
Fill the candy dish with candy, so it hides the Styrofoam (it's all about presentation.)