Eating my way through San Diego, right there on the coast of California, with a good friend….it doesn't get any better than food, and friends! At least, not for me. Especially when I need a little break from work, and being mom. During, and after, an amazing event Kia Motors invited me to, eating my way through San Diego was "the bomb."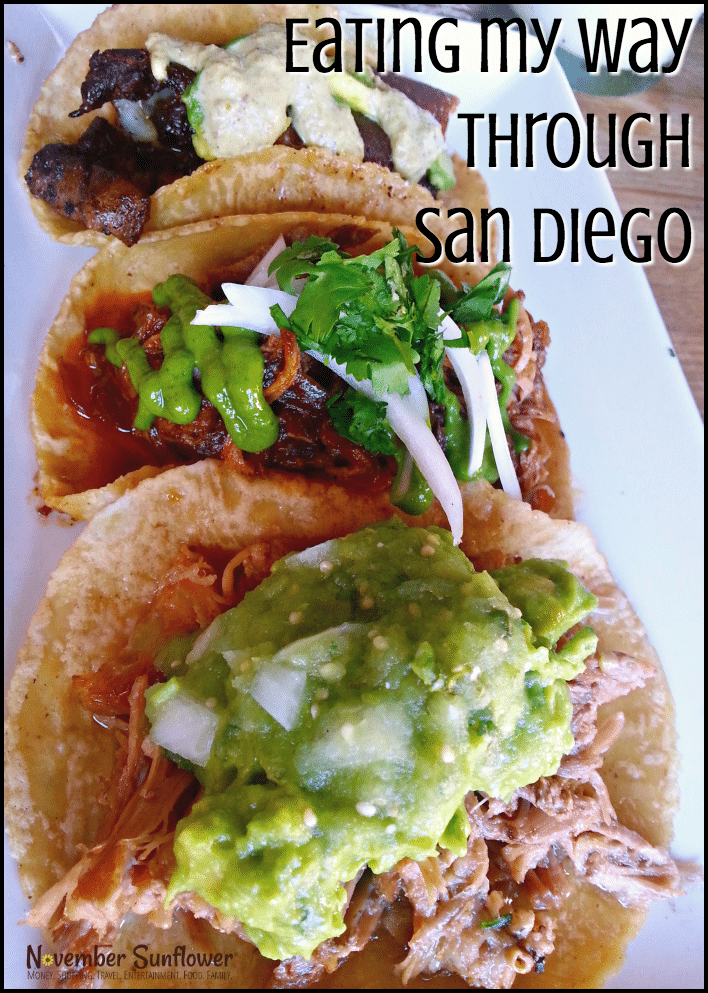 Eating my way through San Diego
Rustic Root
Rustic Root hosted all of us professionals during a Kia Motors press trip. It was amazing. Amazing. The food, the drinks, the staff – all of it was fantastic. It's located right in the Gaslamp district of San Diego, and it's a beautiful space. Upstairs is all open, with a huge bar, and fire tables to relax at. However, they throw off a lot of heat, and weren't comfortable to be around during the daylight hours at Rustic Root.
The main restaurant gives an indoor-outdoor feel, and though it was a hot day, it felt comfortable even with the doors wide open. It's a great spot to people watch, that's for sure! Oh, and a great place to drink, eat, and spend time with friends. Plus, there's a cocktail called Banana Hammock. How can you go wrong with a Banana Hammock cocktail, and food? You can't!
Tin Fish
Let's start off by saying, I'm not a huge fan of fish. I do eat lobster, crab, calamari (when it's fried) and shrimp when it's not like, shrimp cocktail. Tin Fish does have some non-fish options, but in the spirit of the restaurant, and being in San Diego, I went for it. I ordered up some great seafood! And I do mean great.
I've been eating fried Calamari since I was a kid, and it's one of the few things I can devour in seconds. When it's fried just right, it's light, and crispy. Tin Fish fries it right. They fry it perfectly! No oil dripping down my arm when I picked it up, and I didn't really need a napkin after eating it. PERFECTION.
I would have been content with just the fried Calamari, but oh myyyyyy, do they know how to make a shrimp burrito. The Garlic Shrimp burrito was the size of a small dog, no joke. Plus, waffle fries, which they call crisscut fries. Whatever you call them, they were perfectly fried. Not greasy at all, and crunch-licious. Just thinking about them now, my mouth is watering.
Union Kitchen & Tap
After the festivities end, and a Kia Motors press trip is over, a girl's gotta let loose and enjoy more of San Diego with her favorite San Diego resident, Sondra from Happy Healthy Hip! We're both lovers of food, and of "the drink." Once we were on our own, we got a little work done during the final hours of my Hard Rock Hotel Suite residency. Worked up an appetite, checked out, and went to find a place to relax, eat, and drink.
We stumbled across Union Kitchen & Tap, once again, right in the Gaslamp district of San Diego! Granted, they had run out of the coconut puree for the first drink I ordered, they came through with a fantastic Strawberry Fields cocktail that tasted like strawberry lemonade.
Since we had to eat, we wanted to get something meaty, and cheesy, and delicious. When I'm outside of New York, I normally don't go for pizza, but a flatbread…I can do that. We went with the Sausage Flatbread. Outstanding. Perfect amount of sausage, and cheese. It was the perfect dish to share while we sucked back our drinks. We didn't want to go too heavy, because we had dinner plans for later that evening at Puesto.
What was lacking? Speed of service. I'm sure when it starts getting busier, the servers are a little faster. For lunch, the laid back feel is in full effect. I thought it was just me, because I'm from New York, but my San Diego friend also commented on how slow they were. Totally worth it for the flatbread, though.
Amazing eats just a little outside of San Diego
Puesto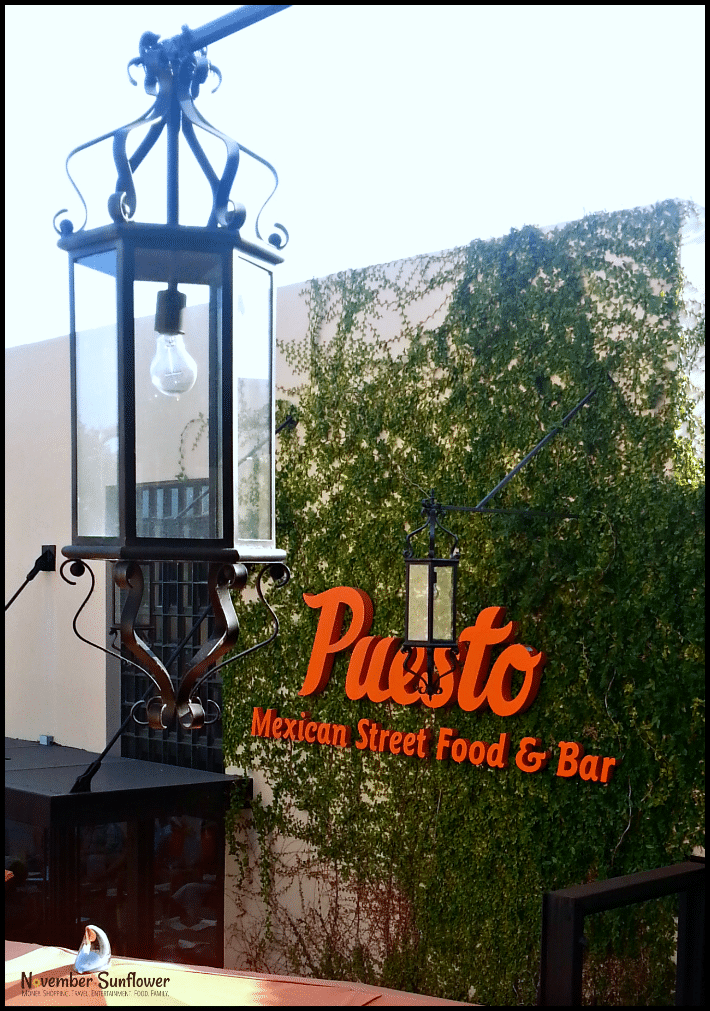 When I head to San Diego, all I want is Mexican food. It's my favorite food, yes, even more than Italian. Perhaps tied with Greek. However, if I'm in San Diego, Mexican food is kind of mandatory. It's the best a girl can get! Sondra always finds the best places for us to eat my favorites, and Puesto proved to be exceptional. I wish they could send me care packages to New York. Vats of their Guacamole Nogada would be a great starting place!
If it just stopped at the guac, which had pomegranate, as well as mango verde in it, I would have been happy. Then, oh, boy, then, I had their tacos. Lord, give me strength. These tacos were divine. I went for it, and paid a little extra for each one, but I couldn't leave San Diego without trying Lamb Barbacoa, as well as the Filet Mignon. Even though the lamb was a little greasy, it was cooked perfectly. The whipped avocado on top – creamy, and bursting with citrus flavor.
For me, the ultimate taco from Puesto has to be the Carnitas. You cannot go wrong with pork, and guacamole. Perfection. Juicy, and perfectly seasoned. I wish I'd ordered three more!
You also can't escape an authentic Mexican Street Food meal without a little bit of lime rice!
Let's not forget the drinks, though. When in doubt, just get the Pina Colada. I don't know what Sondra's drink was, but it was pretty and she seemed to enjoy it. A lot. It was probably a Margarita, knowing her the way I do!
Donut Bar
We didn't want to get out of bed, but we were hungry. Luckily, Sondra found out Donut Bar was on UberEats. SCORE! Donuts and iced coffee for two, please. Personally, I'm a Dunkin Donuts girl from the East Coast. Now that I've experience Donut Bar Boston Cream donuts, I'm going to have to request Donut Bar make its way to the East Coast. Preferably, Long Island.
If you don't know about UberEats yet, you need to educate yourself. It's the most amazing creation for those lazy days when you want food, but don't want to deal with going out to get said food. Or, wait on super long lines to get food. It's not EVERYWHERE, but if you're lucky enough to live in an area with UberEats, or are vacationing where it's available, use it. It's awesome.
Charlie's (located at Town and Country Resort in Mission Valley)
After staying at the Hard Rock San Diego, it's hard to downgrade. It's even harder to downgrade when you have to find a cheap place to stay, and you are kind of stuck with Town and Country Resort in Mission Valley. I'm sure after they handle all their renovations, it'll be a much nicer place to stay. Right now? It's not so nice. Toilet paper holder hanging off the wall, the sink's knob came off in my hand, and while taking a shower, the tub filled up quickly, because it didn't drain properly. However, the AC unit worked very well, and the food at Charlie's was really fantastic!
You know you're going to eat great food when there's a smoker outside the front door, for sure. Sondra grabbed herself a beer, I ordered a cocktail, and we chose to keep it to the appetizers for the evening. We had to try something with smoked meat, right? We went with the Poutine, because brisket and cheese curds, duh! Plus, we added a little five onion dip and chips, too.
Brisket was juicy, and the smoke on it….to die for. We could have just eaten a pile of the brisket, with some cheese curds on the side. But we buckled down, and we dug into those fries underneath all the smoky and fried goodness!
Bite Tour San Diego experience
When I found out I was heading to San Diego, and would be extending my trip to enjoy quality time with my west coast birthday twin, Sondra, I wanted us to do something unique. I came across Bite Tour San Diego. I reached out to them, and they hooked us up with the Liberty Station Walking Tour! Six stops over 3 hours, and eating all the way? SIGN US UP!
Bite Tour San Diego
The Liberty Station tour runs for about 3 hours, depending on the length of each stop. We got it done in a little over an hour, just because one place wasn't quite ready for us when we arrived. All good, everything ran so smoothly, no one seemed to mind the snag. Each stop was amazing, and I'd visit almost every one of the places again!
Point Loma Tea
Full disclosure: I'm not a tea drinker. Mr. Sunflower drinks it, I can't stand the taste of tea. I admitted it to the owner, and her husband, upon our arrival at Point Loma Tea. They convinced me this was the tea for me, because if I wasn't told I was trying tea, I'd never be able to taste it. I raised an eyebrow, and said "Okay, let's give it a try."
They were totally right. Somehow, when you brew their teas the right way, you can't even taste the tea part of the tea. Just all the flavor goodness in the tea. SCORE!!!! I'd have stayed and drank their tea all afternoon, if we didn't have burgers, cheese, bacon, and italian food to get to.
Stuffed!
Burgers stuffed with cheese. I'm all in for this one. When I saw Stuffed! was on the Bite Tour San Diego, I was diggy. Burgers are my favorite food. Yes, Mexican is my favorite type of food, but put a burger in front of me, and there's nothing else that can make me happier. Well, match it with a great cocktail, and there's nothing else that can make me happier.
Stuff the grass-fed burger with cheese? Why, yes, I believe you've just gotten my unwavering devotion, dear Stuffed!. Bring it on.
Fully Loaded Micro Juicery
Please, understand, juicing is not my thing. I don't really love these types of things, so for me, though the a couple of the juices we sampled were interesting….I'd never go back to Fully Loaded Micro Juicery. It's just a personal preference. I'm sure if you love nutrient packed organic juices, this place will be great for you. For me? I eat meat, and bacon, by the pound. It is what it is.
Venissimo Cheese
All I have to say is, gorgonzola. The amount of cheese offered at Venissimo Cheese is mind-blowing. What I love the most? The gorgonzola. However, they do sandwiches that include meats, too. WHAT? Don't walk by this place at Liberty Station, especially since they offer tastes of their amazing selection of cheeses. It's a cheese lover's paradise.
Slater's 50/50 San Diego
Where does one go to enjoy bacon in everything on the menu? Very simple, you RUN to Slater's 50/50 San Diego. The original burger created at Slater's is made from a blend of 50 percent bacon, 50 percent beef. It's where the love affair began, and the menu just grew to include a variety of options that all embrace the beauty of bacon. If it isn't made of a 50/50 blend of beef and bacon, it's got bacon on it, or as one of the ingredients. ALMOST every last thing on the menu has bacon.
Yes, a few things don't have bacon, but seriously, who goes to Slater's and gets something without bacon? My mother would, she doesn't like bacon. I believe she's not human, and comes from another planet. But if she headed there with the family, she'd have some options, so that's a good thing, right?
Solare Ristorante Italiano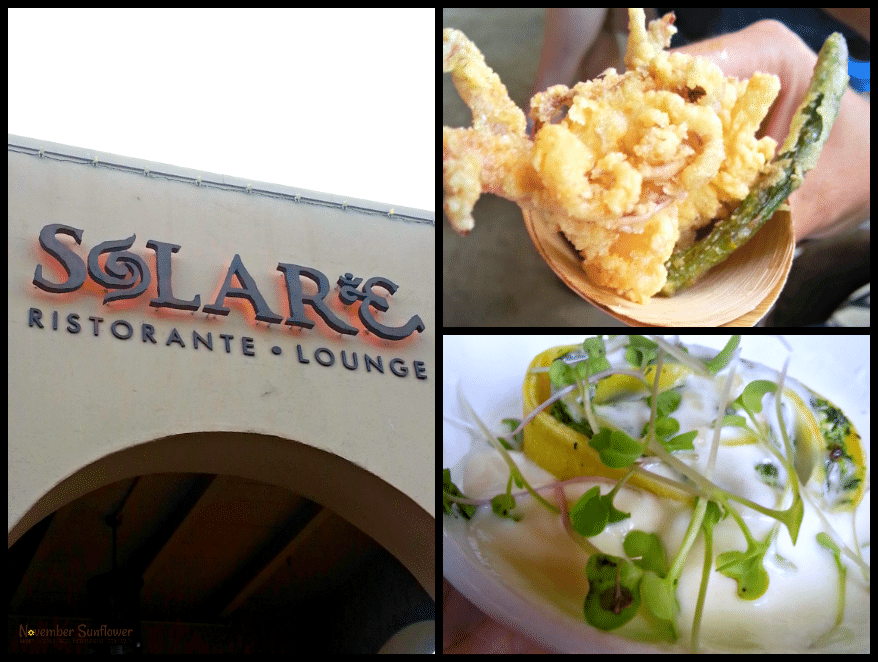 Our final stop was glorious. Our guide informed us the chef at Solare Ristorante Italiano comes from Sicily. Yes, that's right, the menu is heavily influenced with Sicilian flavors, and cooking styles. Contrary to what others may believe, each region of Italy is very different. Being Italian, you aren't just "Italian." You're really a product of the region your family hailed from. I happen to be from Sicily, courtesy of my father, who's 100 percent Sicilian.
I believe Sicilians have the best food, and now, after sampling some of the amazing foods the chef at Solare is offering, it's just solidified Sicilians are the best Italians out there. Our food is outstanding, and again, I got the chance to enjoy fried calamari. Perfectly fried, not greasy at all, and lighter than even Tin Fish did it. Say what? Say YES!
So, where will you head on your next trip to San Diego? Have you been to San Diego, and have a favorite spot to eat? Tell me in the comments below!