Explore Niagara Falls with the entire family. Once you've gotten yourself booked at Seneca Niagara Resort & Casino, there's plenty of activities around Niagara Falls, New York. You might not want to leave the beauty of the Seneca Casinos, but you've got to explore Niagara Falls with the entire family.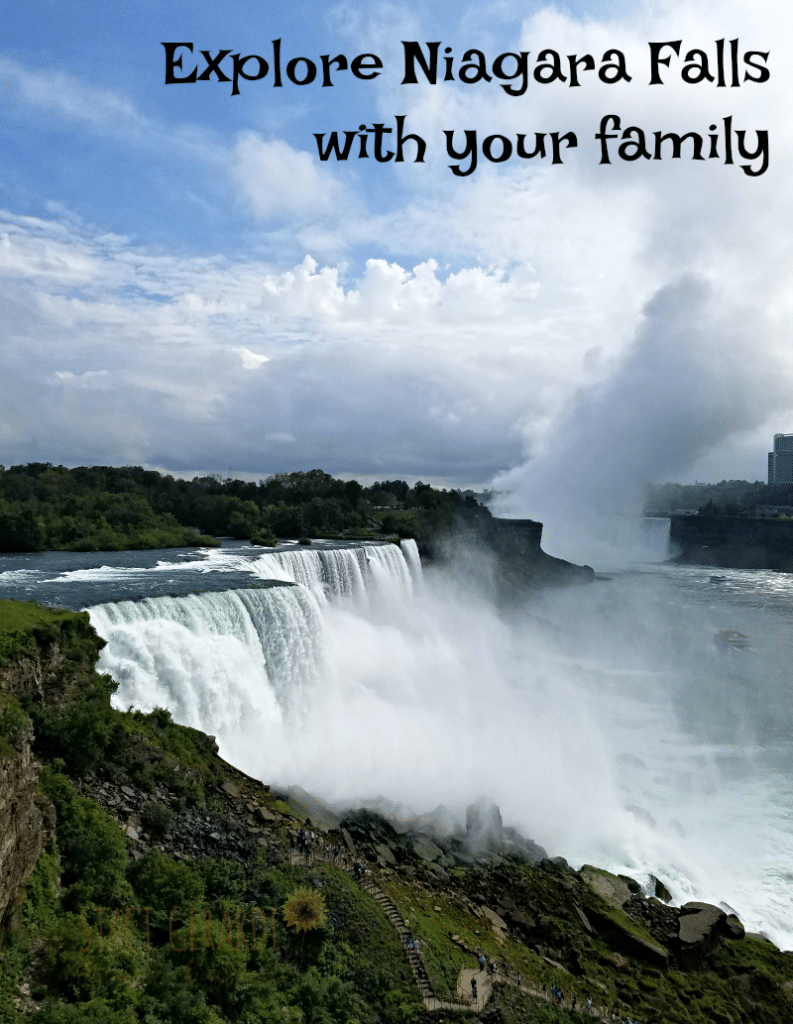 Explore Niagara Falls with the entire family
Niagara Falls is one of those places that puts your existence in this world into perspective. It's a lesson on how powerful water is, wearing away solid rock to create this beautiful natural beauty. If one is persistent enough, you can wear anything down, am I right? Even those kids you're traveling with, asking a million times if they can take off the poncho and get wet from The Falls on a hot day!
If you're traveling with your family, or even solo, I recommend getting the Niagara USA Discovery Pass. It gives access to multiple attractions, and it'll save you some money! One thing to remember? They put the map of the area on the back of the pass, and when you remove each one in order to redeem them at each attraction, the map becomes useless. Pick up, or print out, a paper map of the Niagara area, it'll help!
Niagara Falls State Park
When you're lucky enough to stay at Seneca Niagara Resort & Casino, you're close enough to walk down to Niagara Falls State Park. There's so many things to do, including Maid of the Mist and Cave of the Winds. Even more awesome, when you head down there at night, you can witness the falls lit up and if you visit during certain times of the year, you can watch FIREWORKS over the falls!
Walking there allows for some souvenir shopping at some of the cute shops, too. It's a beautiful walk, and totally a must-do with the family.
Maid of the Mist
EVERYONE has to go on Maid of the Mist. It's the best view of The Falls. If you travel to Niagara Falls, New York, between the months of April to November, make sure you don't miss this half an hour boat ride. It takes you past the American Falls, and then sits you right next to the Horseshoe Falls, which are the ones that most people know as Niagara Falls. 
During my recent boat ride on the double-decker boat ferry, the captain told us the best viewing of the falls is on the lower deck. Even though many go up to the top deck, the true best views of both sets of falls is most definitely the bottom deck.
A couple of tips from someone who's done Maid of the Mist:
Wear your souvenir blue poncho if you want to stay a bit more dry. No matter where you stand, you will get soaking wet.
Wear a hat if you can, so your hair doesn't fly around all over the place. Even if it's up, it whips around, so secure it in a hat, so you're not spending the entire ride pushing your hair out of your face!
If your camera is not water proof, make sure you don't take it out as you move closer to Horseshoe Falls.
Don't have a water proof phone? Either put it away, or get one of those waterproof pouches to place it inside of.
Deck gets a bit slippery, wear shoes that grip.
WIND!!! Our ferry boat ride didn't have a large amount of people on it, so the wind pushed me around a lot on the lower deck. Find a spot you can grab something to hold yourself up.
I recommend finding a good spot on the side of the boat closest to the dock when you first board. You'll see the American Falls on the way to viewing the Horseshoe Falls, and you'll still be somewhat dry and be able to get your photos in, before you have to slip that phone, or camera, away!
Cave of the Winds
An elevator ride takes you down to the base of the Bridal Veil Falls, so you can check out a unique perspective while wearing your souvenir poncho and sandals. There's a series of wooden walkways taking you to Hurricane Deck. At this spot, you're able to feel tropical storm-like conditions. Definitely plan a trip before November, because after November, the walks are removed in order to keep them protected from the harsh elements.
If, by chance, you go during off season, you can do a different route. You won't get as wet, and still have some amazing views from different observation decks. But if you want the true experience…. go from May to October. You won't want to miss this once in a lifetime experience.
Niagara Gorge Discover Center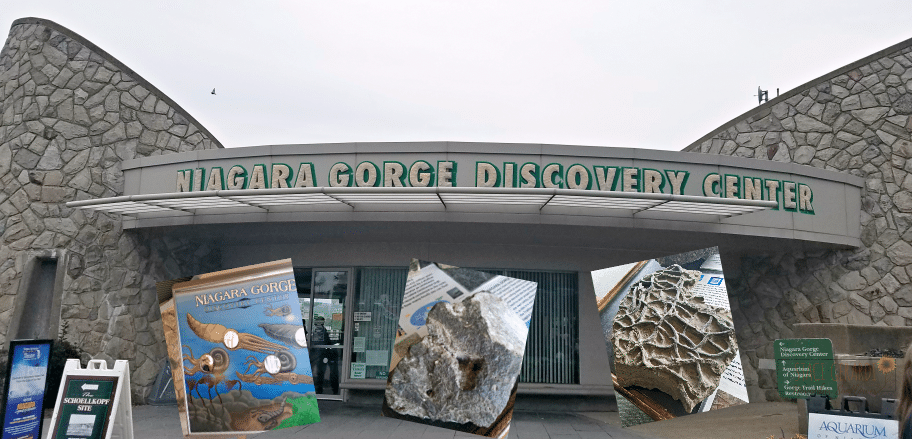 If you're into learning more about the history of the falls, and how plant and animal life developed over the last 12 thousand plus years, head to Niagara Gorge Discover Center. It's going to be a place to grab your Niagara Scenic Trolley ride wrist bands, so why not check out the history? There's interactive displays, and on a hot day, it'll provide a great spot to bring the kids to cool off. If you've got the Discovery Pass, it's part of the package. Use it!
It doesn't take long to go through the entire thing. Short and sweet, and a great way to regroup and learn a little bit. Plus, there's some bathrooms in there, too.
Aquarium of Niagara
I'll start with this: I'm from the New York City area. We have amazing aquariums close to where I live, and I'm a bit spoiled. Now that I have this out of the way, I can tell you, Aquarium of Niagara is crazy small. It's a good one if you've got smaller kids who have yet to experience an aquarium. If you visit at the right time, you're able to witness penguins being fed, as well as a sea lion show.
It's being expanded, so perhaps in the near future, it'll be a bit better. One good thing? You can watch the sea lion show from not just above the stage, but you can watch it from all around the large tank. Basically, the entire aquarium is built around the sea lion tank, including the gift shop.
Again, if you've got little ones, this is probably a good spot to go. It's part of the Niagara USA Discovery Pass. It's "cute" and takes very little time to explore. If you don't get the Niagara USA Discovery Pass, I'd skip this tiny aquarium. Especially if you've got older kids. They'll be a bit bored in minutes. No one will want to "wait around" for a sea lion show, or penguin feeding time.
Niagara Power Vista
It's free. Admission is totally free, and with the amount of activities within the Niagara Power Vista facility, I'm shocked it doesn't charge a fee. It's a pretty cool experience, especially for kids. Everyone can get a Power Player Badge at the front desk, and activate it at the kiosks. I even got mine customized with my picture. Super cute.
As you go through each experience, you can scan the power player badge. It'll take photos you can share on social media. Plus, there's a "ride." It's a simulated ride in the 4D theatre, where you learn how electricity is made. Kind of awesome, right? I should take my dad up there, since he spent most of his life as an electrician! It's definitely worth the short trip down to Lewiston, New York. It took no time to get to, and it's something you can stop at on your way back from Niagara Jet Adventures!
Niagara Jet Adventures
If you're heading to Niagara Falls, you've got to book a trip on the Niagara River with Niagara Jet Adventures. This is a no ifs, ands, or buts, kind of deal. I'm not sure how people do this in the three seasons outside of Summer, but it's available all year! If you're a fan of white water rafting, you'll love this adventure.
There's nothing like a 360 degree turn on the rapids of Niagara River with an experienced pilot! Music pumping, dancing in the seats, and lots of high energy fun. If you're not into getting soaked, there's spots to sit inside the cabin of the custom-built jet boats.
A few things to keep in mind when you book your jet boat ride:
There are storage bins that lock available.
You must wear a life vest, and there are ones sized for kids.
For a great time, ask to sit in one of the co-pilot seats right next to the co-pilot. I wish I'd done this, but will do it the next time!
Be okay with a bit of a rough ride at times. It's very much like white water rafting.
Trust your guide. They are trained in Hells Canyon out in Idaho. They know their stuff, and will keep you safe. Just listen to them, and don't stand up!
Make sure you're ready to have a damn good time, because the pilots are crazy awesome, and so is the guide in the cabin. They'll even snap your photo while you're having fun.
If you want to get soaking wet, ask for the wet deck. The pilots/guides GO OUT OF THEIR WAY to get you soaked. So, you'll get wet. No doubt.
After a full day of fun in Niagara Falls, New York, head back to Seneca Niagara Resort & Casino to enjoy amazing food at their fine dining, or casual dining, restaurants!