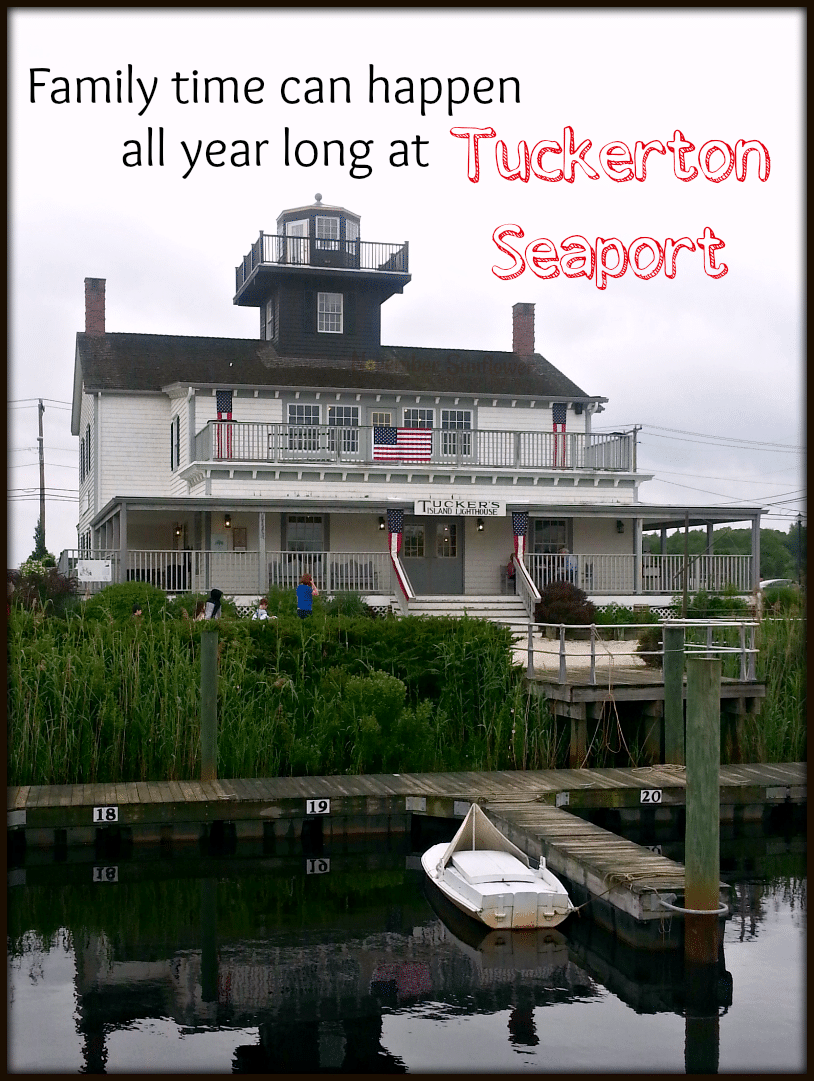 Never underestimate the power of a family vacation you can do over a long weekend! It's not about the length of time you spend together, but the quality time spent together. Tuckerton Seaport has so many events throughout the year that'll bring smiles to kid's faces, and parent's faces, too. Heck, bring the grandparents, and invite the cousins, too. If you're into maritime fun, or even if you're not, you'll have a good time! I promise.
Family time can happen all year long at Tuckerton Seaport
Although we loved the pirates and privateers we saw at the Tuckerton Pirates & Privateers Festival, I'm not sure we can attend on a regular basis. It's in June, during a super busy time of the year for the kids. School is coming to a close; end of the season games to be played in; and recitals are being danced in. Sad, but thankfully there's plenty of events happening throughout the year at Tuckerton!
A long weekend away can be achieved no matter what time of the year it is, and if your family wants to enjoy experiences available only at Tuckerton Seaport, start planning right now. There's so much to do, you'll want to head there a few times a year. The Pirate Festival has passed, but coming up is the Baymen's Seafood & Musical Festival over Father's Day weekend. Fresh seafood, lots of music and crafted beers from New Jersey's River House Brewery. All of this for a super low price of $8. It might just be your dad's favorite Dad's Day celebration! July starts off with a FREE July 4th Celebration that includes a parade, activities for the kids, a baby parade, lots of entertainment and of course, fireworks! There's also an Ice Cream Social featuring lots of samples from Jersey Shore's local ice cream shops. As with all Tuckerton events, there's going to be live music, activities and programs for the whole family and a demonstration about how ice cream was first made. All this for $8, plus more activities to enjoy. All through summer, Tuckerton has free summer concerts starting on July 10th, and happen weekly until August 14th. Awesome, right? Well, as awesome as those are for locals of Tuckerton and surrounding areas to enjoy each week, I'm kind of interested in the "Truck"erton Food Truck & Brew Fest happening on August 15th and 16th. Tuckerton Seaport will be hosting TWENTY gourmet food trucks, and some of the foods will include Wisconsin Battered Cheese Curds, sandwiches made on potato skins and so much more. How can you not be interested in spending the weekend eating?!!! Oh, and sucking back a couple of brews? You have to check out ALL of the Tuckerton Seaport events happening from now, until the end of 2015.
Places to stay near Tuckerton Seaport & Baymen's Museum
It's a bit long of a drive to not think about staying at a local place, just to break up the trip a bit, right? Long Island is about a 3-hour drive to Tuckerton, and doing that all in one day is a lot to have to do. No worries. There's plenty of places to stay relatively close to Tuckerton Seaport. Our experience included a 2-night stay at Sea Pirate Campground. We had a Deluxe Cabin, which included a bathroom, so yes, we had indoor plumbing. A kitchen was also a part of the cabin, and WiFi, too. The kids loved the pool, even though it was still a bit cold, as it is very early in the season. The Queen Ann's Galley was staffed with super sweet staff, and the ice cream was a sweet treat for the kids to enjoy.
We're not a family that camps, so it was all new for us. The bugs; the need to bring our own supplies such as sheets for the beds, and paper towels. It was nice to have a bathroom, a kitchen with a normal-sized fridge, plus a television. Propane is used for the stove top in the kitchen, so we didn't really use it during our visit. The fridge we used to hold our water, huge cups of lemonade from the Tuckerton Pirate & Privateer Festival, but not much else from the kitchen.
As for the rest of the kitchen, the only reason the cabinets, and drawers, were opened was to see what was in them! I didn't pack our own kitchen stuff, and I wasn't okay with using their kitchen items.
Does your family go camping? Where are some of your favorite camping spots? Do you go RVing, or break out the tents? Are you more of a camp in a cabin with indoor plumbing, like us?
Comment below with your camping adventure stories: good, not so good, and everything in-between. I'd love to read all about them!