Gaslamp Quarter of San Diego. Yup, just like most cities, San Diego has a variety of neighborhoods, and sections. The Gaslamp Quarter happens to be one of my favorite places to hang out in, when I visit my beloved San Diego. It's got all the best restaurants, and we all know my love of all things food related. It's also home to the Hard Rock Hotel San Diego, where you can live like a rock star while on vacation.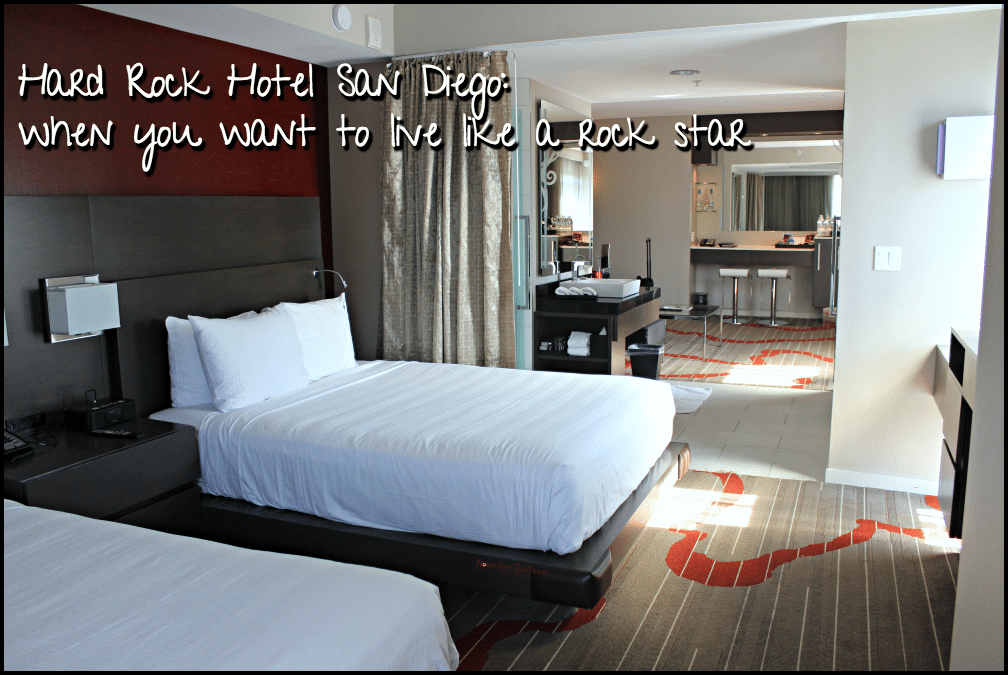 Hard Rock Hotel San Diego: your answer to staying in San Diego in style
Hard Rock Hotel San Diego is in a great location, for sure. Service is top notch. What I fell in love with? How they designed the suite I stayed in. Walking into the suite, you're met with a great little sitting area with a big television. It's a big space to relax on a great leather couch, or comfy chair. It's got a bar area, with a fridge. The sleeping area is separated by a hallway that houses your sink, and doors to your toilet, and your shower.
If you're traveling with family, or friends, there's even a curtain to pull out so it gives privacy when some of your party wants to relax in bed watching television! A balcony off the sleeping area was fantastic to drink my morning coffee, before my days started.
But, the part that I love more than life itself? Especially when traveling with others: the bathroom set up. If you're traveling with friends, it might be a little odd, because the shower has a glass panel that you can kind of see the outline of the person taking a shower. It can be seen from the sitting area. However, it's not a huge deal to me. The main reason I love the bathroom set up? It has everything separated.
Sink is in the hall. Bathroom is behind one door, and opposite the toilet, on the other side of the hallway, is the shower. When someone's in the shower, the rest of the guests don't have to wait to use the toilet. Anyone who travels with their family, this is kind of a big deal. Plus, no one occupies the entire bathroom when they brush their teeth, or shave a beard, or whatever one does at the sink.
Everyone can do what they need to do, without having to wait. Now that, that right there, is living like a rock star.
Listen, I don't ask for much when I travel. It's a simple design that makes Hard Rock Hotel San Diego my favorite little spot to stay, whether I'm flying solo, or partying with others!