With Thanksgiving out of the way, and Christmas approaching, we can legitimately say that winter's upon us. We can expect freezing temperatures, and punishing snowfall. Both may sound excruciating, and tormenting, but despite all that, it doesn't have to be as vicious as it sounds with the right wardrobe collection! You can make winter enjoyable if you've got the right fashion items to wear. We're talking holiday fashion for the ladies with Guest Writer, Christine Rudolph.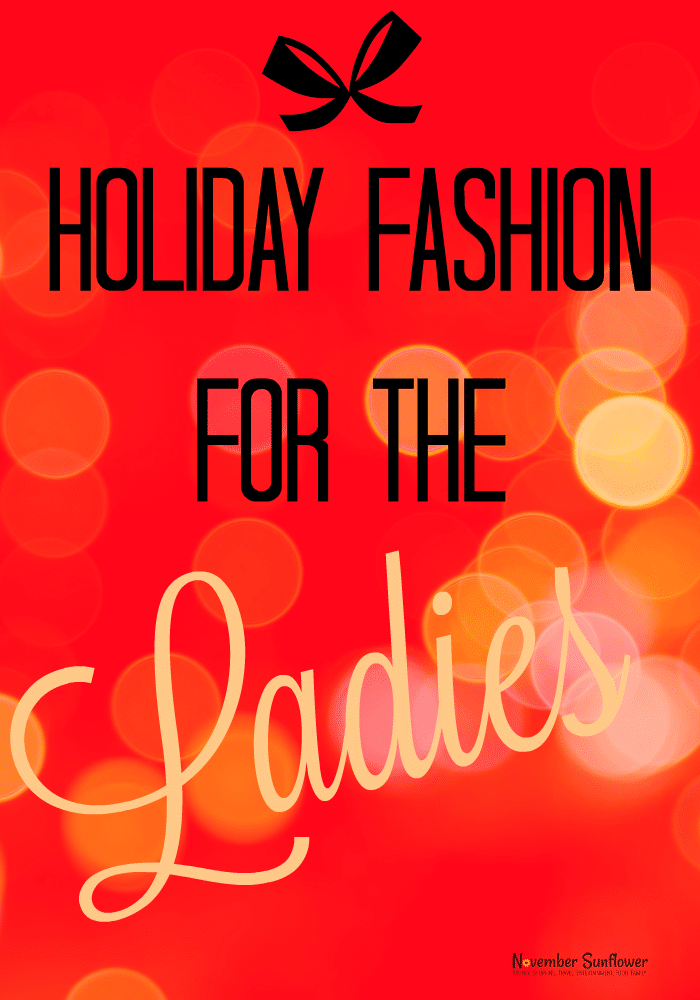 Holiday fashion for the ladies
Everyone feels worn out, and lazy, at times, especially in winters. There are days where we don't feel like dressing up, but there's a certain misconception people carry. You don't need to dress extravagantly to look good, sometimes all it takes is a scarf with some boots to make you look good, and keep you warm. Holiday fashion is no different than any other time of the winter season!
The main idea people forget is to keep it simple.
Expensive costumes aren't necessarily there to make you stand out. It depends on how you style your clothes, and express your version of innovation. Remember, the slightest of changes can make your old outfits look new. If you're creative, no outfit in your closet can ever get dull. Trends, and styles, can catch on but it depends on how you choose to dress up. Give it a try, and who knows, people may start to follow you, too.
One way to bring a spark to your outfit
One way to bring a spark to your outfit, and rejuvenate the whole look, is to throw a casual blazer over the shoulders. It makes your outfit look extremely classy, and appealing. It can also give a formal look, so use this trick for a semi-formal, yet casual get together, or a formal event.
Who says jackets, and coats, can't give you a formal look?
People have the misconception you must take your coat off if you're attending the opera, or an office dinner. Please! There isn't a hard, and fast, rule on how to wear your items. You've bought these pieces! If you like your look, that's enough, and when you wear your look with confidence, you could be the next trend setter. Throw on your coat with a pair of jeans, and watch them dazzle together.
Women and girls love to show the world their waistline
Women, as well as girls, love to show the world their waistline. They want everyone to know how slim they are. So here's a way to change things up. Throw on a long-sleeved shirt, with the sleeves rolled up, and knotting the shirt in the middle. It adds a frisky touch, which gives it a playful look. It's a great option for a casual get-together, and throw on a hat to make it more interesting; the hat at the end just compliments the shirt, and brings it together.
Long sleeved shirts
Long sleeve shirts are usually worn with pants, or jeans. Many don't think of wearing one with a skirt. However, it's different, and goes against the norms of the fashion world. People may think that a full sleeve shirt may ruin the whole look, but it's your wardrobe, it depends on your idea of innovation, and how you carry it. Throw on a pair of boots to match the skirt. It's important you're confident about how you look, don't let others tell you what your style should be!
The idea is to make people realize fashion is what they want it to be.
If people keep following trends, the industry will turn boring, and dull. Same old stuff worn by everyone! There's not an ounce of fun in that scenario. Fashion is about mixing things up. It's about taking risks, and never doubting your style. Never be afraid to try something new, that's what may differentiate you from outshining everyone around you at your next holiday gathering.
Author Bio
Christine Rudolph is a passionate fashion blogger who loves to write on prevailing trends. A featured author at various blogs. Follow @RudolphBlogger for more updates.