Disclaimer: Compensation and products for review were provided by Glidden via Mom Trends. The opinions expressed herein are MINE, A.K.A. the author of this blog, and are NOT indicative of the opinions of Glidden.
It's been a long journey with #DisneyPaintMoms. I've dragged the kids shopping for paint, and party supplies at our local Walmarts (yes, that's plural, because one had the paint, and one did not.) My poor mother was volunteered to help us paint Tinker Bells, and fairy fun onto the purple walls of Little Miss's bedroom. However, her work wasn't done after we Ready, Set, Glow! painted the purple walls. The festivities continued as we transformed our playroom into a Pixie Hollow Garden, so we could debut the glow in the dark Tinker Bell creativity on those purple walls of my daughter's bedroom.
And you're all invited to attend…….
I know what you're thinking, how much did she spend on all of this craziness…….my budget was $200. Totally ROCKED that budget to the very last penny, my friends! The key? A bit of hard work where the food was concerned. Instead of going nuts with lots of food, we did cupcakes, and lemonade. We just did them Tinker Bell style!
Now, poor mom. She came to the house never expecting to have to create templates, and do sponge painting. Well, no, she expected the templates, just not the sponge painting. She had better ideas, like using a small, sponge roller. It's the biggest tip I can offer when doing the painting with templates. Get yourself a small, sponge roller. It'll move the process along dramatically. Then use a smaller sponge, one that you can hold in your hand, and fill in anything that might seem less than covered. The glow paint is a bit "stickier" than other paints…..so make those templates out of acetate. It'll be easier for you. I only had paper, so we used it twice, and had to trash it.
However, without mom's tip of using the sponge roller, I'd still be there sponging things on with the templates!
Personally, I didn't want the glow effect to be too much, so we did it right onto the darker purple walls. If you want the glow paint to really pop, use a coat of white, or a light color, and then go over it with the glow paint. It'll stand out a lot more, which is what I wanted to avoid in her room. I wanted a more subtle look, and two coats of the glow paint on the darker purple worked out perfectly for us…….however, it didn't work when we tried to get pictures, or video. What can you do?!
Once the room was painted, we put together a little Tinker Bell Nook. Good thing she has a tall bed, or we'd be hanging curtains everywhere to section it off! It worked out nicely, since she has more Tinker Bell than any one child needs in her life…..and she's only six and a half years old!
In order to do a big reveal, Little Miss chose a few of her favorite ladies to join her for a Tinker Bell party at our house. Massive amounts of planning, and prep work went into this event. Baking of cupcakes, decorating our playroom so it looked like a Pixie Hollow Garden, and lots of party activities had to be staged. Once again, mom was called in to help me create the Pixie Hollow Garden, and the husband was called in to bake up a storm, plus had a first time experience with fondant. You'll see……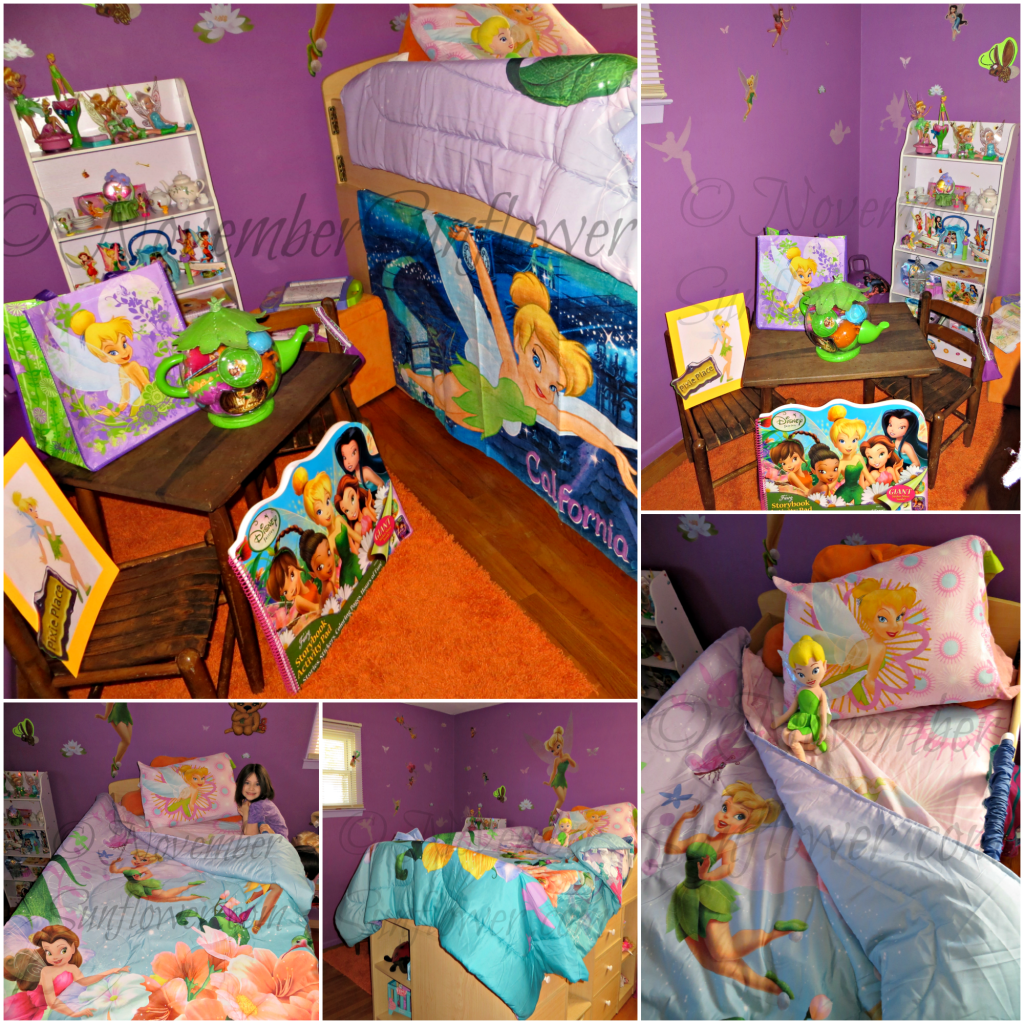 Once the redecorating was completed in the bedroom, and the place decked out in all its garden glory, and the cupcakes were baked and ready to be eaten, and the pink lemonade was made……
We showed off the room to the girls, and moms.
And then we got down to some serious partying! Isn't that what life's all about? Having fun after working super hard?!!! It is in my house!
Every good fairy has to have her own wings, and in this case, we also had some boy fairies. Why not? You have to have boy fairies in Pixie Hollow.
After wing creating, there's got to be some food, and drink!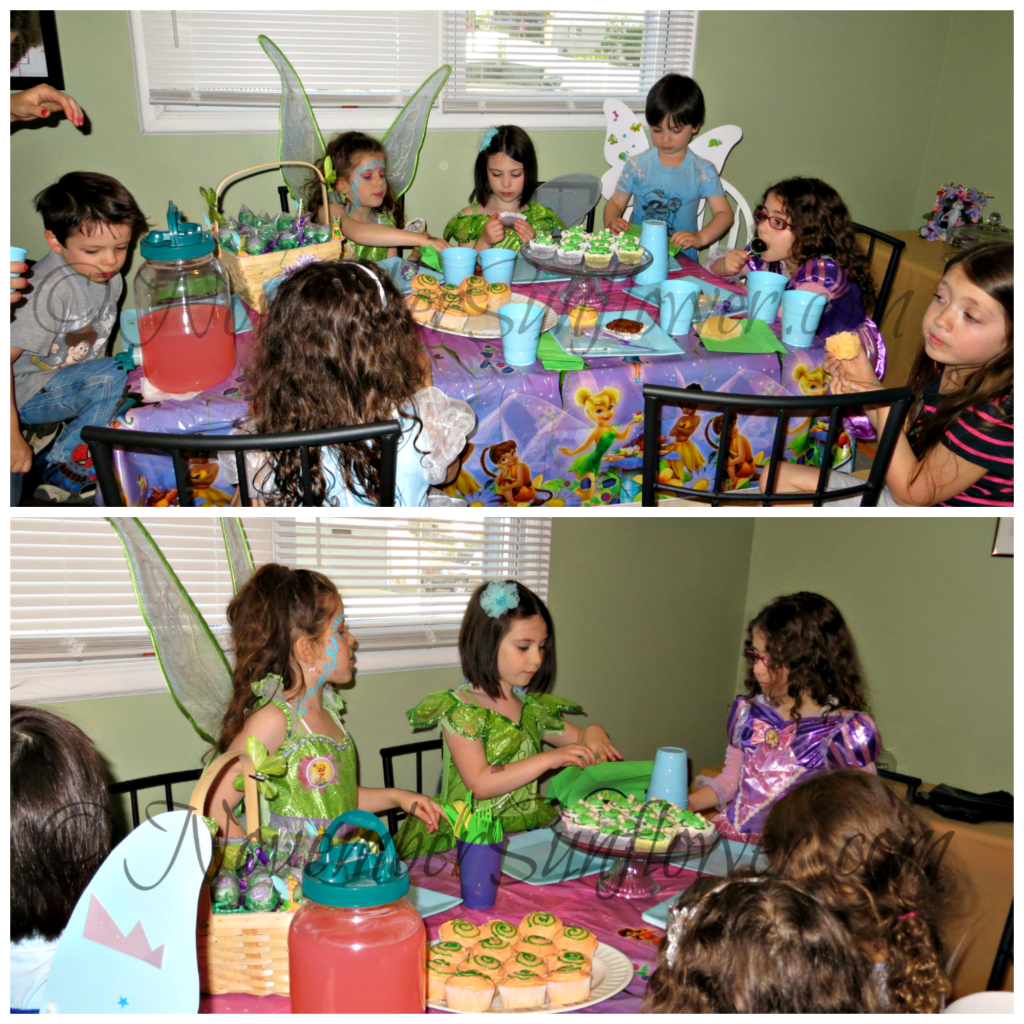 Once the little fairy bellies were full, and our moms got to hear about the Ready, Set, Glow! paint Disney and Glidden teamed up to create, and Walmart sells, the kids were ready to create Fairy Dust Glow Jars.
All-in-all, the kids had fun. They loved my daughter's room decked out in Tinker Bell. The glow wasn't easily seen since the party was kind of during the day, but they sort of got the idea…….and thought it was cool for bedtime! The Moms were happy to hear other paint options were available. I'm planning on doing a glitter specialty paint on one of the purple walls in my daughter's room…..IF she's a good girl for the rest of her school year. Which she will be, she's that kind of kid. The Boy, he's been promised some major Metallic paint action on his two sets of closet doors, and molding around the doors……because we're planning a 5th Birthday Bedroom makeover for him in November. Metallic Paint will be pure awesome for the Cars themed wall. His Buzz themed wall will have Ready, Set, Glow! paint, too! He's going to be in heaven. I may even attempt to paint the Wreck-it Ralph themed wall with Disney paint, or use the Confetti Paint on the wall to make it more "candy" like. We'll see.
Both my kids love Little Miss's Tinker Bell Nook. They go in there all the time, and play with all her Tinker Bell dolls, and color with her Tinker Bell crayons and markers. It's their favorite spot in the house, and at night, The Boy tries to sneak in there to watch the Glow action on Blaze's Butt. SERIOUSLY!!! The glowing butt is their favorite part of the entire room, the nook comes in a close second though, I swear.
In the words of my children "You're the best mommy ever. No other kids have a Blaze with a glowing butt in their Tinker Bell Nooks." I just have to shake my head. I don't think they understand, most kids don't have Tinker Bell nooks in their homes, let alone a lightning bug with a glowing butt.
It's been a fun #DisneyPaintMom adventure, that's for sure! I'm a fan of Disney's new Glidden Paints from Walmart. Go and try them out, and tell me how your room transformations went!
 Related articles