A New York road trip to Niagara Falls is better in a Kia Sportage, and with your West Coast bestie as a travel mate! Flying is cool, for sure. However, when exploring this great state of New York I live in…. there's something about a road trip. Great music. Snacks. Open road. Windows down. Sunroof open. There's nothing like the open road in a wicked, cool Kia!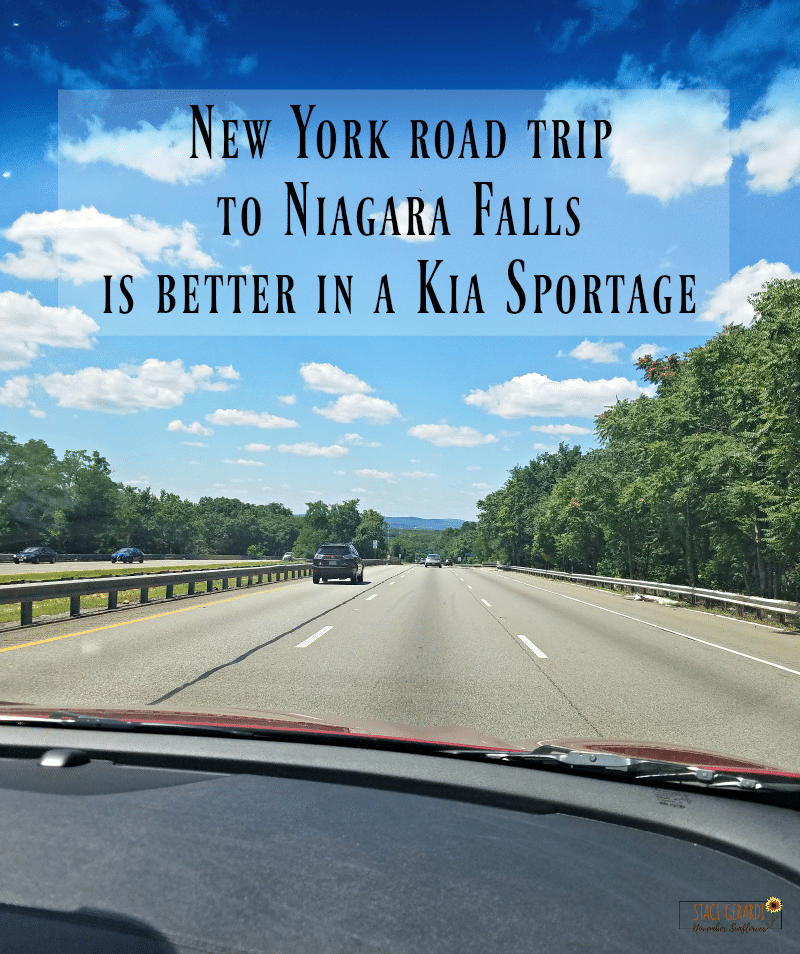 New York state of mind
New York is my home. Born, raised, and raising my kids in this beautiful state. There's down sides to living in any state, and New York is no different. Long Island has far too much snow falling each winter, plus our traffic is out of control. Taxes to live on Long Island are completely insane. Hoping this is rectified soon. However, the benefits of living here far outweigh these problems. Beaches within minutes. A local airport not too far. Easy access to New York City with a quick train ride. School districts, even the worst of them, are far better than almost all other districts in any other state I could afford to move to!
Point is, I love this state. After spending more time traveling, and reviewing amazing cities all over this country, I chose to start focusing a bit more on New York. It's a huge state, for which I haven't explored enough of. I spent many summers in Lake George, New York. However, much of the state went unseen for many years. It all changed in 2016 with my first trip to Rochester. I realized, while flying to Rochester, how much more I could see if I drove!
Taking a New York Road trip to Niagara Falls with Kia
If you're taking a road trip through New York, or any area, really, you want a great ride. It's about comfort, and gas mileage. Long New York road trip adventures require luxuries in the car chosen for the exploration of New York. What's important to me for an extended trip in a car?
cruise control
killer sound system
sunroof
comfortable seating
GPS
safety features
excellent gas mileage
Guess which ride checks off all of these must-haves? Kia Sportage. It's my all-time favorite Kia. Sure, the Kia Niro is super cute and packs a good punch for gas mileage, but it sits too low for me. I'm happiest when I'm sitting up high, like a Queen on her throne. KIDDING. I'm just short, and the Kia Sportage helps me feel like I'm not being ignored on the roadways. All those tall trucks…. none of them can miss me in a Sportage!
Safety features I consider important on a long road trip
On a long ass road trip through New York, the safety features most important to me might not be as important to you for the day-to-day. I get it. However, the safety features on the Kia Sportage are great, no matter what you're using the car for.
Sensors
The Kia Sportage has sensors to let you know if you're drifting into another lane. They have a name, they are called the Lane Departure Warning System (LDWS.) You can turn them off, or leave them on. On long car trips, I leave them on. Around my neighborhood, I turn them off. Let's face it, long road trips tend to make you drift. The sensors let you know to get your head straight!
It's also equipped with sensors for switching lanes. They call it Blind Spot Detection (BSD.) If you're looking to move on over to another lane, and even after you've looked to see if it is clear, there's a sensor letting you know "nope, someone's coming, stay where you are." It's those blind spots that get you, and the Sportage has your back.
Air bags
Air bags are all over this car. Driver's side, passenger side, it's all covered. There's dual front advanced airbags. These monitor just how bad an impact is, and inflate the airbags accordingly. Both the driver, as well as the front-seat passengers will be well taken care of in an accident. There's even dual front seat-mounted airbags, which handles the sides of the car for the driver, and front-seat riders.
Don't fret, those in the back, if there are any, will get the benefits of the full-length side curtain airbags. Sensors let the car know what to set off during a crash. Super high tech, people. Super high tech.
Plus, a rollover sensor. If the car's looking like it's ready to take a tumble, this sensor goes into action, setting off the right air bags, and it'll also set off the seat-belt pretensioners. Which leads me to the seat belts….
Seat belts
Yes, every sitting position has the three point seat belts. However, not every car out there has pretensioners. What's so great about these? When an accident occurs, the sensors will engage the pretensioners in order to tighten seat-belts. With the tighter seat-belts, a driver, along with the other occupants in the car, are snug in their seats for an impact. It's been proven to lessen the degree of injuries during a collision.
Steel
Yes, the frames of every Sportage are made with steel. However, what you might not realize: every door has a side-impact door beam, also made of steel. REINFORCED steel beams help deflect side impact force. Kind of a big deal, especially if you're traveling on New York roadways. Not all New Yorkers are great drivers, like any other state, but on Long Island, there's a LOT of people on the roads. Accidents happen all day, every day.
Front & Rear sensors
Sounds crazy, but how many times have you tried to back out of a spot and as you pull out, another car you couldn't see thanks to a blind spot, pulls out behind you? Happens to me often. Having a rear sensor detect this situation is a great help. Plus, having the rear CAMERA is awesome for backing into parking spots. I've never been good at that, until now. I did it for the first time while driving a Kia Sportage down along Florida's Gulf Coast. I was super proud of myself!
What else can one say about the Kia Sportage
Let's face it, safety is awesome. But so is style. Kia Sportage is damn cute, and it's got:
a fantastic sound Harman/Kardon® surround sound for your AM/FM/MP3/SiriusXM® 6-speaker audio system
BLUETOOTH® Wireless connections for your phone, so you can be handsfree for everything
controls on the steering wheel for cruise control, radio, and handsfree phone functions
Active Eco System allowing the car proactively control parts of the car's engine, transmission and AC, in order to save on fuel
Paddle shifts on the steering wheel in order to make quick shifts without moving your hands off the steering wheel
Trip Computer displays helpful info, plus gives an idea of how much gas you're going through, and how far you can get on what you've got in your tank
AC vents not just in the front of the car, but separate ones in the back
Ability to charge your phone while driving in the front seat, as well as the back seat
GPS (have a back-up, though, Kia needs a little bit of work on their New York roads… it took us a bit out of our way for our trip up, still not sure what happened.)
There's so many amazing pieces to this Kia Sportage puzzle, and not enough time to go through them here. You've got to check one out for yourself! Go ahead, read all about the Kia Sportage, and then take one for a test drive.