Outdoor adventures to experience in New York's Enchanted Mountains are plentiful. The Enchanted Mountains is another name for the Cattaraugus County in Western New York. A county so far west, it also borders Pennsylvania. While staying, as well as eating, at Seneca Allegany Resort & Casino, there's plenty of sites to see, and outdoor adventures to experience, all throughout Enchanted Mountains. With just two days to spend in the area, I'm sharing three significant places to visit, explore, and fall in love with. I love New York!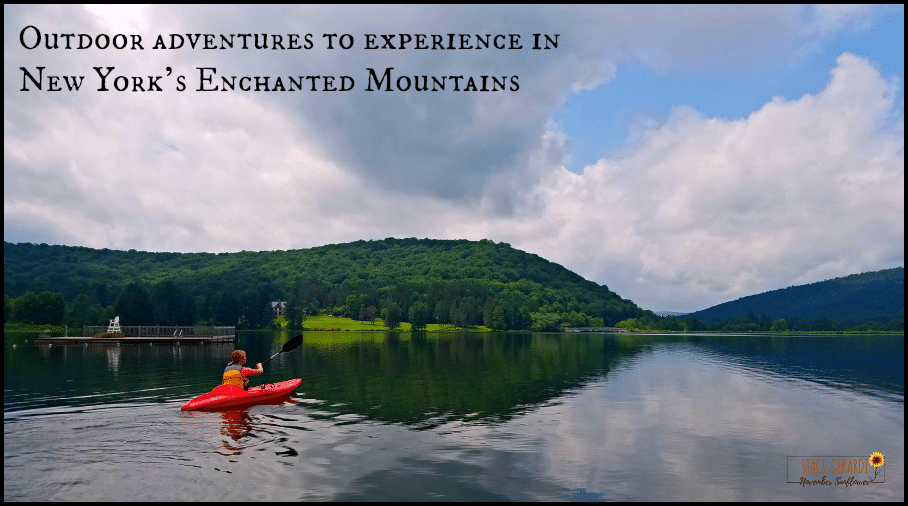 Outdoor adventures to experience in New York's Enchanted Mountains
Allegany State Park
Beyond the beauty of the 3rd largest national park in the country, Allegany State Park offers numerous outdoor activities you can do. I only experienced the Red House area of the park, but there's a whole second half, Quaker Run area. It's enormous, and to truly explore the entire thing, it would take days! It's why so many people camp at the park. There's cabins to rent. Camp in a tent, or in bare bones cabins, and rental cottages.
Red House Lake offers paddle boarding, paddle boats, and kayaking, for renting and using on Red House Lake. There's a small beach on the lake, manned by a lifeguard. Not far from the rentals, there's a bathhouse to change in. Food is available by the beach, too. Dine at The Park Restaurant overlooking the lake, or grab quick bites at the snack place sandwiched between the bathhouse/bathrooms.
Hike paths throughout the park, or rent bikes to ride along bike trails. One of my favorite parts of the park? Stone Tower. I drove my Kia Sportage up the hill to check out the tower, and took in the gorgeous views of Red House Lake.
Education is an important aspect of the park. A brand new "learning feature" is located in the wetlands of the park. (Be careful of curious snakes.) Kids can take classes all year long at the administrative building, too. There's also shows and things available many nights, right on Red House Lake.
Sky High Adventure Park
As scared as I am of heights, I couldn't pass up an opportunity to check out Sky High Adventure Park at Holiday Valley. My bestie, Sondra from Happy Healthy Hip Parenting, can always be counted on to push me past my fears. Our trip to Sky High Adventure Park was no different! Sky High Adventure Park takes guests up into the trees in a Climbing Forest. It's an experience having someone strap you into a harness, and then someone else teaches you how to use the Auto Belay system, so you're safe on the color coded courses high up in the trees.
Yellow is the easiest course, and sits 10 feet high off the ground. There's a couple of yellow options, and since I'm November Sunflower, we did the Sunflower Course. After yellow, I believe it goes green, blue and then black. Black is for the wickedly fearless, and skilled, Climbing Forest pros! Yellow was about all I was able to push myself to do, and not have anxiety attacks!
Once hitting my groove with the latching, along with the unlatching, systems in place, it's a huge amount of FUN. Zip lining, crossing crazy bridges, and figuring out those platforms between each obstacle. It's a great time, even for kids. Kids must be 5 years of age, or older, to do the Climbing Forest.
My favorite part? The Sky Flyer Mountain Coaster. It's a self controlled coaster, and even though I thought it was a bit boring at first…. just had to wait for the big show when you could let loose and give it the speed down the twists, and turns. Totally loved it, and kids will definitely want to do this at Sky High Adventure Park!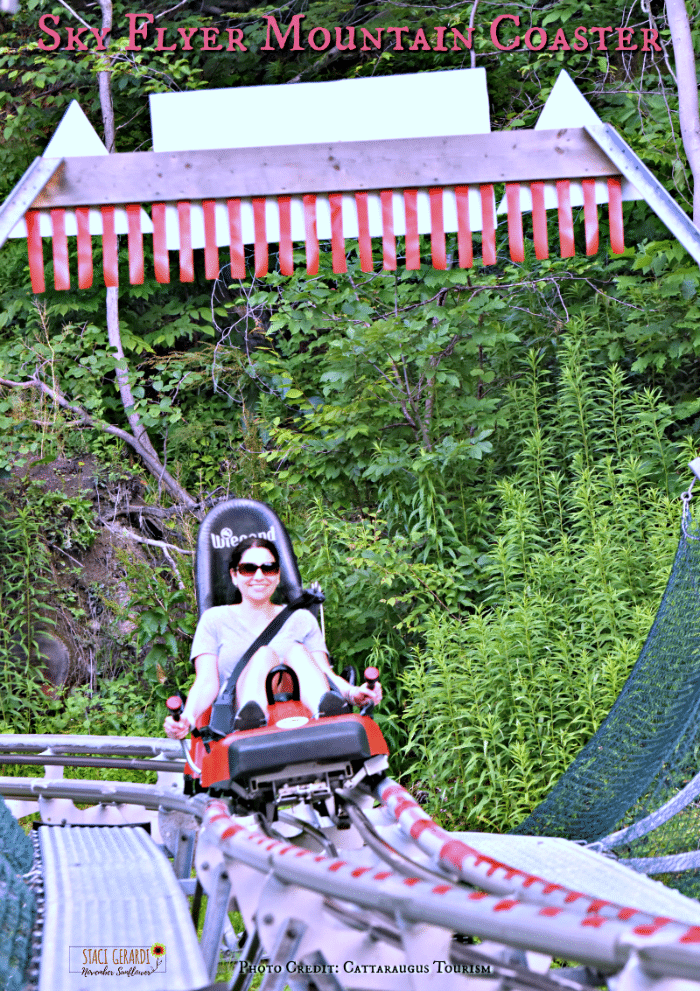 Seneca-Iroquois National Museum
Okay, so this one isn't outside, but it's something everyone visiting the area, should experience. Kids. Adults. All of us need to learn more about the Native American culture. If you're lucky enough to visit Salamanca, and stay at Seneca Allegany, the Seneca-Iroquois National Museum is minutes away. MINUTES. When you go, ask if Willy is available for a tour. His head is filled with so much knowledge, because he's part of Seneca Nation. I forget which one of the 8 clans his family is part of, but he'll be happy to tell you!
Learning the rich history of the Seneca, for Sondra and I, was a highlight of the visit to the area. The joys, the hardships, as well as the struggles, being dealt with to this day, are necessary lessons I need to learn. My goal: get my kids to this museum for a visit. New Yorkers must learn the significance of the Seneca people. Long Island has a rich Native American history, and my children learn almost nothing about the culture in the schools. It's up to me, as their mom, to make sure all of these lessons, and this history, is learned and respected.
Visiting the Seneca-Iroquois National Museum should be the first thing on the to-do list upon arriving at Seneca Allegany Resort & Casino!