Working from home, or at least the flexibility to work remotely, is becoming a much more common job perk. The pandemic showed the world remote jobs were the best jobs! You can find the best part-time remote jobs all over the web. FlexJobs.com and Upwork.com provide great options to start your job search.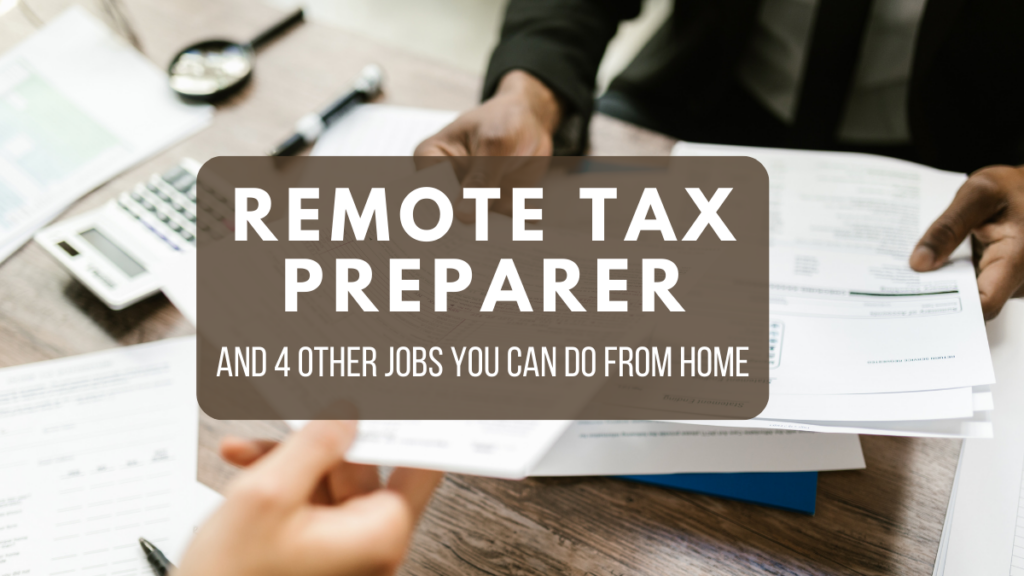 The best part-time remote jobs are flexible, because you can work from anywhere.
Flexibility may be the main benefit of working from home, but it's not the only one. When working remotely, you:
can work when you want
don't have to commute to a physical work location
can often choose your own hours (which means if your kids need a ride somewhere or you're meeting friends for dinner at 6 p.m., there's no boss telling you that "your shift starts now")
Working remotely gives people more time with their families and friends–and increases their overall happiness!
Tax Preparer
Working as a remote tax preparer is a great option for people who want to work from home and have an accounting degree or CPA license. However, these advanced certifications aren't a requirement. For example, Intuit offers tax preparation roles for professionals at all stages of their career.
In this role, you'll need an understanding of taxes and how they work in order to do this job well. Fortunately there are lots of resources available online to teach you what you need to know! If you're savvy with math and numbers, this is a great opportunity to earn extra income each month.
Teaching virtual lessons for different skills (chess, guitar, piano, etc.)
If you're a teacher, or even if you have experience teaching a skill in your spare time, then this is the job for you.
Teachers working with online tutoring companies can make a living teaching one-on-one lessons to students of all ages around the world. The best part: you can do it from anywhere! You don't have to leave your home office. Heck, you can even work from your bed. Without any formal teaching experience, you can leverage your skills in:
sports
music
another hobby of yours
allowing you to give lessons to others looking to improve in the skills you offer lessons in.
As opposed to physically being in person and giving 1:1 instruction to students, your lesson plan will simply be done through a webcam. It will help to go into "lecture mode" via webcam or phone call and teach them exactly what they want to learn about–whether it's chess strategies, guitar chords, piano keys, or another area you're an expert in.
Rideshare Driver (Uber, Lyft, etc.)
Driving for Uber or Lyft is a great way to make some money while having fun. You can pick your own hours and locations, and get use out of your car that you enjoy driving. Through picking up and driving new passengers each day, you can meet new people and spark up conversations about a variety of topics – it's a great way to get more comfortable in social situations as well.
Data Entry
Data entry is an easily learned job that can be done from anywhere with internet access. It's also one of the most common part-time remote jobs available online. In addition to being able to do this kind of work from any location with an internet connection (including your couch), data entry jobs are often flexible enough so you can choose when and how long your shifts will be–even if it means working just a few hours per week!
Transcriber
Transcribers are responsible for transcribing audio and video recordings. This work can be done from anywhere. It's a great job for people who like to listen to audio and type. However, it will be beneficial if you are an especially quick typer and can process information swiftly. Being able to type more words in a shorter amount of time will allow more information to be transcribed in an efficient manner.
Becoming a remote professional
There are many great part-time remote jobs that you can do from anywhere in the world, with really the only requirement being a stable internet connection. If you're looking for flexibility and freedom in your professional career, these are some of the best options available today!
About the Writer: Alexandra Wilson has been a freelance writer since 2019, covering topics ranging from personal finance to entertainment to travel. She enjoys writing pieces that inspire others. Alexandra is based in New York State.
---