Soda. It's something I rarely drink these days, but when I do, it pains me to open an entire bottle. It ends up going flat, which is a waste of money. Why not test out something from SodaStream®, right? I'm all about trying out the SodaStream Fountain Jet machine, and giving my take on it. Especially if it saves all of us from wasting money on flat soda.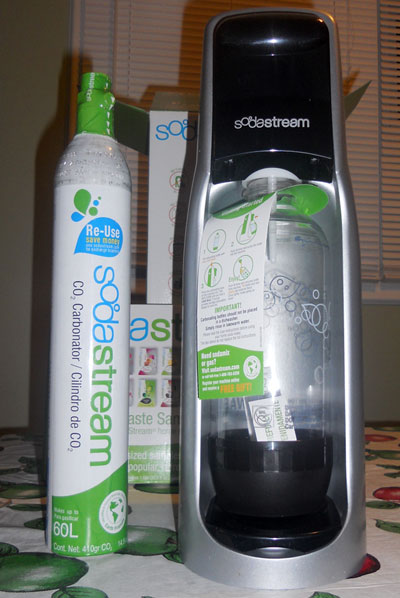 What is this SodaStream Fountain Jet machine?
The basics of SodaStream® is: you make your own soda at home. The machine carbonates the water, you then add the sodamix. DONE. The Jet machine is around $79.00. You receive your first Carbon Cartridge, which makes 60 liters of soda. I received a variety pack of sodamix, which included their top 12 flavors. I do not believe this comes with the machine at your local store, you'd have to buy the machine, then purchase the sodamix separately. You can get the variety pack, see which flavors you like best, before you buy a larger sized sodamix flavor. The variety pack costs about $14.99, it varies by store.
I also received ONE re-usable Carbonating Bottles. This is basically the bottle you use to make your soda, then you would want to find something to keep your soda in. Or just throw the cap on it, keep it in the carbonating bottle. Whatever works for you. These bottles, depending on the store, are probably going to run you about $24.99. If you need more than one, or have to replace one. Your first one is included with the Jet. Now, as for the sodamix flavors, those range in price. Well, actually, the regular price is normally around $6.99, but many times, you can find them on sale for $5.99, or less. The sodamix formula makes up to 12 liters of soda.
The Good
It' a nice looking machine. I was able to get the silver and black one. Fits in well with my kitchen, looks sleek, and doesn't look "out of place."
No need to plug the unit in. This might be my favorite part of the whole machine. I love that I don't have to have it near an outlet, in order to use it.
Simple to use. Easy to put the Carbon Cartridge in, and take it out. Super simple to directions. The easier, the better, for me.
Makes soda quickly. Just have chilled water, and it'll be super fast! Perhaps 3 seconds. Depends on how fast you are putting the flavor into the bottle.
It's great not to have to lug cans of soda home, or the huge bottles.
You'll be Earth Friendly, because you won't be using so much plastic, without all those soda bottles!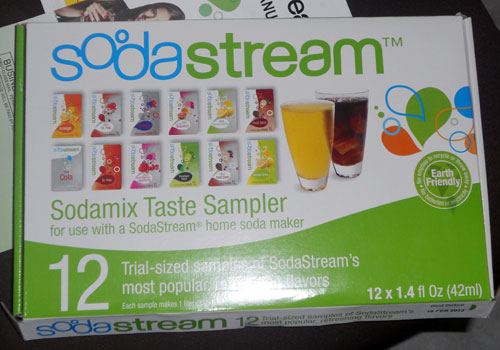 The Not-So-Good
The Carbonating bottle – it can't go in the dishwasher. HUGE FAIL. However, I do believe they have come out with one that can go in the dishwasher. However, the bottle with the unit can't go in the dishwasher.
The machine – in order to get the carbonating bottle onto the machine, you need two people. You have to push a button in order to get the carbonating machine to do it's magic. At the same time, you have to screw the bottle onto the machine. DID NOT GO WELL. Perhaps, as time goes on, I'll get better at it.
The Soda – The sodamix is not too bad. It's not the same as what I'm used to with name brand soda. When I want orange soda, I want it to taste like the ORANGE soda I'm used to. Same with cola. I don't drink a lot of soda anymore, with my new healthier lifestyle, but it'll do for parties. We can make soda for people, without wasting an entire bottle because just one person wants Root Beer. There's always almost an entire bottle left that goes flat.
The Verdict
I like the machine. The sodamix is decent. We'll definitely save money, because when we entertain, we won't need to buy tons of soda. We can make the perfect amount at home, so nothing goes to waste.
If you're a hard core soda drinker, I'm not sure SodaStream will save money. If you get a good sale and a good coupon, buying bottles of soda from the store will be cheaper. HOWEVER, if you're a huge soda lover, but not big on watching for sales and using coupons, this bad boy will save you money.
Another note: if you're not in love with dragging bottles of soda, or cases of cans of soda, home from the store, up flights of stairs, and storing it all over the house, then this machine is for you. Or one of their other models. They've got a few!
Check out the entire line, along with EVERYTHING SodaStream® right here –> SodaStream®