Rum. It's one of my favorite alcohols once mixed into a fabulous cocktail. Let's just say, Bahama Breeze bartenders know how to mix a good cocktail. Their rum drinks are available all year long, but they're celebrating all things RUM with Rumtoberfest at all their locations. My friend came with me to experience it at the Long Island restaurant, and it was fabulous!
Do not miss Rumtoberfest at Bahama Breeze
Long Island welcomed Bahama Breeze in 2014. It took a little time for me to head there, just because there are so many places to eat on Long Island. As we all know, we all head to dinner at places familiar to us. New places come around, you mean to try them, but when you head out to grab dinner with Mr. Sunflower, you end up going back to the same old place. You know everyone eats something off the menu, and there won't be any issues.
If you're lucky enough, you find friends that insist on trying new places for lunch, or a girls night out. If it wasn't for my good friend, I'd have never had the chance to try out Bahama Breeze. Her love of great food, and our monthly lunches out, led us to Bahama Breeze. It kind of became our new favorite lunch location. I'd never gone for a dinner out, though, so I had no clue they had so many amazing cocktails. Rum cocktails, too.
I'm a fan for life. I do believe my introduction to the multitude of Rum cocktails during Rumtoberfest was the best way to taste the tropical cocktails for the first time. It was awesome. I mean, seriously, how often does one get the chance to sample THREE different cocktails at one time, for such a great price? I'd say that would be never!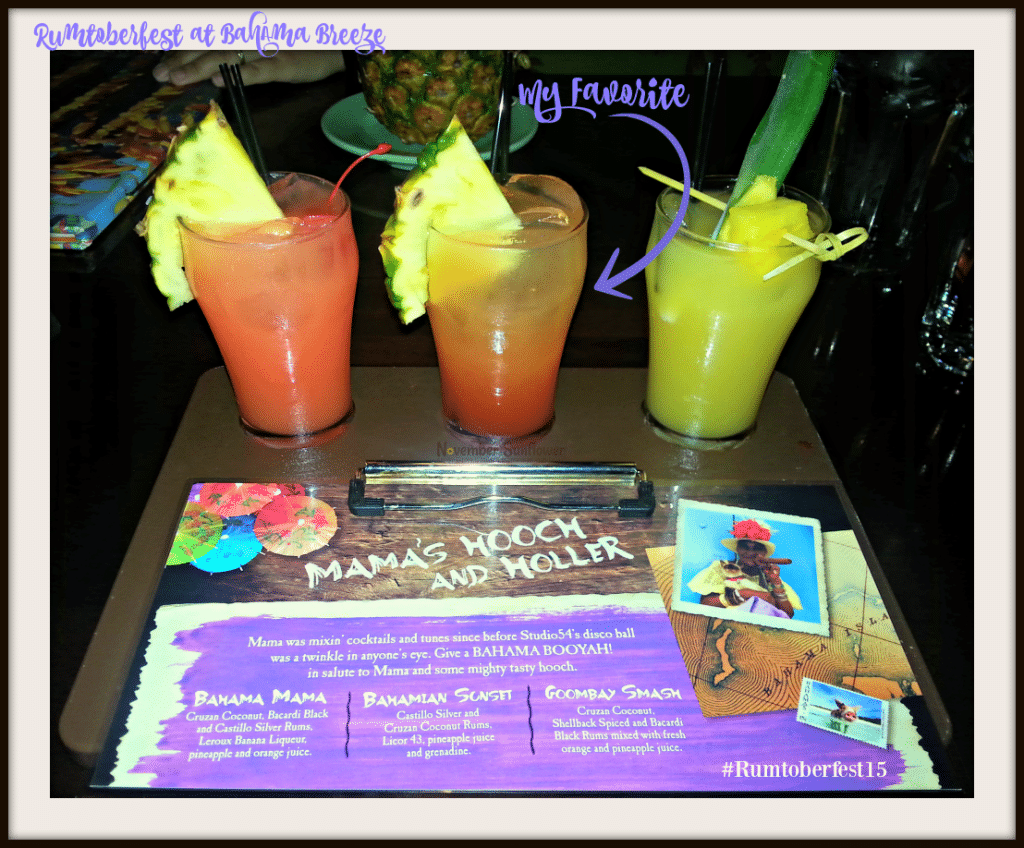 Drinking during Rumtoberfest is great, eating is awesome, too
Rum is tasty, I won't deny it. Bahama Breeze uses high quality rum in their Rum Cocktails, and personally I liked Bahama Mama, and Goombay Smash, but my absolute favorite was the Bahamian Sunset. I could have drank gallon jugs of Bahamian Sunset. Who are we kidding, I would dive headfirst into an Olympic-Sized swimming pool filled with Bahamian Sunset! Let the Castillo Silver and Cruzan Coconut Rums surround me, while I swam laps in it and drank it all up with a straw! DELICIOUS.
However, that would have been totally tacky, and of course, a girl has to eat. Boy, did we eat! It all started with an appetizer that had onion rings the size of my son's face. No joke. The Island Hopper is definitely the appetizer to get if you want to eat nothing else for a week! Look at the size of this bad boy.
So. Much. Food. You like chicken, there's Jerk Chicken Wings big enough to fly around the world. How about onion rings? Again, the bigger ones are the size of my son's face. He's six, turning seven in just under two weeks. It's definitely got a great trio of sauces, too. There's a BBQ sauce for the Jerk Chicken Wings, but personally I could put the citrus mustard on everything I ate. It has a great kick to it, but it hits you after it goes down your throat. Nice little spicy surprise!
The roasted pineapple chutney provides perfect sweetness for the coconut crusted shrimp. Shocking for a non-shrimp lover to admit, but the shrimp's delish! Bahama Breeze has won me over with that shrimp, for sure. Shrimp's butterfly-ed, covered in Panko breadcrumbs with shredded coconut flakes, and fried to a fantastic crispy texture. Love it.
After a huge appetizer, which the two of us couldn't finish and ended up bringing home some wings as a snack for the following afternoon, it was onto the main course! I do believe I got the biggest portion of Carnitas over rice I have ever seen! I wanted to eat the whole thing, but after devouring the onion rings, chicken wings, and coconut shrimp, oh and a conch fritter, from the appetizer plate, I couldn't finish my Carnitas. LOOK AT THE SIZE OF IT!!!!
Seriously, no doubt, amazing!!!! Pork is juicy, and perfectly spiced. I kept saying I can't eat another bite, but I kept digging into it, because it was delicious. Slow roasted pork, mixed with Chorizo sausage, cannot have anything wrong with it. Even the roasted corn was the perfect little burst in my mouth, but the cumin-citrus sauce! Now that just made the dish. I'm a citrus lover, and when paired with roasted pork, it's perfection. I don't usually enjoy FRUIT with my savory foods, but when it's a sauce, it's perfection.
Of course, I had to take most of it home with me, because it was just too much food for me to finish all in one sitting. There's nothing better than warming it up the following day, and the aroma of Caribbean spices fills your home. To die for.
My friend, who was my designated driver, because of all the rum sampling happening at Rumtoberfest, had a little lighter of a meal. She opted for her favorite dish, the Coconut Shrimp Tacos. If you're a shrimp lover, don't overlook these tacos. You can get three of them, or just two. I have it on good authority that the Sriracha aioli is kind of a big deal!
After amazing food, I would have loved to have eaten dessert. It would have been fabulous to end the night with a little Rum Cake, for sure. But we just couldn't. It was like how you'd feel after Thanksgiving dinner, my friends. I should have worn my yoga pants! But I did snap a shot of someone's Rum Cake. Seriously, I want to START with dessert next time I go for dinner! A little Rum Cake, and a Bahamian Sunset, then dinner!
Lunch at Bahama Breeze
Even though I'll be heading back for dinner, and rum cocktails, often, I'm still heading there for lunches, too. My all-time favorite menu item is the Guacamole & Goat Cheese Burger. I'm a sucker for guacamole, and goat cheese. When placed on top of a burger, it's a bit of heaven for me. Ask to have a slice of bacon on it, and it's the perfect afternoon meal. TRUST ME. I normally ask for it without the bun, because the burger is so filling, and I just love the flavors of the guac, cheese and onions, the bun just gets in the way!
Seriously, Bahama Breeze has become one of my favorite places to eat. The servers are always fantastic, but the one I ask for is Cat. I'm not sure if I'm spelling it right, but she's awesome. Her name's Catherine, but she prefers to go by Cat. Lunch, dinner, whenever – if you head to the Lake Grove Bahama Breeze on Long Island, see if you can score a spot in her section. Mention Staci recommended her, and she'll take care of you!
Remember, you've got to head to Rumtoberfest before November 8th, but just know, those Rum Cocktails are available all the time! I believe the three sets of trios disappear once November 8th is over, so get your rum and fun in for a great price RIGHT NOW!!!!