Don't let the word RESORT scare you into thinking the room prices will be out of your budget. Traveling with family? Don't let CASINO convince you it's not for families. Seneca Allegany Resort & Casino truly offers the best hotel value near Allegany State Park. Families definitely need to put this property at the top of their list when visiting beautiful Allegany State Park, in Western New York.
Seneca Allegany Resort & Casino: best hotel value near Allegany State Park
The Casino
It's a decent sized casino floor, with a rather small non-smoking area. It's got slots, table games, and has all the bells and whistles a casino should have. It'll definitely keep you busy!
The Spa & The Salon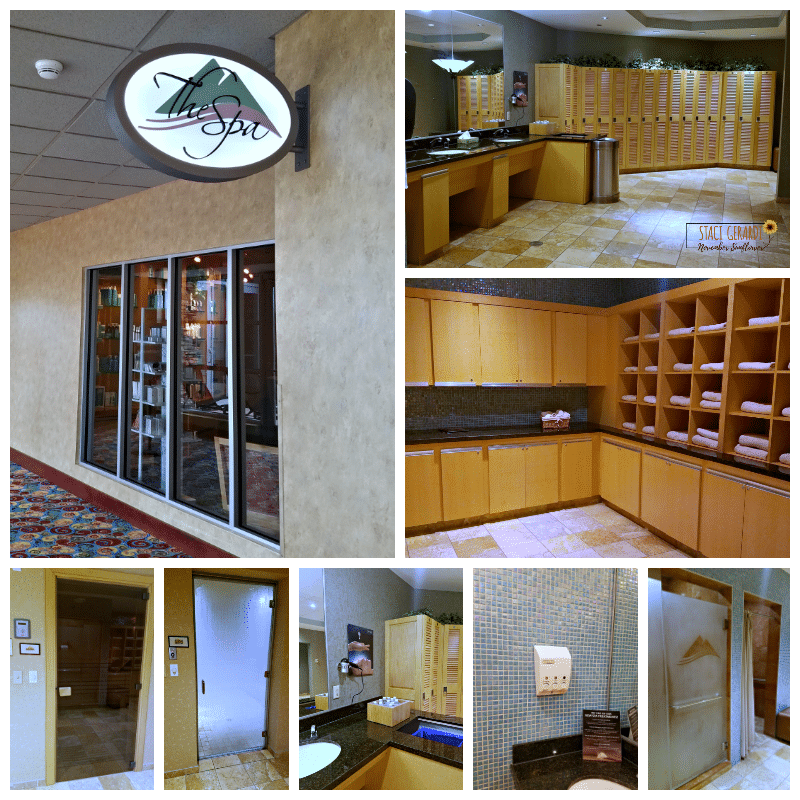 Massages. Get one. After spending the day at places like Sky Adventure Park in nearby Ellicottville, or Allegany State Park in Salamanca, you'll need a bit of relaxation. Perhaps, like me, you had a much longer road trip up to Seneca Allegany Resort & Casino, and your body needs a little love. Whatever the reason, GET ONE. It's a fantastic treat for your mind, body and soul. If you're not into massages, get a manicure or pedicure. Just as relaxing, and you end up with pretty on your fingers and toes.
If none of that interests you, head to the salon for a hair cut, color, or just a blow out for a fantastic dinner at one of the many restaurants in Seneca Allegany. Heck, you can get waxing done, and much more at The Spa & The Salon at Seneca Allegany. All services are reasonably priced, too.
Corner Suite
If you're cool with a jacuzzi tub in the middle of your room, I'd recommend booking a Corner Suite at Seneca Allegany. It's a huge room, but doesn't allow for much privacy. If you're traveling with kids, I'd go more with a Center Suite, and perhaps ask to have an adjoining room. If you're traveling with a larger group, definitely get some kind of suite, so everyone can kind of hang and gather while other people can head to bed without being disturbed.
A Corner Suite offers a huge bathroom, a sitting area, a great view, and a King Sized bed. Sure, everyone will fit in the room. However, if your kids need to go to bed while you stay up later, this is not a great option. The tub in the middle of the room is awesome, for couples, and I guess, for those who have kids who still take baths, not showers. Couples, a girlfriend getaway – Corner Suite for sure. Go for it. You'll love the bathroom!
I wasn't a fan of the comfort level of the bed, and chose to sleep on the couch in the room. And, I found far too much enjoyment on the motorized curtains – just tug on the curtain handle, and it takes over for you. PS-for extra pillow and blanket, check the drawer in the wardrobe.
Deluxe Rooms
These offer a slightly lower price point, and come with either one King-sized bed, or two Queen-sized beds. Showers are large, and every room has a coffee maker, flat screen television, safe, and a miniature fridge. If you're traveling with smaller kids, and they can handle sleeping in a bed together for vacations, the rooms are spacious. Definitely something to consider, plus, if you need to travel with teens, I do believe you can book adjoining rooms. Put the teens in one room, and still be able to have them close!
Center Suites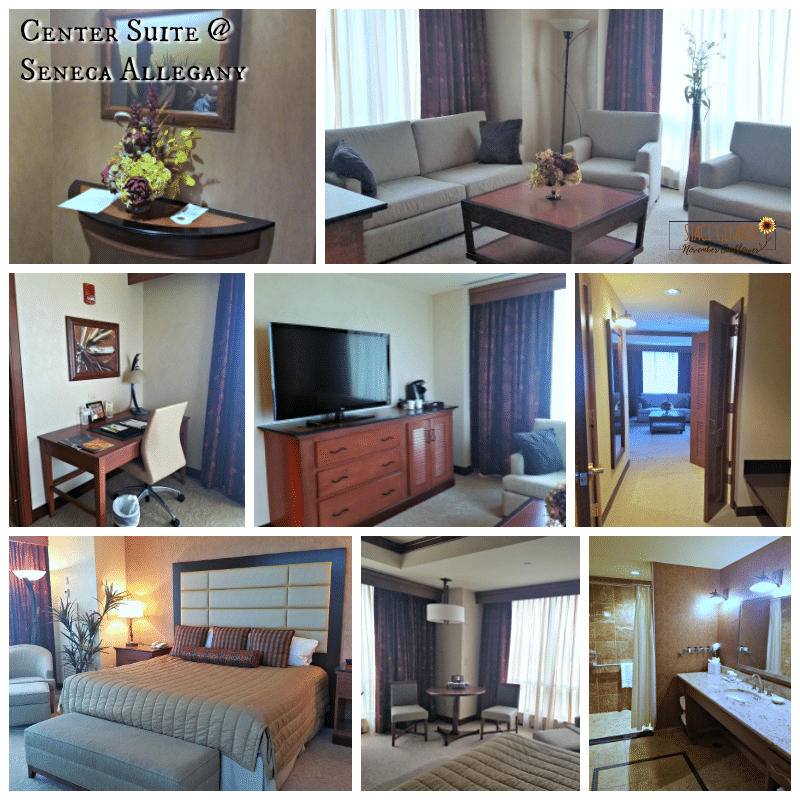 Going all out, Center Suites offer an experience a family would love. Separate living space, which is down the hall from the bedroom. WIN. Surprisingly, the bathroom is not as big, but it's plenty big enough for a family! It's a great way to allow kids to go to bed, while parents can stay up without disturbing any bedtime routines. There's also an option to book an adjoining room, in case there's a larger group traveling together, too.
Pool & Hot Tub
Unfortunately during my visit, the pool and hot tub were being worked on. I didn't have the chance to enjoy either, but after the maintenance is done, the area is definitely one families will enjoy. The pool is inside, along with the hot tub. There's a little outside area people can lounge in, and The Spa is one door away!
Shopping
It's not a shopping mecca, but you can get local goods at the main souvenir shop. There's snacks, and drinks, available to purchase at the souvenir shop on the main level of the resort. If you win big, there's also luxury items in the shop, too. It's a large space to shop in, and well worth a visit to grab some great tshirts, sweatshirts, or deck of playing cards!
Convenient Parking Garage
Traveling with kids is a unique experience. When traveling in a group with family, or friends, or a combination, it's even more "special." One thing everyone agrees on when traveling? Weather. If its raining, or the sun is brutal, or snow is everywhere, people love a parking garage. Even more enticing? A FREE parking garage. Parking at Seneca Allegany is free if you park your own car. No tips necessary, unless you wish to tip yourself.
Having a gigantic parking garage conveniently located next to the resort casino is a blessing. It's nice when you're able avoid getting rained on, but more important is not having to worry about getting into a broiling hot car after its been parked for an extended period of time. If you're traveling during the winter, not having to clear snow off your car: GOLD.
Park your car, take the elevator to the lobby of the resort, or the restaurant level. There's no way to get directly from the parking garage to the hotel rooms, which is a safety thing. Anyone can head to the casino, and restaurants. It's nice to have the garage separate if you're staying in the hotel.
Food
Allegany has signature dining at Patria, as well as The Western Door. There's more casual locations, like Seneca Cafe, and Thunder Mountain Buffet. To learn more about some of the amazing places to eat at at Seneca Allegany, check out my full write-up on the variety of dining options at this casino resort.
I will say, the fine dining is priced as any fine dining establishment would be priced. I was told the wine list has amazing prices, much better than many high end restaurants usually price wine at. It's apparently great wines, too. Again, I'm used to NYC prices at restaurants, so the prices at the fine dining locations seemed fair. The more casual dining prices also felt fair.
The Cost
Depending on the time of year you go, you can score a corner suite for as low as $95 per night for two adults, and two kids. Sweet deals are always available, too. Check out the packages offered at Seneca Allegany.