Smelly sports equipment isn't washable. There's no way to put it into my washing machine. Soccer shin guards. Soccer cleats. Jiu Jitsu sparring gear. It isn't made for a washing machine. At least, not the one in my house. Spraying it with different products doesn't remove the funk, it just covers it up for a little while. Hanging it outside, in the fresh air, doesn't help, either. It's not just my son, it's my daughter. BOTH kids spar, and don't think boys are the only ones sweating.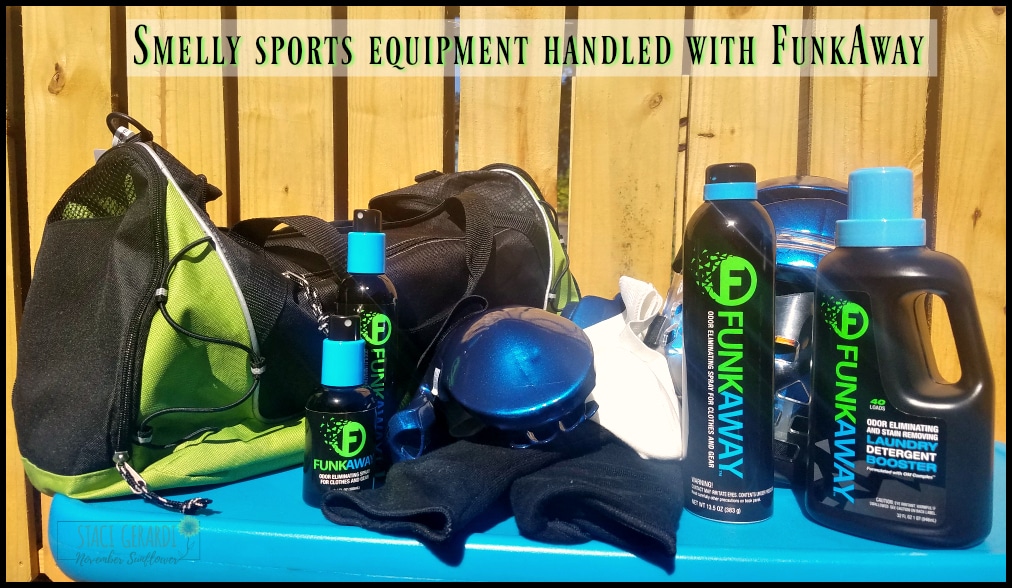 Smelly sports equipment stinking up my car and house
Smelly sports equipment isn't just stinking up the house, either. Kids get into the car, and dang. Even with the equipment inside of their bags, it still stinks. DUH! I can't wash their bags holding all that sparring gear, so of course, everything just STINKS. Bacteria loving all the sweat its feeding on. I just. I'm ready to dry heave all over the car. Windows open? Yeah, doesn't help. What helps? FunkAway.
How is this odor elimination possible with FunkAway?
FunkAway created, and patented a little compound called OM Complex™. Plain and simple, it traps the odor molecules created by the bacteria, in a bubble. A funk proof bubble. Within the beautiful bubble, odor is broken down, and then, eliminated.
Does FunkAway work?
FunkAway works. Even more exciting, it's great for more than just sports equipment. Recently, I started using a new product during my monthly period. I no longer use pads. I'm using underwear specifically created for periods. Best decision ever, however, they absorb odor in a big, bad way. It's nasty. Sweat odor overpowers everything else. Finally, with FunkAway, I'm 100 percent in love with my period underwear. I no longer worry about the smell after I do my daily walks, and sweat. If you know about the underwear, you know this is a BIG DEAL.
Another fantastic use for FunkAway? Travel. When I pack for a trip, I only use carry-on bags. Space is limited, so my dirty clothes sometimes end up stinking up my clean stuff I wasn't able to wear. Travel sized FunkAway eliminates the funk of my sweaty, stinky clothes, along with my stinky sneakers. I'm sure TSA will thank me the next time they need to check my bag. It doesn't happen often, with me in TSA PreCheck, but it happens.
Priced affordably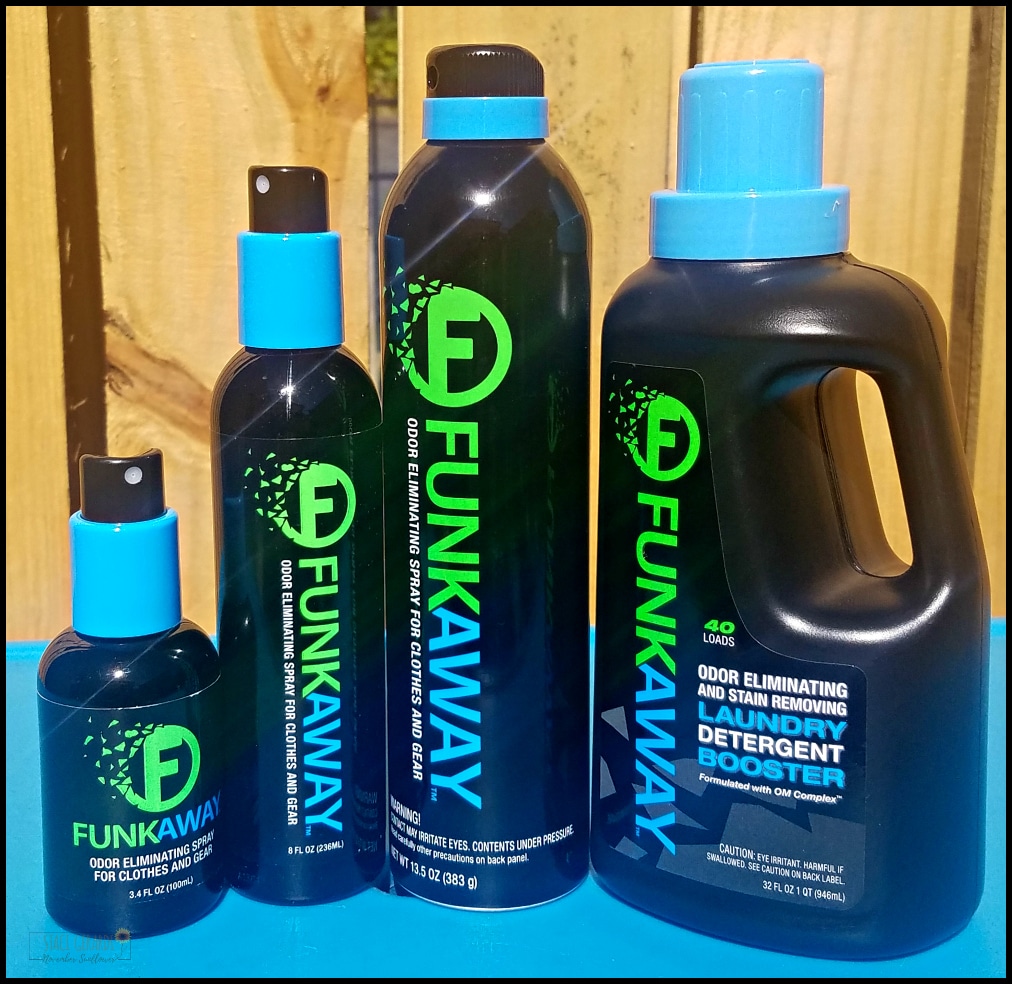 I'm happy to report, FunkAway isn't priced out of reach of anyone. Even their laundry detergent is priced well at $8.99 for 32 fluid ounces. Definitely follow FunkAway on Facebook, along with Twitter and Instagram. It's a great way to find out more about their new products when they come out, along with promotions! Perhaps, even, sales? Who knows, you need to follow them to find out.
Right now, for example, there's a Back-to-School promotion! When you buy ANY FunkAway product, you get a FREE Traveler size with promo code: BACKTOSCHOOL
Important tips when using FunkAway
Spray your goodies OUTSIDE, or in a well-ventilated area. It's a strong scent, and can cause irritation if you're sensitive to scents.
Do NOT freak out if you hate the scent. The scent does fade, and you're left with a fresh smelling pair of underwear, or sports equipment.
Soak the offensive items in plenty of spray. It has a lot of work to do, and a light spray isn't the answer.
Carry a smaller, travel-sized bottle in your bag. Before your kids get in the car with their stink, spray all that stuff down. By the time you walk to the car, the FunkAway scent dies down and won't overpower your car ride home. Plus, the funk from their gear won't offend your nose, either.
If you happen to own period underwear, and want to spray them after a sweat session. Take them off, spray the OUTSIDE of them, not the inside. Throw them back on after a few minutes, in order to give them time to work through the odor fighting process.
PS-I love all of their FUNKIN' marketing. When you buy yours, you'll understand what I'm FUNKIN' talking about! Just read the outside of the FUNKIN' bottles.
*This is a sponsored post with FunkAway, and BraVoMark. All opinions are 100% my own.