Disclaimer: I'm a member of the Collective Bias® Social Fabric® Community. This #shop has been compensated as part of a social shopper insights study for Collective Bias and their client. #KoolAidBTRtour
Summer days are filled with tons of activities for the kids. We've got something going on every day of the week, especially with Little Miss taking tennis through our local school district, and Jiu Jitsu at a local Dojo. We're constantly shuttling her around to her activities at night, but during the day, it's all fun in the sun (don't worry we give the kids plenty of drinks and beverages to keep them hydrated,) and enjoying the time off from school. EXCEPT on Thursdays……
Thursdays in the middle of the day my little monkeys take swim lessons. Rain or shine, as long as there isn't any thunder and lightning, they are at Nana's pool with their swim teacher. Surprisingly, we were able to find someone to come to us, and it cost less than some of those PRICY swim lesson places that shall remain nameless. So on our most recent Thursday, we took care of business even with a little rain coming down on the kids. Hey, they were in the pool getting wet anyway, what's the difference, right?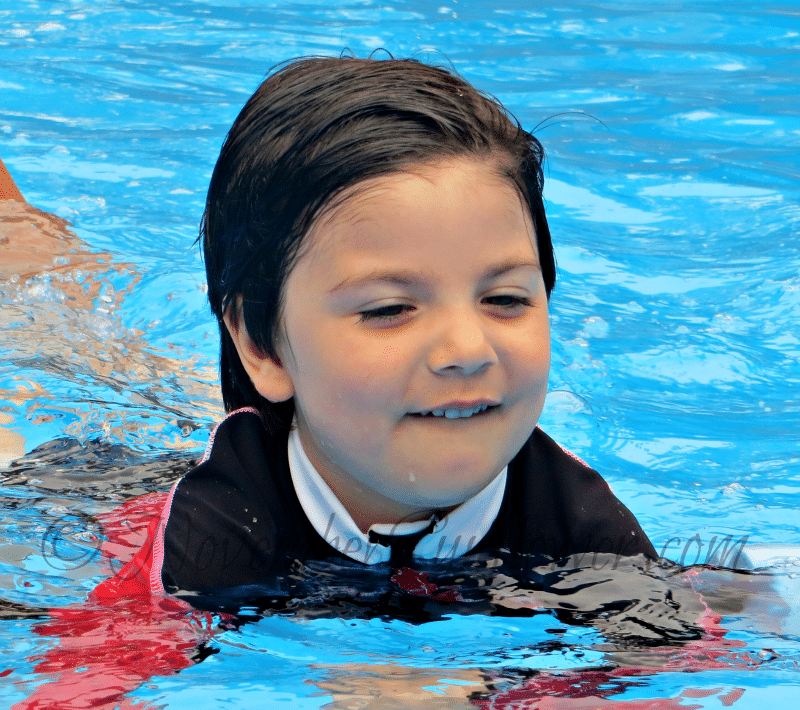 Of course, while one gets lessons, the other one is eating cookies before lunch……
However, once both are all "teached up," they have to have lunch. It's ESSENTIAL to be well-fueled on our fabulous Thursday afternoon. Whatever for, you ask? Let's keep reading to find out, shall we?!!!!
Word on the street was there was going to be lots of rain a comin'. It was my goal to find fun activities for the kids to do the rest of the day, along with the following day, so no one would kill each other would get aggravated with one another. Earlier in the season, before the kids really ever left school, I'd done a few "Google searches" on the old computer. Fun activities to do while the rain pours outside. Well I found some great ones the kids were going to love, and chose one: making our own modeling compound.
Finding a way to create modeling compound without tons of "bad things" in the recipes, well it wasn't easy, but guess what? I did, and the best part? We got to buy Kool-Aid to do our craft. Remember being a kid and drinking Kool-Aid out of a big, glass (or plastic) pitcher? It just screams of summer in my head. All these years later, who would have thought a juice drink would provide such entertainment for the kids?!
Where does one find the best prices for Kool-Aid, plus the chance to earn cash for my children's school with a great app to snap a photo of my receipt? You got it Walmart, and Shoparoo!
Everyone knows a trip to #Walmart for just one thing, it never happens. We've been searching for a Tinker Bell backpack since school ended, as Little Miss had really used her old one to death! We also needed a new lunch box for The Boy, who'll be starting Kindergarten in September. As luck would have it…..
Perfect timing for our rainy day shopping trip, and the kids sure had options!
Our mission was to find lots of great #Kool-Aid flavors, so we'd have some really cool options when creating our molding compounds. Well, let's just say, we hit the jackpot baby! Gotta love Walmart – low prices, and awesome selections.
We took one of each of the single packets mixes….
My thought was to get the liquid mix, so we could kind of use them like food coloring…..and since I'm a Google freak, I'm sure to find more creative ways to use all things Kool-Aid, so why miss the chance to put a smile on The Boy's face and pick up a couple of liquid Kool-Aid mixes!
Goodies in hand, we found ourselves a register, and bought all our Kool-Aid finds!
Once we got home, the sun was starting to peak out, so I sent the kids outside to get in a bit of fun, but not until they fed the dog and of course, since my kids have a SUPER ANNOYING FIXATION about removing tags off of their new stuff immediately, we had to take care of that task, too.
While they were outside, I went and downloaded the Shoparoo App onto my phone, so I'd have it on both my iPad, and my Android based phone. Once everything was downloaded, I snapped a photo of my receipt. Guess what? Thanks to us purchasing $6 worth of Kool-Aid products, I was able to score a code for discounted tickets to the very popular Big Time Rush concerts in my area, but there was also a really cool contest happening! All I had to do was create a Kool Creation, and share the #KoolCreation with the brand by uploading a photo on this page!
Winning "Meet & Greet" passes, plus tickets to a Big Time Rush concert were at stake, my friends. It was time to get our Kool Creations done!
The sun was out at this point, and not going anywhere, so we put off the Kool-Aid creations until RAINY DAY FRIDAY!!!! Worked out perfectly for us! Love it when a plan comes together……
They had such a great time playing with it, I'm now considered a genius. I've got proof! It's on video!
Perhaps I'd have known what a cool contest was happening if I'd been following Walmart's Twitter page? I just don't know, but why take the chance! Head over and start following their Twitter, and of course, enter the contest for yourself. Or maybe don't do that, it'll mean less of a chance for me to win…….Just KIDDING, or am I?
You will want to head over to my Google+ album to see our shop "up close and personal" in photos, plus the instructions on how to create your own Modeling Compound are in the #KoolAid Google+ slide descriptions!
Ooohhhh, and let's not forget the big reveal of what the kids worked hours, and hours, to create with their brand new #KoolAid modeling compound! Their fantastic #KoolCreation projects for the big finish…..
….and if anyone can tell me what the heck the boy created, by all means let me know. Little Miss, well that's an elephant. Apparently a very abstract take on "the elephant."