Two kids. Both have November birthdays. Even better, their birthdays are two days apart. My children are exactly two years, and two days apart. If my son had come in the evening, instead of in the morning, they would actually be EXACTLY two years and two days apart, right down to the HOUR. Instead, little miss arrived in the evening on her birthday, and the boy in the morning of his. Crazy how it worked out. With close birthdays, we combine their celebrations into one. It's up to the kids to pick a neutral theme. Our theme this time? Inside Out.
How to throw an Inside Out Birthday Party
Paper goods
Start by taking stock of what you have in your home that works with the party theme. Obviously, looking at the below list of Inside Out party supplies, you know we need more than just 16 napkins and 8 plates! Since I'm a fairly frugal lady, buying in bulk is my thing.
First birthdays all the way through to just about our kids' 6th and 4th birthdays, supplies were bought "in bulk." We're talking purple from Little Miss's 1st birthday, blue and green from The Boy's 1st birthday party, and lots of orange from a combination party our family had, centered around a certain Lorax character, a few years back. All the colors were purchased in bulk, and we have plastic table cloths, plates, napkins, forks, knives, spoons and cups. The Inside Out goodies were just filtered into the decorations, so we represented, but didn't over-do it on our budget!
The moral of the story? Keep your old party supplies. You never know when you'll need them. Believe it!
Invitations
Listen, I'm all for printing, and putting in some work for a party. However, the last thing I'm doing is print out Inside Out Invitations, and eat up all my HP Envy 5660 ink. Ink gets a bit expensive! Instead of printing them, I headed to Birthday Direct. As stated before, we were going to need Inside Out paper goods anyway, so one order took care of much of the party needs! A sale was happening, so I scored some decent deals on goodies for the party.
Invitations, Inside Out $10.74 (two packs of 8)
Lunch Napkins, Inside Out (16) $2.27
Inside Out Lunch Plates (8) $2.27
Dessert Plates, Inside Out (8) $1.97
Keepsake Cups, Inside Out (15) $14.55
Wall Stickers, Inside Out $14.49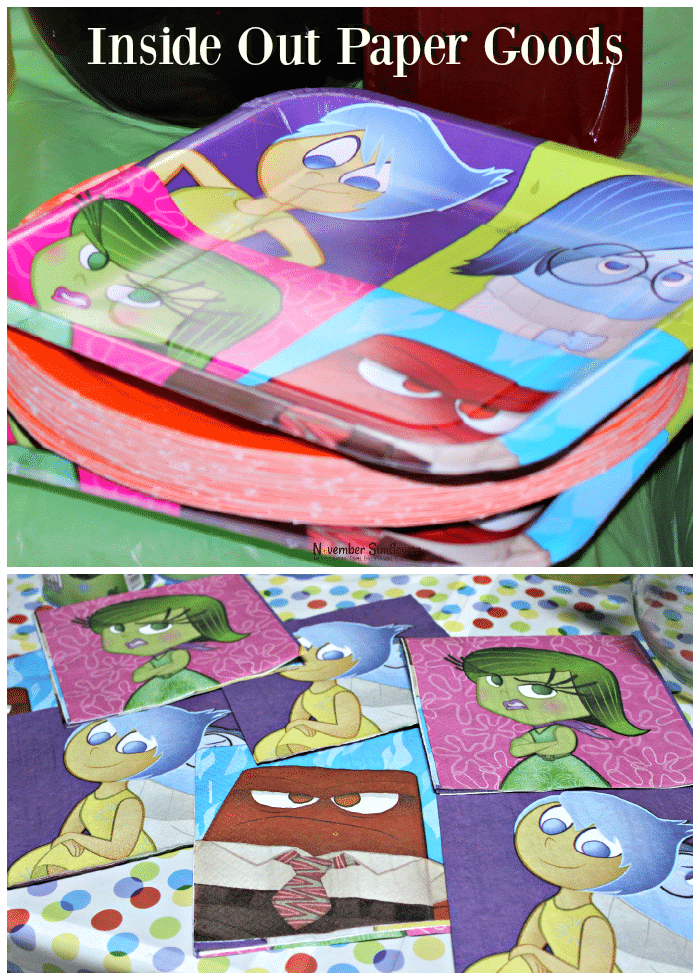 Decorations
Of course, Birthday Direct didn't have everything I wanted for the best prices. The plastic Inside Out table coverings were overpriced at Birthday Direct. I also wanted to bring together a bit more of the theme, by hanging my version of Memory Orbs from our ceiling in the party area. There was also the matter of giving a little parting gift to the kids when they departed from the festivities. Off to Oriental Trading Company I went, and made sure to shop through Mr. Rebates to earn a little cash back from my Inside Out purchases!
The tablecloths were the start of the purchase, but I found the best "memory orb" goodies, to give the kids as they left the party, plus the memory orbs to hang from the ceiling: Neon Party Lanterns!
Disney Inside Out Tablecloth (2) $7.94 ($3.97 per cloth)
Neon Colors Party Lanterns (dozen) $15.99
Turquoise Candy Buffet Cylinders (6 pieces) $8.99
Orange (shimmers) Chocolate Candies (2 lbs.) $9.25
Turquoise (shimmer) Chocolate Candies (2 lbs.) $9.25
Lime Green (shimmer) Chocolate Candies (2 lbs.) $9.25
Lime Green Candy Filled Straws (240 pieces) $7.99
Turquoise Candy Filled Straws (240 pieces) $7.99
Chevron Cellophane Bags (2 packs of 12) $4.00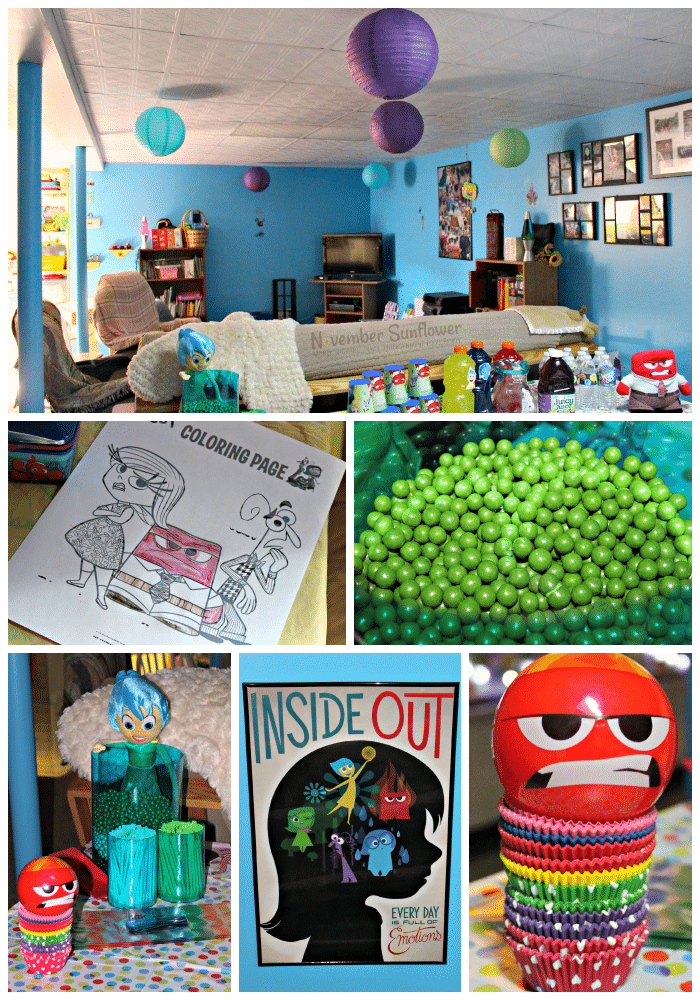 Party supplies purchased. Now to find all the FREE PRINTABLES we needed to bring the party to the ultimate level of Inside Out insanity. After doing Google searches, and spending hours on Pinterest, preparations starts.
Free Printables for an Inside Out Birthday Party
Cupcake Toppers 
Inside Out Characters in Circles – On Pinterest, the Cupcake Toppers I found were adorable. However, when I printed them, I found the black streaked. Instead of taxing my printer with all the black, I just did one sheet of these FREE Inside Out Cucpake Topper circle design. Plus, I loved having a couple of toppers that simply said Inside Out on them!
Inside Out Character Heads – It was fairly easy to find FREE Inside Out Cupcake Toppers, however, I wanted a bit of a variety. Also important: not using a ton of black ink. These Inside Out Cupcake Toppers came out great, and even though they were the hardest to cut out, it was totally worth it.
Bing Bong – I found the perfect FREE Bing Bong Cupcake Toppers on the Free Birthday Party Printables website. I simply Googled "Bing Bong Cupcake Toppers" and the website showed up. Perfect!
Water Bottle Labels
Inside Out Characters in Circles – Once again, I went to Pinterest. It took no time finding cute Water Bottle Labels that kind of matched the design of the cupcake toppers that had the little character heads in circles, so I downloaded the FREE Inside Out Water Bottle Labels and printed up a bunch. However, I like variety, so I hunted further and found another set of cute ones.
Inside Out Spring Water Bottle Labels – Variety is the spice of life, right? It's why I hunted around for another design for FREE Inside Out printable water bottle labels. I found super cute ones!
What about the food for an Inside Out Birthday Party
Inside Out is all about emotions. Anger, Joy, Fear, Disgust and Sadness. Main goal: keeping it simple. I found comfort foods the easiest to throw together. However, our snack foods had to fit the theme, too.
Mr. Sunflower was tasked to find red, yellow, purple and blue juices. I didn't dare ask him to find green. Red for Anger, Yellow for Joy, Purple for Fear, and Blue for Sadness. Luckily, he found them!
Snacks….that was more of a challenge. It's hard to color coordinate snack items, with emotion colors, and have people WANT to eat the snacks. It took a bit, but we figured out a few options we were happy with!
Inside Out snack choices
Red chips and salsa to represent Anger. To keep it universal, Mr. Sunflower purchased mild salsa, so everyone enjoyed it. Not spicy, because I'd be one of the only ones enjoying it.
For Disgust: I'm a huge fan of Guacamole! Of course it was perfect for the party, and then Mr. Sunflower found BLUE corn chips, so we represented Sadness.
We skipped some emotions when it came to the food. I wasn't into finding yellow foods, because, well, I didn't want popcorn all over the house! I did find a fantastic "purple" option for Fear though. Grape jelly and BBQ Slow Cooker meatballs. Total bummer when they didn't turn out as purple as I wanted them. No one seemed to notice, though. They went so fast I never got a photo of them. They were good, though. I was shocked. Who would have thought grape jelly and BBQ sauce would make a good combo?
Mr. Sunflower, was tasked with bringing home all of the comfort food ingredients to make the two comfort food casseroles for the party: Tuna Noodle Casserole and Chicken Enchilada Rice Casserole. Everything was great, and cost far less than catering food from a local place.
What to wear to an Inside Out themed birthday party
A family that coordinates party outfits has got issues. We do. I admit it. We're a total nightmare. However, a trip to the Disney Store meant not just getting the Joy and Anger in plush toy form to decorate the snack table, but also tshirts! Little Miss ended up with a great purple tshirt with the Rainbow Unicorn, and of course, The Boy had Anger. The only shirt I could find for myself: Disgust. For Mr. Sunflower: Anger. It was the only medium in the store.
Adding to the fun were cute Tsum Tsum pins to wear, along with hair ties for me and Little Miss to put in our hair, and The Boy wore the Anger one as a bracelet. Then the best of the best part? Jewelry, of course! Mood rings. The Boy got Anger, Little Miss got Joy, and well, I got Disgust to match my shirt, of course!
The nails
Did you think we'd get through this party without Little Miss getting a special manicure? Come on now! You know I had bigger plans, but we went with straight colors, instead of attempting the characters on each nail. My cooking responsibilities were bigger than planned. The plan was dialed back to each emotion represented by color!
The Inside Out Cake
Finally, when having an Inside Out themed birthday party for your kids, you ask your extremely talented sister-in-law to make the most awesome Inside Out birthday cake EVER. It incorporated cookies into the design, and the INSIDE was just as beautiful as the outside of the cake. Truly, a perfect Inside Out birthday cake to end a fantastic party for the kids. How we'll top this one I do not know, but it'll have to be big since Little Miss turns 10 next November. YIKES.
And that's how we at November Sunflower throw an Inside Out Birthday Party.