If I could have anything in the world, I'd of course want a ton of money. Why? If I had tons of money, I could hire a personal chef. The amount of stress I would alleviate from my daily life by the simple act of having someone else cook meals for my family, and for me, would add years to my life. No joke. Meal time in our home is a nightmare. Since I can't hire a personal chef, our family will have to settle for simple grilling recipes we can do quickly. I scoured the internet, and found these top 7 grilling recipes for weekday meals, so life can be easier for all of us…..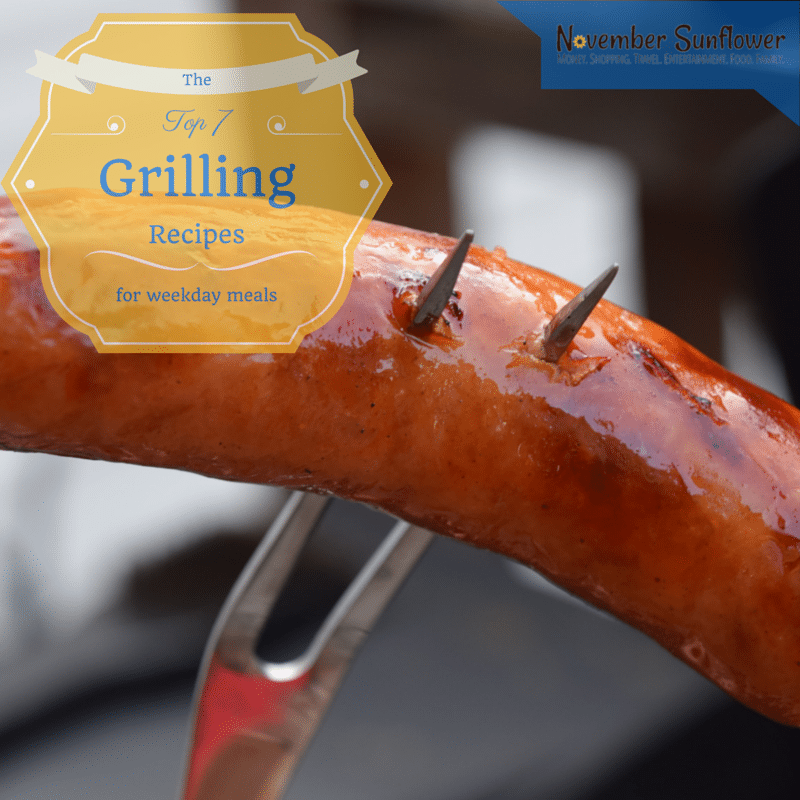 Top 7 grilling recipes for weekday meals
I seriously believe I should have been born into a Greek family. I wasn't, and don't get me wrong, Sicilians know great food. We're very similar. However, lamb, feta, and tzatziki sauce, to me, are just jewels of the food world. If I could jam all of those things into my face once a day, I'd be the happiest woman on the planet. If you're a fan of Gyros, and you want something super easy to make on a weekday, this is the perfect burger for you! And if you're looking for a good tzatziki sauce recipe, I've found one of those, too: Easy Tzatziki
Pork. The other white meat. When it's done right, it can be juicy and delicious. Done wrong, which happens sometimes, it can be hard to choke down at dinner. I'm not saying that has ever happened in my house….. anyway, I love pork. Putting it into a sandwich, well that works well for me! A BBQ sauce made with onions in it, well that just adds to the whole experience! To be very honest, hamburger buns are great, but this can be eaten without them. I love a great sandwich, there's no doubt about that fact. You can't go wrong with, or without, the hamburger bun. Heck, it's even good a great piece of crusty italian bread!
Did someone say GUACAMOLE?????!!! I'm in. I'm committed. There's no turning back when guacamole is involved. Putting the guac on flank steak, and wrapping it up in a tortilla, it just screams summer weekday meal. The best part about this is you can make the guacamole ahead of time, squeeze the lime over it, and even if it gets a smidge brown in the fridge, it's okay. Just mix it through and it tastes just as amazing as if you'd just made it minutes ago. When it's wrapped in a tortilla, who cares what it looks like. Delicious.
If there's a grilling recipe list, there's got to be a chicken grilling recipe included. It's a must for BBQ, isn't it? The Honey BBQ Chicken grilling recipe is perfect for families who have to handle homework as soon as the kids are home from school. Throw the chicken onto the grill, get it started, walk away and let it cook while you help the kids with homework. If they're older, and don't need help, take the time to make the Honey BBQ Sauce. Perfect meal for nights when you need something you can walk away from while it grills. Yet, still have something to eat when it's family meal time. Plus, it's sweet. Who doesn't love some sweet bbq?
Eggplant is another favorite of mine. We grow it in our garden over the summer. Mr. Sunflower hates it, because I complain how small my plants end up, because of his big tomato plants. Last year was the first year we yielded some quality eggplants. I believe this happened, because he scaled back on the tomato plants. Happy wife, happy life, right? Eggplant makes me happy. What can I say? Grilling it, and making a fantastic sandwich with it, such a great grilling recipe for summer nights. Get home from all the fun of the day, and still have a great meal in minimal time. Plus, not everyone eats meat, right?
I will tell you ahead of time, if you've never had goat cheese before, it might be a little strong for your taste buds. Personally, I love the stuff. Of course, I also love lamb. Both are gamey in taste. If you've never tried it, I'd recommend testing it out before you put it on this pita with your grilled mushroom. If you find you're not a fan, just leave it out, or use a different cheese you love. Feta would work, another strong flavor, but strong in a different way! Any way you do it, if you love mushrooms, you'll love this one.
I'm told if I'm doing a grilling recipes list, some kind of fish has to be included. All of you may know, I'm not big on fish. I do eat lobster and crab, but not much else from the sea. If it's covered in garlic, I can stomach some shrimp. DISCLAIMER: I've never made this, or tried it, but a few friends swear by it. I'm taking their word for it, because it is true. When doing a top grilling recipes list, a fish has to be included. It sounds delicious, I won't lie. Perhaps one day I'll ask my parents to test it out, so I can sample it. For now, I leave it to you to take the plunge and make it, without me truly knowing if it's any good. One tablespoon of minced garlic doesn't seem like enough to me, but give it a try!
What are your top grilling recipes for a weekday meal with the family, or hey, all by yourself. I love when I get to eat without anyone hovering over me, or asking me for a million things. It means my meal will be consumed while it is still hot….. oh the thought of it makes me smile.
Share you favorite grilling recipes in the comments below. Hopefully they'll make it through my SPAM filter………..