Weekend getaway at Mount Airy Casino Resort? My first thought was "what happened to the lodge I grew up seeing commercials for when I was a kid?" I had no idea the owners tore it down. The new Mount Airy Casino Resort took up residence next to a beautiful golf course.

Weekend getaway at Mount Airy Casino Resort
Gorgeous room with a beautiful view
Rest your head & check out the views
Mr. Sunflower and I are a no frills kind of duo. Sure, we love the good things in life, don't get me wrong. However, we're not what you'd call "used to" the good things in life. We live a very lower-middle class lifestyle, because hey, Mama Sunflower makes very little money through this here website. We don't bring in millions around here. All of that said, I think those used to the high life will be happy in any room at the Mount Airy Casino Resort. Beds are comfy, pillows are plentiful, and it's clean!
Glass showers and toilets
My favorite part was the bathroom shower. I have a thing for great water pressure in a shower, and having the ability to use the toilet even if someone is using other parts of the bathroom. At Mount Airy, there's a separate door to the toilet! If someone's using the shower, or the sink, you can still sneak into the toilet. Of course, if you're there with someone who hasn't seen you naked, it might not be as helpful. The shower is all glass. To get to the little area with the toilet, one has to go through the main bathroom door. Someone showering behind the glass will be in full display. Hang a towel over the glass door, it'll be fine. When you gotta go, you gotta go, right? It's just nice to have the separate door to close when doing your business!
Casino
It's a casino, says it right there in the name of the resort, so of course, there's gambling! Mr. Sunflower likes to gamble, but we're not high rollers by any means. We managed to enjoy ourselves, though! We had no problem signing up for a player's card, and using our free $10 to hit the quarter slots. I stayed away from the penny ones, but there's plenty of slot machines to keep even the non-gamblers like me, entertained. Mr. Sunflower stuck to slots, too. I warned him to stay away from the tables, and the poker. We weren't spending that kind of money this weekend! Slots worked for both of us, when we stuck to the non-smoking areas of the casino floor.
Yes, you read that right. At Mount Airy Casino Resort, there's a huge area of the casino that allows smoking. Since I'm very sensitive to smoke, we stuck to the non-smoking areas. We even ventured up to the second floor of the casino where half the room is for high stakes poker, and the other half is non-smoking slot machine playing. Perfect for me! My one negative about the resort is that smoking thing. It should contain smokers in one closed-off area. Smoke travels. Even though there's no smoking areas, the smoke travels in the enormous casino space.
Golf
I'm more of a miniature golf girl, and even that doesn't hold my interest for long. Mount Airy has an 18-hole golf course, with each hole modeled after famous golf courses around the world. Super cool, and Mr. Sunflower is a big fan of golf. We had our tee time set for Sunday, at 8:20 A.M., but he forget to pack his lefty clubs. Even though the golf pro offered up his own clubs, Mr. Sunflower decided to pass on the 18 holes.
Get Wet Pool
Gorgeous.
Waterfalls? Yes.
Ability to swim from the indoor pool, right into the outdoor pool? Check!
Food and a bar close by? You got it.
Cabanas you can reserve inside, and outside? Yep.
Night time shows that happen poolside? Absolutely.
What I love about the pool the most, beyond the obvious things like swimming in a clean pool? You can't get in without your room key card. The casino part, as well as the spa, are open to the public. However, to get to the guest rooms, it's necessary to use a room key card. To get into the pool, it's the same thing. Safety for the guests! Love it.
Spa & Salon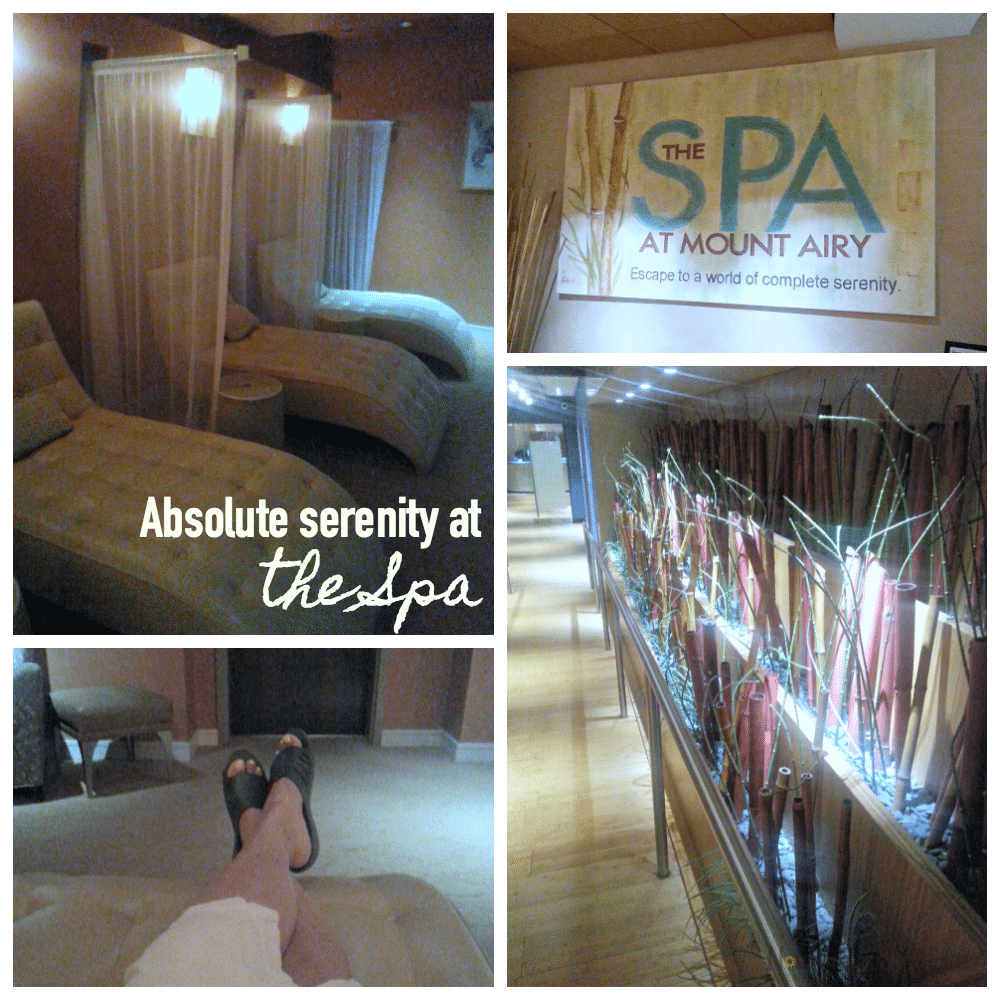 Now, for me, eating and spas are my thing. Personally, eating and pampering all day works for me. Perfect vacation for me! The Mount Airy Spa is not just beautiful, but Dorita my massage therapist, has magic fingers. Dug into my knots like nobody's business, and for the first time in my life, I felt relaxed for more than an hour after receiving a massage. She even did a little Lemon Grass aromatherapy to soothe me, too. My skin felt amazingly soft after that massage, and the scent of lemon grass helped keep me relaxed for hours! Signature Massage for 55 minutes will get your head in the right place to enjoy all the amazing food offered at the restaurants at Mount Airy Casino Resort. No joke!
If I had thought about it ahead of time, I would have made a manicure and pedicure appointment. Heck, I would have even made an appointment for them to color and style my hair, because that's all available at the spa, too. Before, and after, my appointment, I was able to hang in the relaxing women's quiet lounge. I had access to the rainfall showers, Eucalyptus steam rooms, and the sauna! If you're not staying there, you can get a luxury day pass for $30.00 six days of the week (Monday through Friday, and Sundays.)
There's plenty to do at the spa and salon, it's not just massages, manicures, and pedicures! Definitely check out everything about the spa at Mount Airy Casino Resort.
Food
Guy Fieri's Mount Pocono Kitchen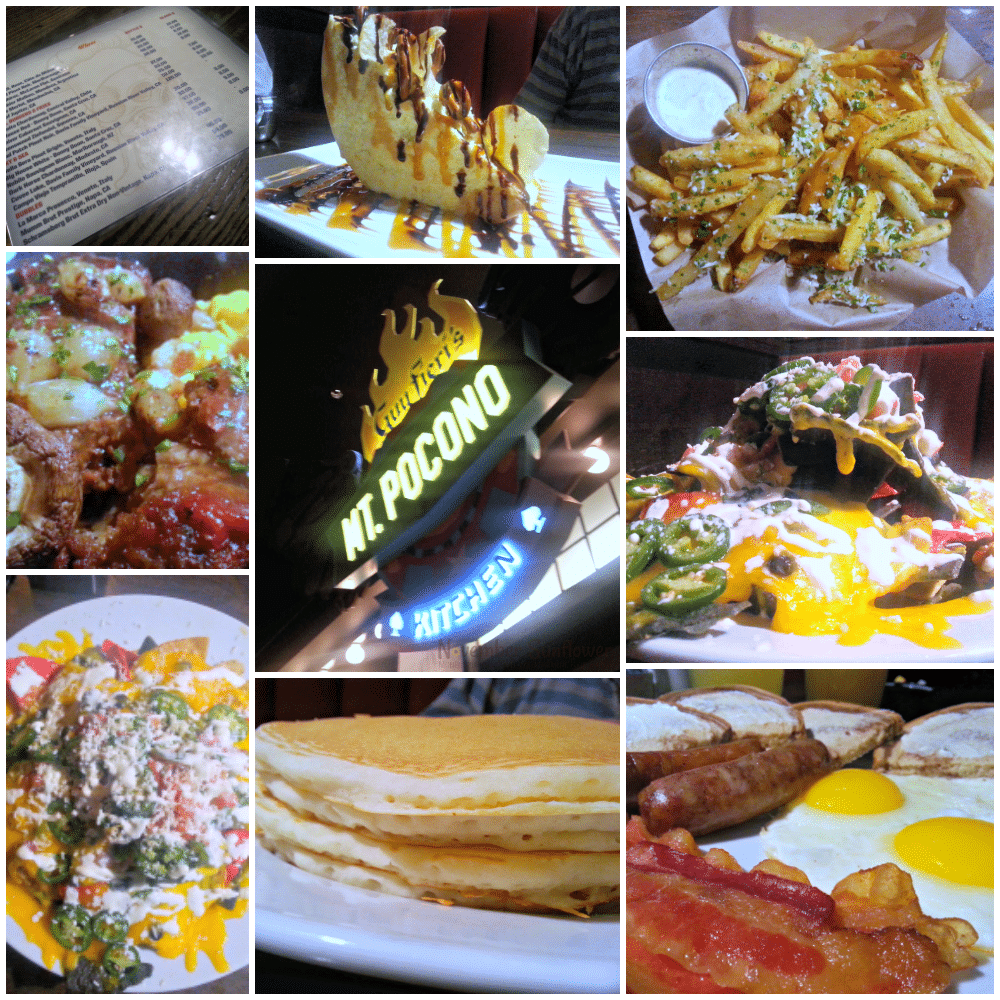 Mount Airy Casino Resort stops at nothing to bring guests the best food. I didn't test out every restaurant, but the ones I did try, were outstanding. Mama Sunflower was in a food coma the entire weekend, and I couldn't have been happier. Our first dinner after arriving on Friday afternoon was at Guy Fieri's Mount Pocono Kitchen. All I have to say is Truffle Fries. I could have just feasted on those, and the Nachos. Heaven. Plus, we hit the place up for breakfast, too. It's the only place on property that does breakfast, unless you decide to hit up Starbucks, or order room service.
Mr. Sunflower enjoyed his burger, while I was not as impressed with the meatloaf. It was a bit too sweet for me, with the sauce they use on it. However, the meat was moist. Now that I know, next time I'll ask for the sauce on the side. Another misstep was the cheesecake. Totally dry. Sad, because it was damn pretty when it came out. I ended up just scooping all the caramel off the plate, and that was perfect for me!
The Buffet
After my spa treatment on Saturday morning, we were getting a bit hungry and checked out The Buffet. It wasn't my favorite selection, and most of the food was cold when we dug into it. It's got a large variety of food, though. Salads, soups, pizza, tacos, pasta, meatballs, veggies, and lots of desserts. I enjoyed the fried chicken, and went back to ask for a hot piece instead of eating the cold one I had on my plate. They'd just replaced the bin, so I was lucky and scored a hot piece.
Bistecca by Il Mulino
Later on in the day, Bistecca by Il Mulino, made up for what we had over at The Buffet. There's no better steak than the Porterhouse at Bistecca by Il Mulino at Mount Airy Casino Resort. I was able to slide my fork through it, no knife needed! Lobster Bisque was delicious, and finished off with a little brandy, and served table side. Amazing. We enjoyed house made mozzarella for an appetizer. Mr. Sunflower had his usual Filet Mignon, butterflied and KILLED. Surprisingly, thought well-done, it wasn't dry. Bistecca knows how to cook a steak, for sure.
The only floundering with the main dish, was the lobster mac & cheese I was served. I hunted for the lobster, and found a speck of it. Very disappointed, and should have stuck with my favorite truffle fries. Oh well, it's what I get for trying something new! Mr. Sunflower's brussels sprouts and mashed potatoes were knock outs, though. Perfect compliments for his filet mignon.
Finishing off the night? Tiramisu for me, and cheesecake for Mr. Sunflower, with hot tea and cappuccino.
Entertainment
Half naked men, what more can a girl want? Mr. Sunflower joined me for the show, along with a few friends who were there during the same weekend. We made the most of it, and had a lot of fun. Hunks The Show was entertaining, for sure. However, the most entertaining part was watching the ladies interact with the 8 hunks on stage, and in the audience. I've never seen so many one dollar bills in my life!
Every weekend there's some kind of entertainment, and the pool also has events, too. Guy Fieri is heading there at the end of July, and I do believe he'll be working the line of his restaurant there! I'm sure it'll be a fun weekend to visit Mount Airy Casino Resort.
Is it family friendly?
When I was first asked to visit the property, I thought "Is it family friendly?" I quickly realized you can take the kids, but there's not much for them to do. This is more of a couples trip, or a girl's weekend trip, and even the good ole boys getting together for a weekend getaway. A pool is fun, but it's not going to entertain the kids for an entire weekend. Well, my kids it would, because they love to be in the pool. However, most kids want more to do than swim. Right?
Mount Airy Casino Resort isn't really a destination for families. It's definitely for:
gamblers
golfers
great food lovers
spa lovers
It didn't take long to realize this was going to be a weekend getaway for me, and Mr. Sunflower. I wasn't sure how I felt about leaving the kids for the first time EVER, in order to spend time away together, without them. Yeah, we hadn't been away together, without kids, since I was pregnant with our daughter TEN YEARS AGO. Technically, since I was pregnant, can I say we were alone? I guess so, I didn't have to worry about leaving the kids with someone, she was in my belly.
Leave the kids at home, and do the weekend getaway at Mount Airy
The fact is, we had a fun weekend alone, and that's the point of a weekend getaway, right? It's not a super long drive if you live on Long Island, or in New York City. Definitely a great destination for adults, whether it be a couples only weekend, or a weekend away with friends. Bachelor parties, and bachelorette parties, would be perfect at Mount Airy Casino Resort. Someone you love is turning 21? Mount Airy Casino Resort, on a weekend with great entertainment, is the perfect destination. Just be ready to pay if you hit Bistecca by Il Mulino for dinner! Worth every last dime, though.
Grab your mate, or your pals, or your ladies, and make the trip for a fantastic weekend getaway. I'm currently trying to figure out when I might be able to hang in that spa again, for sure!